SPANISH FORK — A lot of teams would've folded up the table, turned in the lineup card, and reset for another game.
After all, American Fork was the winning team entering Saturday's championship game of UPG Last Chance tournament. That meant that Riverton would have to beat them twice to claim a tournament title.
After falling behind 7-0, it felt like the Silverwolves might force a second game, too — to everyone but the Cavemen, that is.
"Whether we are up by seven or down by seven, the game's never over," sophomore Kaden Carpenter said.
Jack Walker went 2 for 3 with a double, a walk, and two runs scored, and Carpenter was 2 for 3 with a double, three RBIs and drew the game-winning hit-by-pitch to help American Fork rally for an 8-7 win over Riverton to clinch the Class 6A division of the Last Chance baseball tournament.
"Coach Ingy (Ingersol) has always taught us to fight; that's the culture here," said Walker, whose team topped Riverton 12-2 Friday. "We just never gave up."
American Fork head coach Jarod Ingersol called the heart and fight of his team "pretty cool" after the win.
"We struggled early, and a lot of teams that get down 7-0 might roll over," said Ingersol, fighting back his emotions after the game. "But the kids did it; they believed. It was really special, for them to come back and fight for a game like that."
For all his play at the plate, though, perhaps Walker's biggest contribution came in the outfield, when he ran down a diving ball in shallow center and snagged the first out of the sixth. The Cavemen turned a double play on the next at-bat, and never trailed again.
How about this catch from Jack Walker!!!! Easily saved a run which allowed the Cavemen to remain tied in the top of the 6th!@j_frankwalker2@desnewssports@AmFork_Baseballpic.twitter.com/72c93kF8Ig

— Deseret News Rewind (@DNewsRewind) June 6, 2020
"I didn't think I caught it, and then I saw it in my glove," Walker said. "It was awesome.
"I got a good jump, but it was a lot further than I thought. I barely got it off the ground."
In a way, the fight to come back, to catch a ball that many might have given up on, to never doubt even when others did — that just describes American Fork baseball this year, Ingersol said. In a season derailed by a worldwide pandemic, there was plenty of fight demonstrated by the Class of 2020 — and Walker demonstrated that fight.
"He's a really special player," Ingersol said of the senior. "That was a big-time play; big-time players make big-time plays in special situations, and he did that. He's a great kid."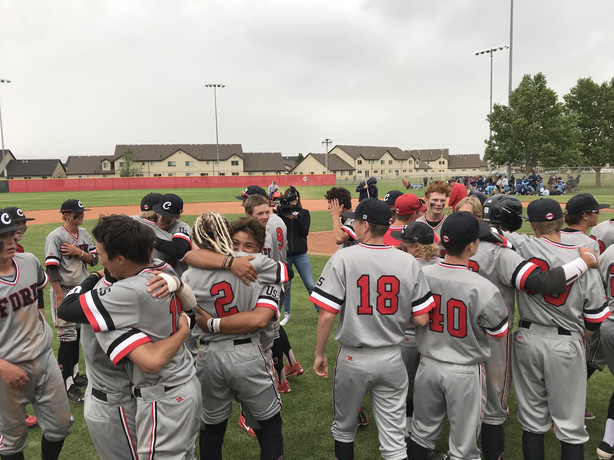 Sure, it's not an official state tournament title sponsored by the Utah High School Activities Association. But the Cavemen survived six of the top teams in the state, including the top four in this season's RPI rankings before the spring season was canceled in response to the COVID-19 pandemic, and will treat this weekend's trophy like nine of their official state titles.
"That's how we treated it," Walker said. "Might as well; we didn't get a season, so this is the closest we got to a state tournament."
Riverton starter Brant Butterfield couldn't have started much better, holding the Cavemen without a hit into the fourth inning. Applegate had an RBI triple in the first, and Musgrove added a double with a run scored in the second to help the Silverwolves jump out to a 5-0 lead that swelled as high as 7-0.
But you can't hold the Cavemen down for long.
Carpenter plated two with a one-out double in the fifth, and American Fork scored five runs through Easton Whittaker's leadoff hit, then Walker, Payton Wilson and Maddux Madsen helped turn a 7-2 deficit into a 7-7 tie.
"I came in after we scored two in the fourth, talked to our assistant coach Jason Walker, and looked down and said, 'We're winning this ballgame,'" Carpenter said. "We were still down at that point. But not a thought crossed my mind we were ever going to need a game two."
And in the bottom of the sixth, with the bases loaded, Carpenter took a pitch off his ankle guard that scored Wilson from third for American Fork's first lead of the game.
And the only one the Cavemen needed.
"If you look at this tournament, there were eight pretty good teams that were in it. We feel fortunate to be in the situation we were and to get it done. We've very happy with the hard work and the effort of the kids."
Wilson went 2 for 4 with a double, a walk and two runs scored for the Cavemen, and Whittaker finished 2 for 4 with a pair of runs.
Jake Houston went 2 for 3 with two runs to lead Riverton, and Parker Applegate was 2 for 2 with two walks, a triple and three runs scored.
×