SALT LAKE CITY — Ja Morant had no hesitation.
Rudy Gobert would expect nothing less.
In the second quarter of Utah's Game 2 win Wednesday, Memphis' young star guard gathered a bounce pass, took one dribble, and sprung high for the rim. As he rose, he cocked the ball back looking to deliver one heck of a dunk.
There was just one problem: Gobert was in the way.
Gobert rotated over and jumped to meet Morant high up in the air. Morant, undeterred, tried to slam it through Gobert's long arms. The Jazz All-Star center, though, won the round, swatting the ball away.
😳 RIM PROTECTOR RUDY GOBERT! 😳 #NBAPlayoffs on TNT pic.twitter.com/PL9K4Wl3p4

— NBA (@NBA) May 27, 2021
"I just try to do what I do: protect the basket, just pretty much play off my instincts," Gobert said.
Gobert's instincts are to protect the rim at all costs. He's been dunked on plenty in his career, and he'll be dunked on plenty more; it's never bothered him. Yeah, he's been on the wrong end of some highlights here and there, but if he can save a couple points in between those, it's well worth it.
And when he saves those points, like he did on Wednesday, it can make for a pretty special highlight in its own right.
"I know that Ja's very athletic, so if I'm late, it's a little harder for me," Gobert said. "So I gotta anticipate it and try to time it. And if he makes it, (screw) it. I just gotta be there and try to make his life difficult."
After the play, Morant appeared to say something to the effect of "I'll be back" — a fact he didn't refute when asked about the play after the game. It showed that Wednesday's meet up between the young Grizzlies star and Gobert won't be their last.
That's a challenge both say they enjoy.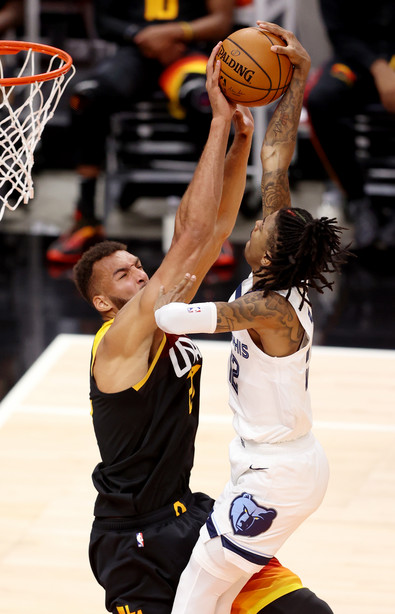 Morant showed an uncommon willingness to go right at the best rim protector in the game straight on. This wasn't a case of him trying to slip by Gobert or one where the All-Star comes over for a weak side block. Morant saw Gobert rotate over to stop his path to the basket; it didn't matter, he was still going right at him.
"Not afraid, I mean that's his job to protect the rim," Morant said. "My job, when I'm attacking the rim, is to finish, so obviously he got a good block. … But as you're seeing throughout the game, I was right back inside the paint."
Morant finished plenty more plays, including a thrilling reverse alley-oop dunk and a driving dunk that Gobert was a little late to challenge on, as he put up 47 points in the losing effort. And he's going to keep coming at Gobert.
Utah's star center wouldn't want it any other way.
"I mean that's what it's about," Gobert said. "Sometimes I'm going to get dunked on and sometimes I'm going to get the block. I'm never going to stop coming and try to do what I do, and it's the same for him. Hopefully he doesn't stop coming, and I'm still gonna be there every time. That's just the competitive spirit, and I know Ja has that, but I have it too. So it's what it's about."
×
Related Stories