SALT LAKE CITY – Nearly a year after the remains of two Idaho children were found in the yard of their mother's new husband, the couple appeared in court Wednesday in southeast Idaho to answer new charges of murder and conspiracy involving their reported doomsday religious beliefs.
Chad Daybell remains in jail without the possibility of bail after declining to ask a judge in Fremont County to revisit the order. He sat next to his defense attorney with hands clasped on a table Wednesday as Judge Faren Eddins read the new criminal charges against him.
The judge didn't do the same for Lori Vallow Daybell, however. Citing unspecified "exigent circumstances" that came to light in a conversation with attorneys moments earlier, Eddins postponed her hearing indefinitely. The judge didn't elaborate and took the unusual step at the request of defense attorney Mark Means, and over the objection of prosecutor Rob Wood.
Lori Daybell wore a blue top and face mask and didn't speak during the hearing.
The couple have been jailed for about a year awaiting trial on charges that they conspired to keep the remains of her children, Joshua "JJ" Vallow and his sister, Tylee Ryan, hidden.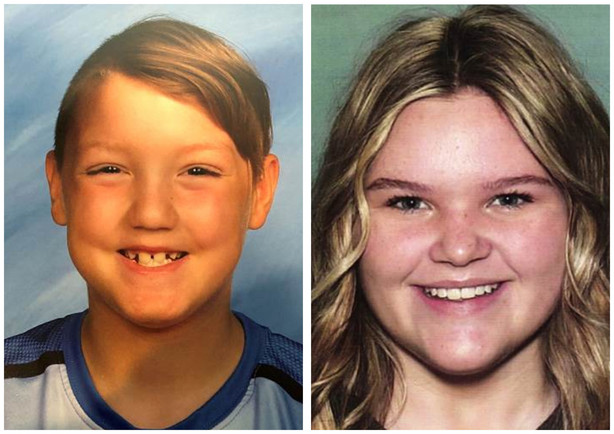 But until this week, no one was charged in the deaths of the children. A grand jury indicted the couple Monday on murder charges tied to the children's killings and found probable cause for Chad Daybell to face an additional charge of murder in the October death of his former wife, Tammy Daybell. She died Oct. 19, 2019, and was buried in Springville, Utah. Her body was quietly exhumed as part of the investigation on Dec. 11, 2019.
On Wednesday, Chad Daybell wore close-cropped hair, a white shirt and red tie in the brief hearing held via videoconference. He replied, "I do," when asked if he understood his legal rights and was seen laughing briefly in the beginning of the hearing when asked if he could hear the audio feed.
The children vanished around the time of Tylee's 17th birthday in September 2019. JJ was 7 years old at the time. Their disappearance caused concern among their family members first and then drew widespread public attention. The police investigation has focused in part on the couple's reported beliefs about evil spirits and people they refer to as zombies.
According to authorities, the Daybells believe their mission includes leading the "144,000" and ridding "the world of 'zombies.''' Chad Daybell is an author of several novels based on apocalyptic scenarios.
The couple wed in Hawaii about two weeks after Tammy Daybell's death. Lori Daybell was arrested in that state in February and extradited to Idaho.
Additionally, Chad Daybell faces a charge of life insurance fraud tied to his former wife's policy, and Lori Daybell is charged with theft of Social Security benefits allocated for the care of her children after their deaths.
Means and a representative for Wood's office both declined comment Wednesday.
Chad Daybell returns to court for arraignment June 9.
Contributing: Paul Nelson, KSL NewsRadio
×
Related Stories