HERRIMAN — Ever since they were in fifth grade, the seniors at Wasatch High School dreamed of playing for a state championship — a dream that would be the first since 2013.
Wasatch coach Jared Hendry loves to tell the story. After all, he was the P.E. teacher for many of those fifth grades who are now seniors.
On Friday, they'll get the chance to live out that dream on the biggest stage in Utah soccer: playing for the Wasps' first state title since winning two in three years in 2011 and 2013 on the home pitch of Real Salt Lake.
Edgar Garcia scored the golden goal on a penalty kick four minutes into extra time to lift Wasatch in the Class 5A state championship with a 2-1 win Tuesday over Maple Mountain at Herriman High School.
The Wasps (17-2) will play Skyline in Friday's finale at Rio Tinto Stadium. Kickoff is scheduled for 4 p.m. MT.
It took four minutes of extra time in a match Wasatch led until the final two minutes. But there was never a panic in the Wasps' attempt at a title bid.
"They know each other, and have been playing with each for so long, in club and in camps," Hendry said. "They've been getting together 2-3 extra times per week. When they talk, they're like brothers. They really are upbeat and talk to each other how it's supposed to go. Then they all just take it on themselves to do that.
"It's a dream. And we'll let them celebrate it today before we get to it tomorrow and be ready to go on Friday. But I'm just so excited."
The top-seeded Wasps battled to a scoreless draw through the first half with Maple Mountain's defense, who got the better of their numerical superiors through 40 minutes.
Wasatch finally broke through in the 67th minute. Carter Davis' worm-burning slow roller wasn't the prettiest goal in the history of the sport.
But it did give the Wasps a 1-0 advantage one it would hold through the 77th minute.
In the 78th, though, Addison Allen booted a ball from 30 yards out that took a curve and caromed off the under side of the crossbar.
Wasatch goalkeeper Elder Gutierrez posted a handed on the ball just long enough to kick it back over the end line. But after all three officials conferred together, the goal was upheld and Maple Mountain (14-5) celebrated wildly before forcing the extra session.
"Once they scored, our thought process was to get the ball in and up as quickly as possibly," Hendry said. "We knew we'll get another opportunity.
"It was a little frustrating when they scored. … I can understand that. And I thought the officials were great this game, just phenomenal."
But there was still time left — even if it was extra time. That was message preached in the five minutes between regulation and extra time: a message carred by the Wasps, not the coaching staff.
"We as coaches just kind of stood back and let the boys say what they needed to say," Hendry said. "Then we devised the plan to get it up there and get the ball.
"They were pressing, but we managed to create possession and create a penalty in the box that helped us to seal the game."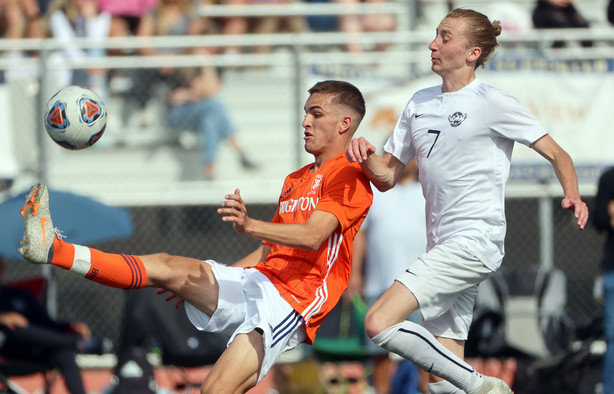 Skyline 3, Brighton 1
Brighton had all the momentum in two regular-season meetings with Skyline, a 1-0 win and a 2-2 draw in Region 6.
So the Eagles knew they had to score early — and fast — to end the hex.
On Monday, the plan worked to perfection.
Ben Howarth scored in the fourth minute, and Skyline did all its damage in the first 15 minutes of the match en route to a 3-1 victory to send the Eagles to Rio Tinto Stadium seeking their first title since 2015 in a pandemic-impacted season.
"We know that they're a good team, and we knew we had to come out and play well," Howarth said of Brighton. "But we wanted to make it to Rio Tinto and play in the finals, and had a plan. I think we executed it perfectly."
The Eagles (13-5) wasted little time, jumping out to a 1-0 lead on Howarth's goal in the fourth minute, and Caden Kennedy doubled the advantage less than three minutes later as the two co-captains took control of the game.
Riley Liston added a goal off a shot from distance that was initially saved before a dropped ball trickled over the end line to send the Eagles up 3-0 in the 14th minute.
The 10th-seeded Eagles, who had already won three consecutive games including a 1-0 victory over No. 2 Mountain Ridge in the quarterfinals, couldn't have asked for much more out of a 3-0 first half for all the scoring they would need to send them on the program's 12.3-mile drive to Rio Tinto Stadium.
"We've always had that goal of going to Rio Tinto; it's always been a dream," Howarth said. "Now that the dream is coming true, it's a surreal feeling."
Cameron Neeley pulled one back for Brighton (14-5) in the 61st minute, but it was too late for the Bengals, the No. 3 seed in the tournament that had won each of its previous matches by multiple goals.
×
Photos
Related Stories