SPANISH FORK — After Bear River's McCall Maxfield lost to Tooele in the first game of the best-of-three Class 4A state championship series Friday afternoon, she did what any competitive softball teenager would do to get back on the right track.
She fired up a karaoke machine with a freshman after going to an escape room with the team and sang along to a collection from the Frozen soundtrack and a few Taylor Swift albums.
And it worked like a charm.
Maxfield belted a home run in each of the two remaining games Saturday, and older sister Oaklie went 4-for-5 with a home run, three RBI and three runs scored over two games to help Bear River clinch its 10th state title and third since 2016 with a 14-6 win Saturday afternoon over reigning champion Tooele at the Spanish Fork Complex.
"We were just partying outside, jamming out," said McCall Maxfield, who accounted for three runs in the final game. "I think that confidence carried over a little bit.
"Next year, we'll have to do it again. It's a tradition now."
Her day couldn't have started much better, either.
On Maxfield's opening at-bat, the junior went yard for a solo shot over a battered and beaten shallow fence. One batter later, her sister followed suit.
Both moments were special for Maxfield. But watching her older sister, a senior, boom it to help the Bears (26-6) to an early 2-0 lead was the greatest moment.
"When we're both on, there's no stopping us," McCall Maxfield said. "But honestly, since it's her last game, I was more excited for her. She should go out with a bang, and that's what she did."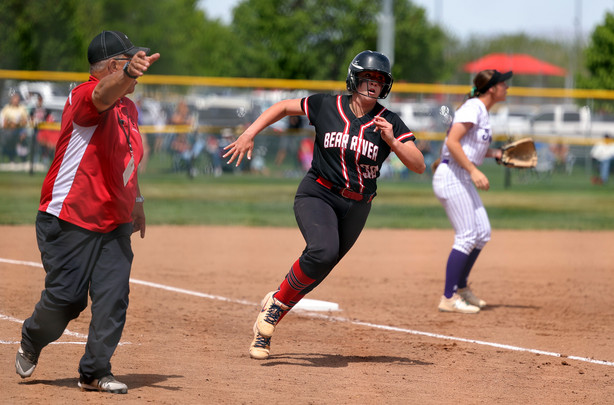 Cami Gibbs went 3-for-5 in the second game with two RBI and two runs scored for Bear River, and winning pitcher Kate Dahle held the Buffaloes to one run on four hits before the final five-run inning.
Gibbs busted a 3-0 game wide open with a two-out, three-run shot that easily cleared the centerfield fence to put the Bears up 6-0 in the top of the fifth. It was exactly what Bear River needed after dropping a 5-0 game to Tooele — the 4A champions from 2019 who were considered by many the frontrunners in 2020 before the season canceled due to the COVID-19 pandemic — in the opener who finished the 2021 season with a 28-4 record.
"This has been a really good bunch to coach," said Bear River coach Calvin Bingham, whose 10 titles includes five consecutive won from 2008-12. "They've been more coachable than some in the past, and I think a lot of it has been the senior leadership. We've had tremendous senior leadership.
"If you have any kind of contention of senior leadership, it's going to ruin you. But these kids didn't; they just really supported each other, and have been a good bunch."
The Bears didn't always make it easy. But the easy road doesn't always yield results like Saturday's championship, which was Bingham's 10th in 22 years at Bear River.
"The first state championship we won was against Tooele. And we had the same experience with them: We got beat the first time, came back through the losers' bracket, and beat them twice," Bingham said. "It's a hard way to come win a tournament, but we've been hitting the ball pretty good lately, so it didn't surprise me. It was something that I kind of expected."
One batter after Gibbs' homer, Kinley Toone took a base hit, and Tooele standout Attlyn Johnston was forced to the bench for the final time of her career with an injury.
Johnston retired with four strikeouts, but allowed six runs on six hits. The Dixie State-bound senior was a terror in Game 1, when she scattered just three hits with three strikeouts over seven scoreless innings of the complete-game effort.
.@BRHSinfo survived a marathon with 2 wins over Tooele on the season's final day to take the @UHSAAinfo 4A softball championship. pic.twitter.com/NzdOCdG4VT

— KSL.com Sports (@KSLcomSports) May 23, 2021
But Bear River stayed in front of Johnston, who finished with 14 strikeouts on the day — thanks in large part to a pair of home runs from the Maxfield sisters and a never-say-die attitude from the Bears.
"We don't always come out with as much fire as we should have," McCall Maxfield said. "But after that first game, we realized we needed to step it up two notches. And then we got up, they got down, and we tried to stay up that entire time."
The Bears were error-free in the second game until Emma Higley reached first on a routine infield liner that took a bad hop over the pitcher. But Olivia Taylor ended the inning with no dispute on a fly ball, and Bear River kept the shutout.
It was Taylor, the athletic centerfielder who also stars on the Bears' basketball court, who kept the Buffaloes down with defense — and also an intense speed on the base paths.
Olivia Taylor of Bear River HS (Garland, Utah) with the catch of the CENTURY in the state championship game!!!!!pic.twitter.com/q34wLf7ly0

— Kendall Baker (@TheKendallBaker) May 22, 2021
Taylor went 2-for-4 with a walk and two runs scored in the third game, after robbing Johnston of a home run in the first with a ridiculous catch that sent her tumbling over the center-field fence.
"To me, Olivia Taylor is our MVP. How she goes is how we go," Bingham said. "Yesterday, she struggled. Today she got going a little bit. And when she gets on base, she runs like a gazelle. She's hard to get out, a tough ball player."
Carlee Miller went 3-for-5 with two RBI and two runs scored in the second game for Bear River.
Ayden Fitch went 2-for-3 with a three-run homer to lead Tooele in the third game.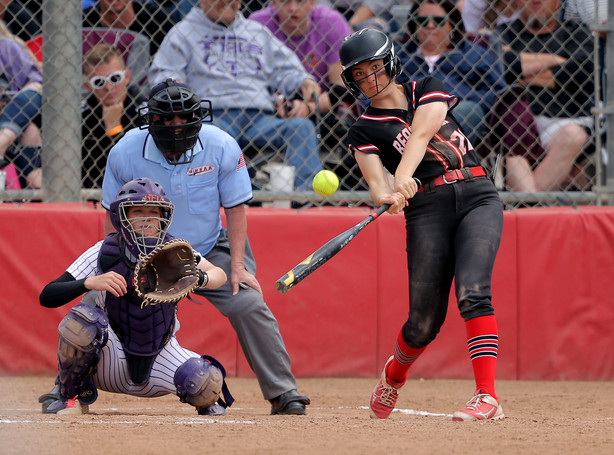 Game 2
Bear River 4, Tooele 2
At Spanish Fork, Oaklie Maxfield went 3-for-3 with a home run, a double and three RBI, and McCall Maxfield was 2-for-3 with a home run and two runs scored to help the Bears force the winner-take-all finale.
Bear River jumped out in front early with back-to-back solo home runs by Maxfield and Maxfield. Pitcher Baylee Sorensen induced casual pop flies on four of the first five batters, and the Bears took a 2-0 lead into the third inning.
That's when Oaklie Maxfield ripped a two-run double that scored McCall Maxfield and Kynlei Nelson to give the Bears all the scoring they needed.
Sorensen and Kate Dahle combined to hold the Buffaloes to just nine hits, stranding six runners. Dahle fanned four over the final 2 ½ innings to put the game away, including back-to-back strikeouts in the sixth to get out of a bases-loaded jam with no outs while allowing only one run in the frame.
Emma Higley went 2-for-3 with a run scored to lead Tooele, and Attlyn Johnston scattered five hits with 10 strikeouts for the Buffaloes.
×
Photos
Related Links
Related Stories