SANDY — There's something about Ridgeline sophomore Gabe Watson.
In Monday night's 1-0 semifinal win over Cache Valley rival Mountain Crest in the Class 4A state tournament, the sophomore striker broke through in the 74th minute to score the only goal of the match and advance the Riverhawks to their second championship match in four seasons.
On Tuesday, when Ridgeline was similarly locked in a 1-1 draw with fellow upstart Stansbury, Watson did it again.
The sophomore finished off a tap-in in the 70th minute to lead the Riverhawks to their second championship in school history, securing a stunning run from No. 11 seed to the title at Rio Tinto Stadium.
"And he's only a sophomore," Ridgeline coach Dale Buchanan said of Watson. "We have a variety of players from different grades and teams that come into our high school. But Gabe is one of those guys who has to get to the goal, and he's been one of our strongest finishers this season. He works really hard, and he's a great team player.
"He has the passion to get in and score."
Grady Workman added a goal for Ridgeline, and Maximus Rouffignac scored for No. 8-seeded Stansbury (13-5).
Burdened by losses in three of its first six games, Ridgeline (13-7) took the No. 11 seed into the 4A tournament — and made a run of it.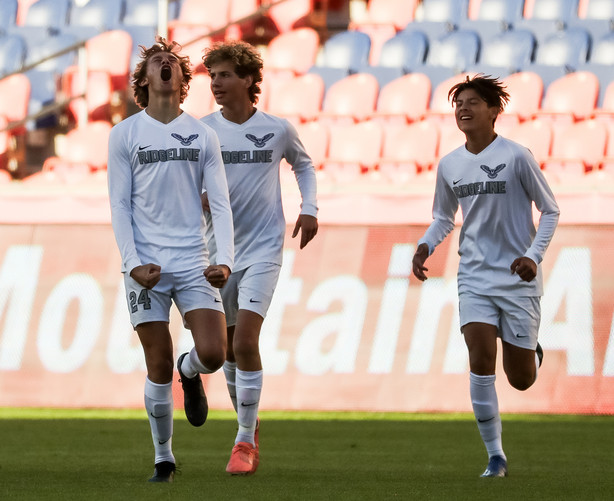 That didn't make it easy. After a first-round bye, the Riverhawks were forced to travel to St. George for back-to-back contests, a shootout victory over Crimson Cliffs and 2-0 win over Dixie in the quarterfinals.
Then came Monday's semifinal at Jordan, where Watson was the clear hero after 74 minutes of a scoreless stalemate.
"I knew why we were No. 11," said Buchanan, a self-proclaimed "numbers guy" by trade as an engineer. "Our preseason is set up specifically to play strong teams, and we play three 5A teams, three 6A teams, and some outstanding teams. We won half, lost half of those, and that adds up the RPI.
"These guys earned their playoff wins, one-by-one, including today. I think the playoffs were challenging for everybody. But I'm glad we ended up where we did."
Workman gave the Riverhawks the early advantage, converting from an awkward angle inside the 18-yard box to go up 1-0 in the 26th minute.
Stansbury's Dante Sylvestri nearly equalized just before the half, but his quick-striking mark at the near post was tipped over the bar in the 38th minute to preserve Ridgeline's early advantage.
Rouffignac equalized for the Stallions just three minutes after halftime, burying a right-footed shot from the right side of the box in the 43rd minute. But that left time for another late winner from the ultimate late-match deliverer.
Watson put Ridgeline back in front late, providing the lead for the final 10 minutes with a tap-in goal off a free kick in the 70th minute.
"I think my heart went through my mind," Buchanan joked of the match-winner. "We've struggled to finish as a team. But defensively, we've done well; possessing we've done really well. So it was extra sweet when that goal went in, and then the team locked it down and managed those few minutes really well."
The sophomore, who also had the match-winner in Monday night's 1-0 semifinal win over Mountain Crest, has made a flair for late-game theatrics in the 11th-seeded Riverhawks run to the championship match.
"The hype is just unreal. That was everything I've ever dreamed of, really," Watson said. "Late game, I just want it so bad. I get goal-hungry, and want to win it for my team."
Of course, he got a little help from his coaches, too. Ridgeline, which won its second state title since the school opened in 2016, is also coached by assistants Mark Tureson and Richard Alexander. Tureson was the head coach of the Ridgeline girls soccer team that won the 4A championship in the fall, and both Buchanan and Alexander served as his assistants there.
"They all work together really well," Watson said of his coaches. "They think well together, figure out who we're playing against, and then just go from there."
Class 4A state championship
Rio Tinto Stadium
Ridgeline 2, Stansbury 1
Goals: Grady Workman, Gabe Watson, Ridgeline. Maximus Rouffignac, Stansbury.
×
Photos
Related Stories