SALT LAKE CITY — Looking for a new ride? Finding a used vehicle in today's pandemic-impacted car market is harder to do and more expensive.
"Vehicle prices as high as they have ever been," said Chad Ritter, owner of Lakefront Auto Sales in Layton. "I would say probably 15 to 20% higher would be my guess."
Ritter, who specializes in used pickup trucks and sport utility vehicles at his Davis County business, attributed the issue primarily to lower supply and higher-than-normal demand for both pre-owned and new vehicles.
"Supply and demand, yes, because all the major manufacturers like Ford, (General Motors) and Dodge — they're not building any (new) trucks because they can't get any of the programmable chips."
The worldwide semiconductor chip shortage was first noticed last fall, and the fallout has been impacting the global car market ever since. The problem became a major issue for automakers, with some significantly slashing production of some of the world's most recognizable brands.
The result has been far fewer vehicles on dealer lots, just as the waning pandemic has fueled pent-up consumer demand for cars, trucks and SUVs. Given the robust customer demand, dealers likely could sell many more cars and trucks, if only more were available. Even at elevated prices — the average new vehicle sales price tops $40,000, up nearly 10% in two years — customer demand exceeds supply.
"The car industry is doing OK and we will hopefully come out of COVID OK," said Craig Bickmore, executive director of the New Car Dealers of Utah association. "The dealers have done OK and we're grateful. But what's happening now is inventories are tight for reasons that have been in the news a lot — inventory is tight and will probably get a little tighter as manufacturers work through those issues with supply chains."
He said local dealer inventory is about average for the current environment but could be much higher given the increased demand for new vehicles.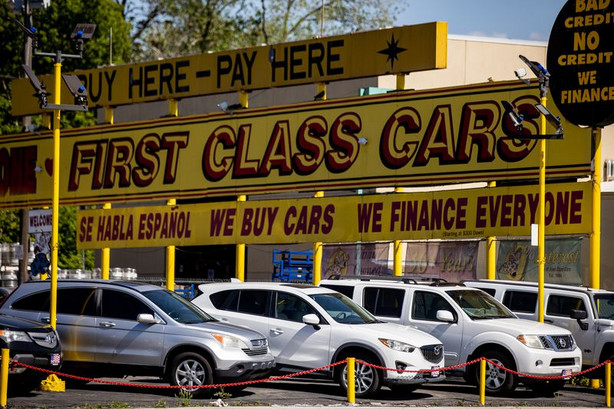 "Are we now back to where we were before (the pandemic)? I don't think so. That would be the average, so in that way, it's probably below average because of supply," he explained. "But coming through COVID, that's the new average."
Analysts say an upward demand trend was to be anticipated to some degree considering the steep decline caused by the pandemic shutdown a year ago. Additionally, with the summer driving season approaching, consumers are looking for the latest technology available in new vehicles.
"We do expect that in 2021, there will be a little bit more of a pickup in car buying," said AAA Utah spokesman Aldo Vazquez. "One of the reasons why is people will often go for a new car because they're looking for a number of advanced driving assistance and safety features that a lot of these newer vehicles come with. That's the biggest appeal."
Meanwhile, adding to the supply challenges, Ford expects to produce only half its normal number of vehicles from now through June. GM and others have resorted to halting the production of some cars and smaller SUVs and diverting computer chips to higher-profit pickup trucks and large SUVs.
The vehicle scarcity and soaring prices can be traced to the eruption of the coronavirus 14 months ago, according to the Associated Press. As the virus spread, auto factories shut down for a couple of months. With millions of people working from home, demand for laptops and monitors led semiconductor makers to shift from autos to personal electronics.
Soon, though, a faster-than-expected economic rebound boosted demand for vehicles, prompting auto plants to try restoring full-scale production. However, chip manufacturers couldn't respond swiftly enough. With production slowed, dealer inventories shrank. Now, as the chip shortage persists, the shortage of new vehicles has worsened, and analysts foresee no return to normal before next year.
Related:
So far, automakers have been earning big profits even with a depleted inventory, largely because many buyers have been willing to pay more to get what they want. With government stimulus checks and tax refunds in hand, Americans bought about 1.5 million new vehicles in April. That's an adjusted annual sales rate of 18.5 million — the highest such rate since 2005.
"It's like toilet paper was a year ago," said Michelle Krebs, executive analyst for Cox Automotive. "Everyone is rushing to buy a car."
As for pre-owned inventories, a Wall Street Journal report indicated that nationally, used vehicles are selling for more than $25,000, on average — just over 10% higher the same time than last year. In the 15 years he's been in the car business, Ritter said he's never seen car prices "go like they are right now."
"This will be hopefully a once-in-a-lifetime deal," he said. "The prices of cars are just out of touch with reality — what they're really worth."
"Basically, in a nutshell, if you're buying a car, right now you're paying too much," Ritter said. "But if you've got to have a car, you don't have a choice."
×
Related Stories