SANDY — Real Salt Lake took its first draw of the season Saturday night.
The home side followed the lead of the visitors, Nashville SC, which found its fourth draw in five matches.
David Ochoa made three saves in his first career shutout, but Real Salt Lake couldn't find a winner in a 0-0 draw in front of an announced crowd of 10,555 fans celebrating Pride Night on a warm Saturday evening at Rio Tinto Stadium.
"It feels really good to get my first clean sheet; that's our job," Ochoa told reporters after the match. "That's what we want to do, especially because of all the work we put in preseason and in training every week. We try to emphasize our defensive block.
"It feels good to get the clean sheet tonight, and hopefully it's the first of many in my career."
Around half of the crowd was masked up in the club's first match not requiring face coverings in line with the recent update in guidance from the CDC for fully vaccinated Americans. RSL continued to strongly encourage those in attendance to wear a mask, with masked-up stadium workers and staff and signage around the stadium urging fans to do the same.
But for the first time all year, it wasn't required, and many made their voices heard — unmuffled — while enjoying food and drink at their seats — another recent change from "eating zones" located on the concourse that welcomed the start of the 2021 MLS season.
If RSL defender Erik Holt's header from the right side of the box in the final minute of stoppage time had sailed anywhere but high and right of the target, that half-masked crowd likely would've become unhinged. Instead, RSL coach Freddy Juarez will take another learning experience back to the training ground — one of many for a young team in the first month of the season, but certainly not the last.
It's still early, after all.
"We could've had a game-winner and the stadium would've erupted; it was there," Juarez said. "That said, this team is very good defensively.
"These are all big, strong guys that take away a lot and we don't match them in height. We'll continue to develop, and continue to work things out. We'll get better."
Through nearly 90 minutes of play, RSL fans only had a handful of reasons to cheer — most of them courtesy of Ochoa, as well as the loudest cheer as time expired on RSL's corner kick that bounced over the opposing net. The team finished without a shot on goal, but posted 12 shots, with five that were blocked away from the end line.
Ochoa was earning the shutout, to say the least. The 20-year-old keeper faced 12 shots, including stopping a shot from Randall Leal in the 69th minute that was spilled then quickly corralled just off the right post to maintain the zero. That's the first step to winning, at least from the youthful U.S. international's perspective.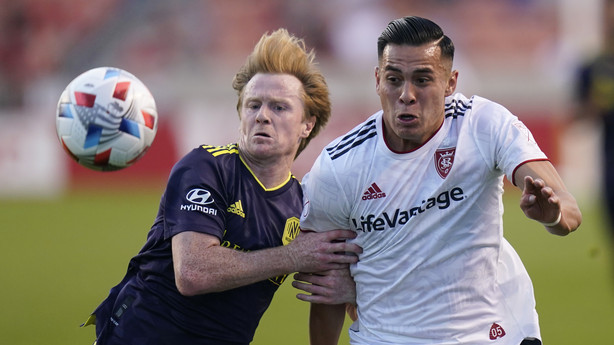 "I thought we were very organized in the back," Ochoa told one reporter in Spanish. "We worked on that a lot this week — we want to be a very good defensive team. And I think it went well, despite a few chances where they broke us. But I thought we were well organized, and got the zero in the back."
Since opening the season with back-to-back wins, Real Salt Lake has just 1 point in two home matches as it opens a lengthy run at Rio Tinto Stadium. The Sandy-based club snatched defeat from the jaws of victory with a 2-1 loss in the final moments to Chris Wondolowski and the San Jose Earthquakes a week prior to Saturday night's scoreless stalemate.
Holt played a critical role in last week's success — and failure — so it's understandable where his focus would be over the previous eight days. The 24-year-old center back was equally eager to help Ochoa to his career milestone, in addition to his own shutout.
"I think honestly last week was a huge learning experience for us," Holt said. "We were being more committed to keeping a shutout together.
"This week, we worked our tails off to get better and defend as a team. I think tonight we definitely showed that."
So if Saturday night's game seemed to be full of defense, there's a reason for that. In addition to Nashville's lack in the attack, RSL spent considerable time during the week wanting the shutout — even, in some ways, needing the shutout, to give Ochoa the first of his MLS career. The defense felt slighted after Wondowlowski's late brace a week ago, and felt a chip on their shoulder to stand up — even against a Nashville side coming off its first win of the year.
It wasn't a perfect match — it's also only the fourth of the season for Real. But the defense proved something.
"I think it's in our DNA. We want to get a shutout. We constantly talk about it, and we did work a little extra on service. After the San Jose game, we knew we needed to get better at it.
"You could tell early in the game what they were playing for — some fouls, set pieces. And I thought we did well. We know we have to be a tough team to play against. But we still wanted to attack, to score goals, and at the same time to not lose discipline."
So was it two points lost, or one point gained? Maybe it was a little bit of both, especially against a team that has surrendered just four goals in the first month of the season, Ochoa said.
"We knew Nashville would be a very solid defensive team, and it was going to be hard to break them down," he said. "Obviously we want to come out with the W for the fans, especially at home. But it happens sometimes in the sport.
"Honestly, we walk out of that game with our head up. The clean sheet is most important, and we did that. So hopefully next game, we can get a 'Dub' for the fans, because that's what we want to do."
Real Salt Lake plays at FC Dallas next Saturday, May 22 (6 p.m. MT, KMYU) before returning home to host Minnesota United — victims of the club's first win of the year — on Saturday, May 29.
×
Related Stories