SALT LAKE CITY — Fossilized tracks more than a ½-mile long discovered by a University of Utah geologist in Wyoming two years ago are believed to be 58 million years old and the earliest known evidence of mammals that existed at what was once a seashore, according to a paper published Thursday.
Anton Wroblewski, an adjunct associate professor for the University of Utah's Department of Geology and Geophysics, first came across the tracks at the Hanna Formation, located about 75 miles northwest of Laramie, Wyoming, in September 2019.
His discovery was a bit serendipitous. The formation became a hot spot for paleontologists searching for bones, as well as pollen and leaf fossils for the past 30 years, Wroblewski said in a statement. For one reason or another, experts had missed the ½-mile set of tracks that had formed in the landscape's sandstone.
The tracks were left behind by two animals, one with four toes and another with five. The one with five appeared consistent with the coryphodon, which was a prehistoric semi-aquatic mammal sort of like a hippopotamus. The four-toed creature that left the other prints remains a mystery.
"When I found them, it was late afternoon and the setting sun hit them at just the right angle to make them visible on the tilted slabs of sandstone," Wroblewski explained. "At first, I couldn't believe what I was seeing; I had walked by this outcrop for years without noticing them. Once I saw the first few, I followed out the ridge of sandstone and realized they were part of a much larger, more extensive trackway."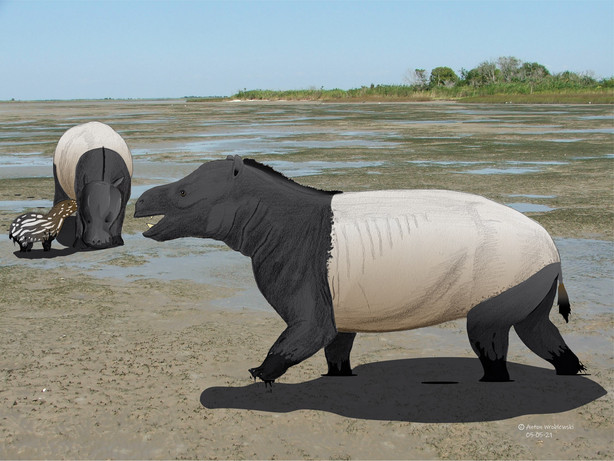 While a part of the Intermountain West today, it's an area that the tracks were found was prehistorically an ocean shore. Working with Bonnie Gulas-Wroblewski, an applied biodiversity scientist at Texas A&M, the two went to work analyzing fossilized plants and pollen tied with the animal prints.
They determined that the tracks were about 58 million years old, about 9.4 million years older than previous evidence of mammals and marine environments. Their findings, which came after more than a 1 ½ years of research, were published in Scientific Reports Thursday.
"In this case, trace fossils show that large- bodied mammals were regularly using marine environments only 8 million years after non-avian dinosaurs went extinct," Wroblewski said.
The tracks discovered in Wyoming were just the second Paleocene-era mammal tracks found in North America and fourth in the world, according to the researchers.
Wroblewski said the finding may offer insights into how prehistoric mammals lived based on how mammals that live in similar marine environments today. Mammals that currently live in those types of environments do so for foraging or to avoid predators.
Still, he said there is likely plenty of research that needs to be done at the site to figure out the behaviors of prehistoric mammals.
"There's still a lot of important information out there in the rocks," he said, "waiting for somebody to spot it when the lighting is just right."
×
Photos