PARK CITY — When the pandemic began last year, the people who help some of Utah's most vulnerable children — those who have been victims of or witnesses to serious crimes — had two choices:
Shut down as some children's justice centers in the country did, or keep working.
They say the first wasn't really an option.
The alternative meant that kids might be left going to police departments or hospitals for their interviews, or that their cases would be put on hold.
"We are considered first responders, so while the pandemic hit us by shock just like it did all people and agencies in our community, we really had no other choice but to figure out what our backup plan was going to be and how we were going to keep centers open but try to keep our staff and our families healthy and safe at the same time," said Heather Stewart, forensic and multidisciplinary team services specialist.
Those who work at Utah Children's Justice Centers statewide held daily meetings to figure out how to keep working. Meanwhile, many of the more than 900 centers nationally closed, and those who run them knew they would face a "tsunami" of cases needing attention once the pandemic ended, said Tracey Tabot, the state program administrator.
Utah's centers staggered staff and implemented sanitation measures, removing some of the toys that could prove more difficult to clean. Although March and April 2020 brought a small dip in caseloads, the number of interviews held at the centers that summer was consistent with what had been seen the year before, Tabet said. And this year, they are not seeing an uptick that would indicate they need to catch up due to the impacts of COVID-19.
"It was just that assurance that despite the pandemic going on around us, people were still reporting child abuse and our partner agencies were still bringing them through our doors at a rate consistent with what we saw pre-pandemic. And that was something we were watching closely because we want to make sure that kids who need to be seen by us are being seen," she said.
Despite fears for their own safety while working with members of the public, just two cases were confirmed among Children's Justice Center staff members in the state, and it's unknown if they contracted the virus at work, Tabet said.
Forensic interviews
The onslaught of COVID-19 cases also became a challenge for forensic interviewers, who needed to come up with a plan to continue interviewing kids in a way that will withstand courtroom scrutiny. The new reality of mask-wearing meant kids' responses and interviewers' questions might not hold up without special considerations.
"Sometimes children in an interview are difficult to understand anyway by the nature of their lack of development, or they're particularly reluctant. And then you add a mask to their face, which makes it harder to hear them. You add a mask to the face potentially of the interviewer, which could interfere a little bit of rapport or the mystery of what's under there: 'What does she look like?'" Stewart explained.
Before the pandemic started, interviewers would talk to kids about the "ground rules" for the interview "because it's a very different conversation than what kids are used to having with grown-ups," Stewart said.
To accommodate masks, interviewers needed to verbalize: "I'm wearing a mask and you're wearing a mask to help keep us safe."
"So you can see that there's video documentation, but we also need verbal documentation about why the setting looks a little bit different than it typically would beforehand," she said.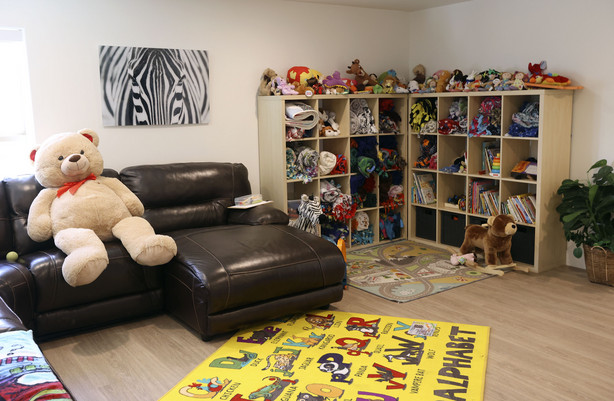 If an interviewer asks a child to repeat himself or herself, or asks the same question multiple times, it can be considered leading. With the use of masks, interviewers need to tell the children beforehand that because they're wearing masks, they might have a hard time hearing each other, Stewart said.
"So if I have to ask you a question again, or if I ask you to repeat yourself, it's not because you didn't say the right thing, it's probably just because I'm having a hard time hearing you because we're wearing a mask in here," interviewers will say, according to Stewart.
It's too soon to see how the changes to forensic interviews will play out in court, as most cases haven't made it there yet, Stewart said — another consequence of the pandemic.
"Our kids were already waiting months and years potentially to go to court on a case that had come through our doors, and that's been hugely impacted. And our courts are not back to regular business yet. They kind of have a plan and they're doing it gradually, but we do worry about that, the impact on our kids having to wait a really long time before their day in court, so to speak," Stewart said.
Courts have prioritized cases for defendants in custody, but overall there's "no solution because of the numbers," she said.
Telemental health
The pandemic wasn't without its "silver lining" in helping children.
"It did, in some ways, kind of force us to think outside the box for how we continue to serve children," Tabet said.
Before 2020, Utah's Children Justice Centers had launched a partnership with another state chapter and national organization to implement telemental health services in Utah for children.
"And a big piece of that was to train a group of clinicians here in Utah on how to effectively deliver therapy to children virtually. And if not for the pandemic, I don't know that we would've been able to fast-track that piece as quickly," Tabet said.
Everyone needed to "accelerate their learning and their commitment to trying different things," she said.
Tabet said the centers held trainings with experts and clinicians and forged a longstanding partnership with the Medical University of South Carolina through the telemental health program. The Children's Justice Centers received another private grant to continue to expand mental health services in rural communities in particular, she said.
"And we know that telemental health will continue to be a critical piece of that response. It's not the only piece, but we know that it works, we know that it can be just as effective as in-person therapy when clinicians are trained on how to use it effectively," according to Tabet.
"The pandemic really did give us that little push, and we took that leap of faith, and now it's just a component of what we do as part of our regular business," she said.
Deondra Brown, a member of The 5 Browns who along with her sisters were abused by their father, now works with Children's Justice Centers. She said she remembers going to a police department as an adult to speak with a detective when making her report and "how intimidating that was."
"And how even as an adult you walk in and you feel like you're doing something wrong. It's that feeling of, 'What did I do?'" she recalled.
"So I can only imagine from the perspective of a child who's already, you know, nervous and feeling some sort of guilt or worried about what these things they're going to say may potentially do to their family," Brown said.
But at a Children's Justice Center, "you're walking into an environment where you can feel at ease. Where people come to your level, and you feel like everybody's working toward your good, instead of feeling like you're in the same place of criminals who walk through the door, too," she said.
She urged community members to get familiar with their local Children's Justice Center and the services offered there.
"I feel it's up to us, up to each one of us, to have a better understanding of what we can do when we suspect abuse is happening," Brown said.
For more information about Children's Justice Centers, visit utahcjc.org.
×
Photos
Related Stories