PROVO — Two years ago, BYU and Hawaii ended the 2020 season truncated by the COVID-19 pandemic positioned as the top-two teams in the country.
A year prior, Hawaii played in its fourth national championship match in 2019.
Two years later, the Warriors clinched the whole thing.
Rado Parapunov laid down a match-high 13 kills and seven digs, and Patrick Gasman and Colton Cowell added seven kills apiece as No. 1 Hawaii swept past second-ranked BYU, 25-21, 25-19, 25-16 on Saturday night in Columbus, Ohio.
A championship tilt that was anticipated through the better part of two seasons — as well as a global pandemic — ended with a thud Saturday night, but there was little doubt who was the better team to celebrate on the Covelli Center court.
"I thought they were a little more composed from the service line and in reception," BYU coach Shawn Olmstead said after congratulating the University of Hawaii. "We seemed to get a little rattled, which I don't know if we've seen that too many times this year. Credit to them; our tentativeness passing led to being tentative at the net and attacking.
"It's hard to pinpoint right now. It's a crazy blur for everybody. I'm surprised that we became so tentative in serve reception. And as points added up, they found more energy."
BYU was swept in the finals for the third time in five years, and the fourth time since 2013 — which was the Cougars' first title match appearance since winning the program's third championship in six years in 2004.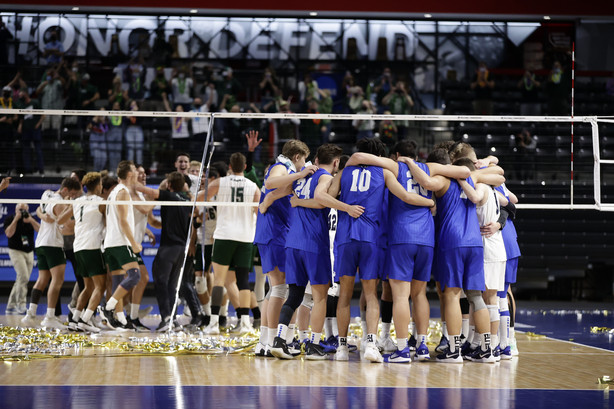 Gabi Garcia Fernandez had 12 points, four blocks and four digs to lead BYU, which hit just .262 and passed at a lowly 28.1%.
Will Stanley dished out 29 assists with four digs for the Cougars (20-4), and Davide Gardini and Zach Eschenberg each put down seven kills.
Led by four players with four blocks each, BYU out-blocked the Warriors (18-1), 7.5 to 5.5. But led by libero Gage Worsley, whose seven digs tied a team-high, Hawaii's passing was too much.
Add in 10 aces, and the Cougars never found their footing.
"Serving is kind of our thing," Hawaii coach Charlie Wade said with a big lei wrapped around his neck and the championship trophy sitting next to him in the post-match press conference. "We've worked on it a lot, and we wanted to stay aggressive. That's not always velocity … but we talk more about the components of a good turn."
For the third time since 2016, BYU was swept in the championship match of the NCAA title. With everything on the line, the Cougars simply couldn't finish the deal.
Plenty of credit goes to Hawaii, which won its first national title since its win in the 2002 champion ship was vacated by NCAA sanctions. It took the Rainbow Warriors four trips to the championship to win the "big one" a second time, including a title-match loss to Long Beach State in 2019.
This time, the 'Bows were motivated. And the Cougars? Simply devastated.
"It's a bitter pill, getting that far and losing," said Wade, who knows the feeling from two years ago. "These guys did not want to have that feeling again. We knew we were getting on that plane in the morning again, and we didn't want to have that feeling."
Simply getting to Columbus, to the Mountain Pacific Sports Federation regular-season and tournament title, and the chance at a national title, required work. Along with all the practices, weight lifting and conditioning drills common to most seasons, athletes had to deal with weekly COVID-19 testing, regular quarantines, and playing in empty arenas.
It was something Stanley and the other returning "Super Seniors" like Miki Jauhiainen and Zach Eschenberg expected — but that didn't make it easy.
Stanley used another word to describe it, though; that word was "unforgettable."
"The collective joy of wanting to come back showed that it wasn't just us. These guys wanted us to be a part of this team," the senior from Honolulu, Hawaii said. "They wanted to get to this spot. This season was definitely different, but I wouldn't trade this experience for any amount of money or anything. Any opportunity I had after my season last year, I wouldn't trade that for anything that happened this year. We just strengthened that brotherhood over and over again.
"It's definitely something I'll never forget."
The final, however, was rather forgettable.
A pair of kills over the middle by Jauhiainen and Felipe de Brito Ferreira, combined with an ace by Teilon-Jonathan Tufuga and some crafty serving by Garcia Fernandez combined to help BYU overturn an early deficit for a 19-18 edge in the first set.
But Parapunov sparked and capped a 5-0 run to put the Warriors back in control, and Hawaii cruised to the 25-21 win on back-to-back service errors, and the Warriors were off and running.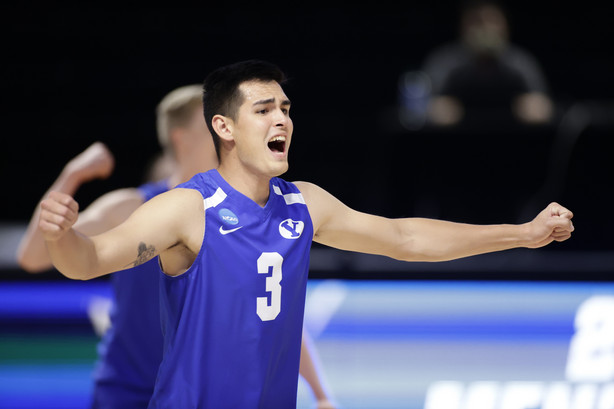 "Once they started to add up aces," Olmstead said, "they got even more comfortable from the service line."
Things didn't get much better in the second set. Gasman and Parapunov posted the Warriors' third block of the night to force one timeout, and Jakob Thelle stretched Hawaii's lead as high as 13-8 to during an 8-1 run that forced Olmstead to use his second timeout midway through the set.
Stanley used a setter's dump and dished back-to-back kills to Garcia Fernandez and Gardini to pull within five, 17-12. But Parapunov put down three consecutive aces to slam the door on BYU's rally, taking a 23-14 advantage on a 5-0 run en route to a 25-19 second-set victory.
The rest was a formality.
"Both teams are at an extremely high level, and the quality of volleyball on the court was just unnatural," Parapunov said. "We knew they analyzed us, we analyzed them, and we just gave them all the respect.
"We knew if we didn't play better than our best, they'd beat us. I have so much respect for Gabi, Davide, Wil — all of them."
Hawaii hit a collective .400 in the decisive third set, with 15 kills on 30 swings and just three errors. BYU was held to 10 kills and four errors from the pins, and just two blocks.
The win for the 'Bows began at the service line, where Hawaii poured in 10 aces to just two for the Cougars, and forced a sideout at a 71.9% clip — nearly 20 points better than BYU.
Hawaii ended a championship drought that goes back 19 years on the court and indefinitely in the NCAA record book with elation Saturday night, the Warriors' first or second title — depending on how you look at it.
For the Cougars, the drought continues. Still looking for their fourth national title and first since Olmstead's playing days in 2004, that quest isn't over.
It just passes on to the next group — and ends the chapter of a remarkable senior class, with two groups combined in one.
"This has been the toughest year of my coaching career, and probably the most rewarding as well," an emotional Olmstead said. "For these guys to come back and watch these guys sacrifice for the group is something words can't express.
"The guys know what I feel about them, how I feel, and I love this group. This one is extra, extra tough, because of the group and the dynamics."
---
NCAA men's volleyball fast facts
Hawaii (18-1)
AVCA Coaches' Poll: No. 1
National championships: 1 (2002 championship vacated by NCAA sanctions)
Championship match appearances: 4 (1996, 2002, 2019, 2021)
BYU (20-4)
AVCA Coaches' Poll: No. 2
National championships: 3 (1999, 2001, 2004)
Championship match appearances: 8 (1999, 2001, 2003, 2004, 2013, 2016, 2017, 2021)
×
Photos
Related Stories