PROVO — On the court, Wil Stanley may be the most important piece of the offense for the second-ranked BYU men's volleyball team.
The quarterback of the team, the 6-foot-4 setter from Honolulu is in charge of setting up every spike, kill and slam to a group that includes All-American hitters Gabi Garcia Fernandez and middle blockers Felipe de Brito Ferreira and Miki Jauhiainen.
Basically, if it's an attack, chances are Stanley has to guide it.
But last year, the senior with the Spirit of Aloha was called on for an even bigger task — one that had very little to do with sets, bumps and spikes.
Stanley was one of three seniors whose final season was abruptly cut short by the COVID-19 pandemic, which shut down college sports midway through the spring season and abruptly canceled all remaining championships of the 2019-20 winter and spring seasons.
The list most notably included the 2020 NCAA men's basketball tournament. But for BYU fans, perhaps more notable was the end of the men's volleyball tournament, where the Cougars were expected to contend for their fourth national championship.
So all through stay-at-home orders, and with all public activities shut down in Provo, Stanley had a decision to make. Should he wrap up his career, finish his degree, and move on to more lucrative professional opportunities in volleyball leagues overseas? Or should he put it all on hold, come back for another year, and bring along Zach Eschenberg and Jauhiainen, along with natural seniors like Ferreira and Garcia Fernandez, to "run it back" and "finish what they started"?
"Be where you are. Be where your feet are."@BYUvolleyball knows how important it is to stay in the moment.#BYUSN#BYUVolleyballpic.twitter.com/qP5Jg6iBIF

— BYU Sports Nation (@BYUSportsNation) May 7, 2021
Despite the challenges of college volleyball — where scholarships aren't allotted in full-ride installments and are often divided into thirds and fourths across the roster — the answer was pretty easy. Stanley had his mind made up, even before he could officially make it up, when the NCAA allowed players to come back for a free season of eligibility.
He tweeted about it. He went on BYUtv and blasted it across the airwaves. He spoke about it in season follow-up interviews with local media, telling anyone who would hear.
Stanley was coming back. And the rest soon followed.
"As soon as it was greenlighted, I'm pretty sure I told Shawn (Olmstead, BYU head coach) yes before he could ask the question," said Stanley, the graduate senior with 765 assists, 115 digs and 51 blocks in 2021. "I just wanted to come back, to play with the boys, and to be here in this seat. It was a pretty easy decision for me."
Stanley will lead No. 2 BYU into the NCAA men's volleyball tournament championship Saturday against top-ranked Hawaii (6 p.m. MDT, ESPNU), a rematch of the final series played a year ago that saw a split in the islands, in Stanley's hometown, inside the Stan Sheriff Center.
The Cougars and Rainbow Warriors were on a collision course a year ago. After more than 365 days and a global pandemic, this weekend will finish the job.
"The championship was canceled, but BYU and Hawaii were No. 1 and No. 2. We're in a position to finally close the deal," said Ferreira, the Cougars' top blocker who averages 1.25 stuffs per set. "It's been a lot of hard work for two straight years. Now we finally get the opportunity to get this final. Hawaii is a great team; we're excited to play them, and I can't wait. We've been preparing, we've been studying them, too — and I think it's going to be a blast."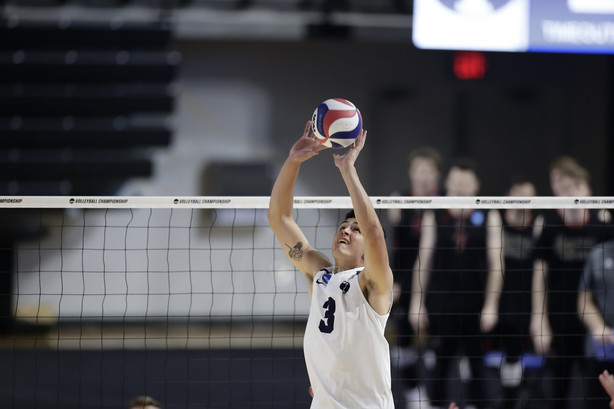 At the center of the run has been Stanley, who has a Jedi-like quality to bring balance to the Cougars' offense since he exploded onto the scene as a freshman in 2017. He distributes between future professionals on either pin and a middle that includes Jauhiainen, arguably the smartest player on the team and the two-time NCAA Elite 90 award winner for highest GPA in the country — an award he's clinched while majoring in computer science.
Before any of them can touch the ball, Stanley has to give it his blessing.
"Balance is very important in volleyball, and I think Wil has done a phenomenal job, especially when he spreads the ball around," Ferreira said. "It makes it unpredictable for a blocker.
"For me, as a middle blocker, a setter doing that makes reading the game that much harder. Sometimes he dumps, too; it's a great key for our game."
To get to this point of the season, BYU had to go through a lot — and not just practices and playing time.
Through lockdowns, regular tests for the virus, and a conference-only schedule that culminated in the Mountain Pacific Sports Federation regular-season and tournament title, the Cougars made it to Columbus — site of the seven-team NCAA Tournament — where second-seeded BYU held off third-seeded Lewis, 3-1 in Thursday night's semifinals.
But before all of that, Olmstead had to have a few conversations with his seniors — and first on the list was Stanley, whose immediate response on that first official phone call was "of course."
Another year of sacrifice, of college, of playing in the middle of the pandemic was a small price to pay for a run at a national title, potentially BYU's first since finishing its third, in six years, with the 2004 championship.
"They put their lives on hold," Olmstead said. "You could say they put their careers on hold. It was pretty special that we had seniors to do that, just like other schools across the country. Not all of them did … but for our administration to support that, with zero hesitation, was great."
The decision was easy for Stanley, whose father Jon played volleyball and basketball at BYU before a career that included a spot on the 1968 Olympic team. BYU volleyball is in his blood — even from his older brother Clay, a former All-American at Hawaii who represented Team USA in three Olympics himself, right down to his younger brother Jon, a sophomore serve specialist and arguably the most well-liked reserve on the team.
Playing another year with his family — both literal and figurative — was an easy decision for Wil Stanley.
"Jon's going to be our X-factor," he said. "He was yesterday, and I think he will be tomorrow."
---
NCAA men's volleyball championship
Saturday, May 7
First serve: 6 p.m. MDT
TV: ESPNU
Streaming: WatchESPN
Series history: BYU leads, 42-22
Most recent meeting: Hawaii won, 3-2 in Honolulu, Hawaii
×
Photos
Related Stories