SALT LAKE CITY — Utah is a place that has nation-leading levels of social capital, family stability and social mobility.
But it is also a place that is becoming increasingly diverse and has wide disparities in education, housing and health outcomes between most minority groups and whites.
The effort to close those gaps took a big step forward Thursday with the release of a landmark data book on race, ethnicity and sex authored by the University of Utah's Kem C. Gardner Policy Institute's data team.
Utah Gov. Spencer Cox said he's been in many discussions about Utah's strengths and challenges "but we didn't have much firm data to back up the anecdotes and assumptions."
That's no longer the case.
Cox, in a statement, said the first-of-its-kind report, possibly the only such state-level data book in the country, suggests "we have a lot of work to do. This data is urgently needed and crucial to helping us find policy solutions that will help all Utahns prosper and broaden opportunities for everyone."
The Diversity in Utah data book does not draw conclusions about causality nor does it offer policy recommendations. Natalie Gochnour, associate dean and director of the Gardner Policy Institute, said the data book is intended to help state leaders make progress on equity, diversity and inclusion.
"This is an invitation for our state to look at the data, become more aware and then use the data to do good things," Gochnour said a meeting with the Deseret News and KSL editorial boards earlier this week.
Or as the new data book, which was requested by community leaders and commissioned by Zions Bank, puts it: "The data and context provided in this report shed light on existing disparities; help people understand the complexities of these measures; and help provide a starting point for evaluating future progress."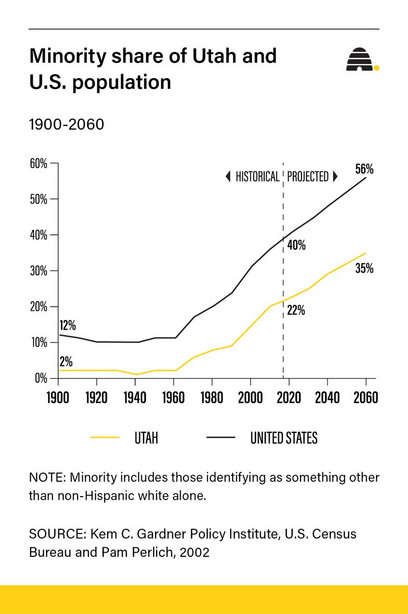 According to the data book, whites constitute the largest share of Utah's population, but the state is becoming increasingly diverse and the state's younger population is much more demographically diverse. The data book encompasses 30 pages, diving deeply into both the successes and the disparities between the state's various populations. Education, health and homeownership
Household incomes vary by race, with Asians and whites experiencing higher household incomes while Blacks, American Indians, Native Hawaiians/Pacific Islanders and Hispanic households have lower incomes.
Education and health outcomes in Utah also differ by race.
"White and Asian students have significantly higher educational outcomes than other racial/ethnic groups beginning very early in life and persisting through K-12 and higher education," according to "Diversity in Utah: Race, Ethnicity, and Sex in Utah."
The data shows white students enroll in postsecondary education at higher rates than their share of the state's college-age population, while Hispanic students enroll at lower rates than their share while other racial groups more closely mirror their share.
With respect to health outcomes, some minority groups experience worse health outcomes on measures such as life expectancies and incidence of diabetes and asthma.
Low income adults — less than $25,000 annually — are more than four times as likely to report fair or poor health as adults compared to those with incomes exceeding $75,000.
Data on housing indicates that homeownership is highly correlated with income. In Utah, whites have higher homeownership rates than other racial/ethnic populations. "Black homeowners and renters have the highest shares of households with severe housing cost burdens," according to the report, meaning those spending more (sometimes far more) than 30 percent of their income on housing.
"Homeownership is a key component of wealth accumulation for many households," according to the data book.
The data book also shows that Utah women have lower unemployment rates, higher education enrollment rates and longer life expectancies than men. However, data also shows Utah women have lower incomes and higher rates of adult depression and asthma than men.
The strengths
The data book also points out Utah's strengths. For instance, Utah has the lowest percent of children in single-parent families in the United States. Research suggests that children in single-parent households may experience economic hardship, loss of parental support and supervision, life stress and instability, and a lack of community resources.
Utah also stands out in terms of high economic mobility, which typically indicates five characteristics: less residential segregation; less income inequality; better primary schools; greater social capital; and greater family stability.
The report includes more than 50 variables of Utah-specific data by race, ethnicity and sex, according to an institute press release.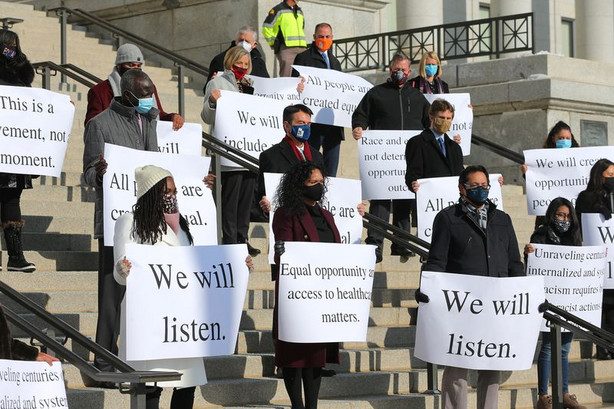 Byron Russell, co-chairman of the Utah Multicultural Commission and founder and principal managing partner of a management consulting firm, said "the data will help us know where we are and take us to where we need to be."
As one examines the data, "it's not where we want to be. But I think we can measure where we want to be and have that ability to say, 'This isn't good. This is better. How do we get to better?'" Russell told the Deseret News and KSL editorial boards.
Derek Miller, president and CEO of the Salt Lake Chamber, said people will likely see their own viewpoints reflected in the data once it is in the public sphere. But it is an apolitical look at the state's strengths and weaknesses and its creators repeatedly emphasized it's an invitation for both public and private leaders to bridge the equality gaps.
"That underscores the importance of decision-makers, whether they're in the corporate world or whether they're in the political world, to make sure that they stay focused on the data and not get distracted by the noise or political platforms or agendas. I try to be a very pragmatic person and just stay focused on what's the challenge at hand and how do we solve it. That's what this data gives us," Miller said.
When asked about the next steps forward, now that well-researched, robust data is available in a single data book that can inform decision-makers, business leaders, educators and policymakers, Rick Larsen, president and CEO of the Sutherland Institute, said: "I think this data is one of those moments where the more communities can understand what's going on, they can better expect outcomes from their elected officials and do so in an informed manner."
Larsen pointed to South Salt Lake's Promise partnership with community collaborators that provide goods and services to support youth and families, and has many success stories.
Three members of Westminster College's Class of 2021 will be the first to graduate through the Walkways to Westminster program, a partnership between the college and the city.
South Salt Lake residents Jabir Nasir, Asma Dahir and Anisa Dahir participated in the city's Promise after-school program starting in sixth grade. The students were mentored by Westminster students, who helped them with their studies, college readiness, career planning as well as English language mastery and tips on life skills.
Once Nasir and Asma Dahir enrolled at Westminster, they became after-school mentors themselves.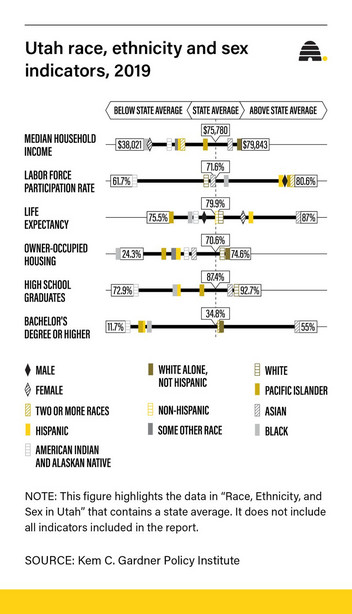 "My students receive encouragement from someone that looks more like them, so it is now going full circle," said Dahir, who is from Somalia, in a statement from the college.
The collective impact model set in motion by the United Way of Salt Lake in multiple communities is improving student outcomes, said Larsen.
"But there's also the argument, has it helped enough? Could it be helping more?" he said.
It is "terribly important to make the effort to keep this in the realm of sound policy rather than politics because ... a lot of solid solutions come from the community up, and then embolden elected officials to do the right thing," Larsen said.
"I think this data is one of those moments where the more communities can understand what's going on, they can better expect outcomes from their elected officials, and do so in an informed manner."
This story will be updated.
×