OGDEN — Weber State is back in the playoffs.
Now the truncated FCS football season gets real.
The Wildcats, ranked No. 3 in the latest STATS Perform FCS top 25, will open the 2020 FCS playoffs — yes, the playoffs for the truncated 2020 season that was moved to the spring due to the coronavirus pandemic — in the first round April 24 at Stewart Stadium in Ogden against Southern Illinois (2 p.m. MDT, ESPN3).
Weber State is making its fifth-straight appearance in the first round of the reduced 16-team tournament (down from the usual 24 teams). The Wildcats earned one of 10 automatic berths to the playoffs by virtue of a conference championship, but did not earn a top-four seed by the selection committee.
Fresh off a win over reigning national champion North Dakota State, South Dakota State (5-1) took the No. 1 overall seed despite never ranking first in the regular season. The Jackrabbits are followed by No. 2 Sam Houston State (6-0), No. 3 James Madison (5-0) and No. 4 Jacksonville State (9-2).
"I thought we would've got one of the top-four seeds, and I think the players felt the same way. The reality is, it doesn't matter," said Weber State coach Jay Hill, whose team has been ranked No. 2 or No. 3 since the beginning of the spring season. "You've got to win. You've got to advance.
"Whether they love the matchup or not, the only thing that matters is Southern Illinois, which beat North Dakota State a few weeks ago and did it handily. ... The only thing that matters in this grand scheme of things is you've got to win and advance."
Fifth straight trip to the @NCAA_FCS Playoffs 🏈#PurpleReign#WeAreWeber#FCSPlayoffspic.twitter.com/9AqjhXQVGg

— Weber State Football 🏈 (@weberstatefb) April 18, 2021
Senior wide receiver and special teams ace Rashid Shaheed added that the reaction was mixed as the Wildcats gathered on campus to see their selection. They already knew they were in, with the automatic bid, and many expected a top-four seed — especially with North Dakota State's two losses on the year.
So when the top-four passed without seeing Weber State's iconic purple logo, the room got "a bit quiet," Shaheed said.
"We were kind of surprised to see some teams we felt like we should be ahead of, that we felt we were better than," he added. "But we know we can't dwell on that.
"It's win-and-advance, regardless. We won't take it too hard, but we definitely felt like we should've been in the top four."
If the Wildcats feel any disrespect or slight by the seeding, maybe that's a good thing. Weber State is undefeated but also hasn't won a game by more than 5 points since the opener on Feb. 27 against Idaho State. That includes a come-from-behind 20-15 victory over the same Bengals that clinched the Big Sky title two weeks ago.
The Wildcats also had one game canceled — against Cal Poly — in a season where the Big Sky-only schedule was reworked following sudden opt outs of Northern Colorado, Montana, Montana State, Portland State and Sacramento State as late as the final week of January due to COVID-19 concerns. A few teams went on to play a couple of games — Montana picked up a 59-3 win over Central Washington and a 48-7 victory over Portland State, both in Missoula — but none of them mattered in the scheme of the Big Sky or the playoff selection committee.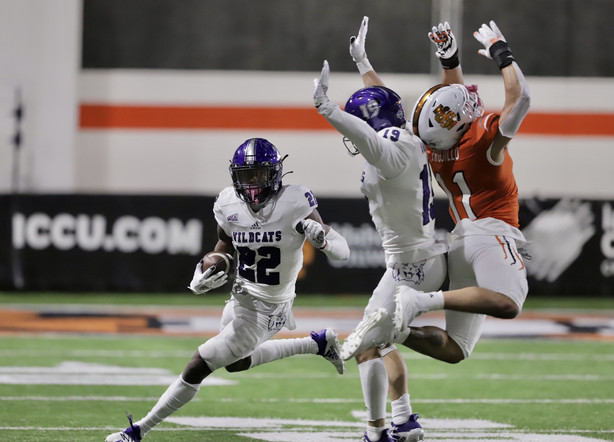 The Wildcats are one of two Big Sky teams in the field, joining Eastern Washington. The Eagles (5-1) will travel to reigning national champion North Dakota State (6-2) to open the first round.
The Bison suffered a down year — at least by the lofty standards of the eight-time FCS national champions. That includes a rare 27-17 loss to South Dakota State in the season's final weekend inside the Fargodome — a loss that likely vaulted the Jackrabbits to the No. 1 overall seed and a potential second-round matchup with the Wildcats.
"In a 16-team field where they are only seeding four, it really doesn't matter. The only thing that matters is that you get in," Hill said. "I think a great example is what UCLA just did in the basketball tournament. They had a play-in game, and made it all the way to the Final Four. This is a deal that you just deal with, and take what's given to you, make the best of it. We got a home game in the playoffs; that's all we can ask for."
Southern Illinois presents a unique challenge to the Wildcats, even at home. The Salukis (5-3) finished fifth in the Missouri Valley Football Conference and joined Missouri State as the last two teams in the field, edging out East Tennessee State, Murray State, Samford and Southeastern Louisiana among the "first four out," according to the selection committee.
Committee chair Kyle Moats told ESPN that playing games was a premium in a season that featured as few as three games for some playoff qualifiers. Each of the MVFC entrants had at least four wins — and most five – to clinch their bid.
"It always goes back to strength of schedule," said Moats, who is also the athletic director at Missouri State. "I think those teams had better wins than the first four teams out, which had good schedules and better wins. When you try to compare the teams, you look for better wins and not-so-good losses that may help you."
The NCAA has also added a contingency policy if teams need to withdraw from the bracket due to COVID-19. Any selected team has until 1:30 p.m. MDT on Monday, April 19 to notify the committee of its withdrawal, at which time the committee will select a replacement team.
Next stop: the #FCSPlayoffs for @weberstatefb.

» https://t.co/3FXpI3TeWnpic.twitter.com/S3vkEl1cdg

— KSL.com Sports (@KSLcomSports) April 18, 2021
In a season where nothing is guaranteed, though, Weber State won another conference championship and earned a home playoff game — something the Wildcats had failed to do before Hill arrived in Ogden. Weber State hasn't lost a home game since a 23-17 upset loss to Maine in the second round of the playoffs on Dec. 27, 2018 — a run of 11 consecutive home victories.
"Having home-field advantage, it's always fun being able to play a home playoff game on a home field," Shaheed said. "We're going to take advantage of it, and play the right way."
The Wildcats won their fourth-straight Big Sky title with a come-from-behind 20-15 win over Idaho State in their final game, improving to 5-0 on the conference-only spring season.
But this title was different. Sure, it didn't include schools like Montana and Montana State, who all-but opted out of the spring season (and played only a handful of games, outside of Big Sky play).
Weber State didn't just win a title, for the first time in the program's Big Sky history they didn't share it, either. No co-championship. No shared title. The Wildcats, ranked second or third nationally depending on the poll, simply proved to be the best in the league.
Now they'll try to prove they're the best in the country.
Weber State has made five of its nine playoff appearances in school history since Hill took over the program in 2014, a run that is currently contracted through 2025. The Lehi native and former Utah special teams coordinator has put in a remarkable run in his first head coaching job, with a 52-29 record in seven seasons.
He's averaged fewer than three losses per year in the past four seasons, as well, which have all ended beyond the FCS Playoff first round, as well. That includes last year's first-ever trip to the playoff semifinals, where the Wildcats lost to James Madison 30-14.
But he returned an electric crop of players, including former Alta High star running back Josh Davis and breakout rusher Dontae McMillan, and brought back former American Fork quarterback Bronson Barron to lead his offense to go with a defense that holds teams to 17.6 points per game.
"Here at Weber State, we're trying to build a winning atmosphere. It's what we have been doing," said Shaheed, a two-time All-American honoree from San Diego who 215 receiving yards and three touchdowns as a senior. "I feel like we've done a great job of that for the past five seasons. It's something no one can take away, and something we take pride in.
"Coming to Weber State, we expect to win. That helps us each and every day. It drives us to win. Coach Hill always preaches to us to take pride in what we do. That just helps us in winning games."
The FCS championship is scheduled for May 16 at 12 p.m. MDT on ABC.
×
Related Stories