SALT LAKE CITY — One night after making history with its first-ever NCAA Tournament victory, the Weber State women's volleyball team ran into a wall.
That wall was anchored by top-ranked Wisconsin, which out-blocked the Wildcats 11-4 and held the unseeded team to .175 hitting and just two aces in a 25-17, 25-19, 25-15 sweep in Thursday's second round at the CHI Health Center in Omaha, Nebraska.
The Wildcats struggled to contain Wisconsin right-side hitter Dana Rettke, a three-time All-American who hit error-free through two sets and finished with nine kills and a block with just one error.
Grace Loberg and Danielle Hart added nine kills and Sydney Hill dished out 37 assists with nine digs for the Badgers, who improved to 16-0 on the season.
"Wisconsin's pretty good," Weber State coach Jeremiah Larsen said with his dry humor. "It was a really good opportunity for our team to compete, and I thought we did a nice job — we struggled to serve and receive, but that calmed down a bit. Set two was a really good set; I thought we played really well until about 18-18, and then they just made some plays."
Reigning Big Sky MVP Rylin Adams had 13 kills and nine digs to lead Weber State (19-2), and Dani Nay added eight kills and eight digs. Ashlyn Power dished out 33 assists with 10 digs for the Wildcats, who got six kills and three blocks from Sam Scheiss.
The top-seeded Badgers jumped out to a lead as large as 12-6 in the first set and led wire-to-wire behind a .353 hitting percentage and tooling around the Wildcats' dominant front row that collected a season-high 16 blocks in Wednesday's first-round win over Bowling Green.
Weber State hit just .143 with one block in the opening set, led by Nay's four kills.
Adams, an all-conference and all-region honoree, came alive in the second set. The senior from Lehi put down her sixth kill of the set to force a 16-16 tie, and added another to pull Weber State within one a few points later.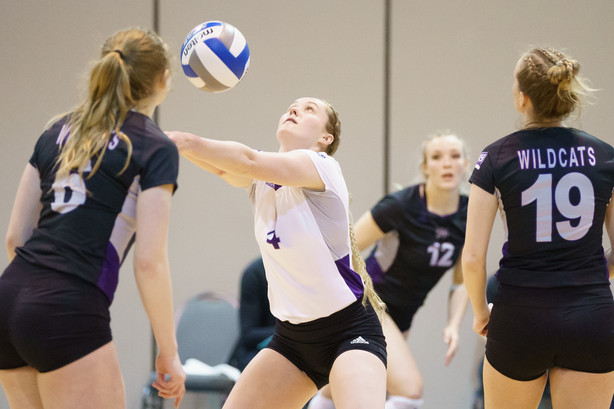 But the Wildcats could get no closer en route to Wisconsin's 25-19 victory, and ran out of gas in the third set.
All three of the Wildcats' seniors of Adams, Schiess and Power plan to return for the upcoming fall season, said Power. And when that trio comes back, they'll know they can compete with anyone. For spurts against the top-ranked team in the country that advanced to last year's national championship, they did.
"I think that it's important to be proud of what we've done this season, and enjoy it," Power said. "But it's also great motivation for us going forward, to go right into the offseason and get right back to work getting better."
The senior setter was a freshman on the Wildcats' squad that won just nine games in 2017. A lot has happened since then.
"All of the experiences we've gone through, the hard stuff, the terrible stuff, it's all gotten us where we are. We wouldn't be here without those past seasons," Power said. "But I think that makes me even more grateful for the opportunities that I've had, and getting to play in the NCAA Tournament. It's been the goal, and it's been something we've dreamed about and worked for as a team. It wouldn't be possible without everyone else who has made the program what it is. I'm super grateful … Having gone through this tough seasons makes it even more special to be here."
In a year that was anything but normal — starting with a season moved from the fall to the spring due to the COVID-19 pandemic, Weber State had arguably its best season in program history.
The Wildcats stormed through the Big Sky regular season with just one loss, clinching a conference title with a match to go. The Wildcats then lost a total of two sets in three matches at the Big Sky tournament, claiming the tournament title with a 3-1 win over host Northern Colorado.
That win marked the first time in program history the Wildcats had won the Big Sky regular season and tournament title in the same year, and earmarked their first NCAA Tournament appearance since 1988.
Then, in a first-round matchup with Bowling Green, Weber State did one better.
The then-one loss Falcons were back in the tournament for the first time since 2012, but Weber State made their run short with a 3-1 victory for the Wildcats' first tournament win in program history.
"If anything, it gives validation to the vision we had 2-3 years ago, to the crazy coaches who took over this program," Larsen said. "We set a vision, and we made plans to obtain what we want. If anything, it gives validation to our players, that all their hard work and sacrifice is for a purpose — that they can get what they want.
"Weber State is a good volleyball program; not too many people realize what we were doing here until now. We had a vision, we had a plan, we got the right players to develop a culture of success. We're excited about those kind of things, and now we have some validation that it's not just a dream, a hope or a prayer. It's something we can do."
×
Related Stories