SALT LAKE CITY — Utah Valley's history-making first trip to the NCAA women's volleyball tournament was short lived.
But it won't be their last.
Caitlan Buettner had 15 kills to lead three Texas State hitters with double-digit kills as the Bobcats pulled away for a 25-21, 25-16, 20-25, 25-22 win over Utah Valley in the Wolverines' first-ever NCAA Tournament match Wednesday afternoon at CHI Health Center in Omaha, Nebraska.
All-Sun Belt honoree Tyeranee Scott added 14 kills and five blocks for the Bobcats (31-8), and Janell Fitzgerald had 13 kills, seven digs and three blocks.
Tori Dorius led Utah Valley with 14 kills and five blocks, and Kazna Tanuvasa added 11 kills, three digs and two blocks. Jaysa Funk Stratton dished out 19 assists with six digs, and Abbie Miller supplied 16 assists, four digs and two aces for the Wolverines (14-6).
The Bobcats will face No. 5 Nebraska in Thursday's second round.
For Utah Valley, the Wolverines' best-ever season — or at least, the first-ever season that ended in the NCAA Division I tournament — ends with a slow start and a near comeback before falling in four sets.
It didn't end the way he wanted, but UVU head coach Sam Atoa couldn't be more proud. The Wolverines have just two seniors — Orem native Seren Jardine and Funk Stratton, a Lone Peak alum who transferred closer to home after initially signing with Utah State — and were picked to finish fifth in the Western Athletic Conference before going on to win the WAC Tournament and make history as a program.
We had time to interview Kazna Tanuvasa prior to our first-round matchup in the NCAA Volleyball Tournament. Check out what she had to say about this season!#GoUVU#UVU#UVUwvb#WACvb#NCAAvb#NCAAtournamentpic.twitter.com/JiZ6PaBxVG

— UVU Women's Volleyball (@UVUwvb) April 14, 2021
"This is not just a one-and-done deal. This is just the beginning for Wolverine volleyball," said Atoa, who has been at Utah Valley in some capacity for 30 years.
"A lot of times, when you win championships and go to the NCAA Tournament, I'd like to think it helps with recruiting. But with such a young group, the foundation that we built and what we're doing — they're just going to keep getting better. It's limitless, their potential. We'll definitely miss Jaysa and Seren, but we were able to get to this point with three freshman who played significant minutes, and they're just kids who compete.
"Some of these kids we have are kids who competed for championships and have that mentality to come and compete. We're just going to get better."
Dorius laid down a kill to pull the Wolverines within three, 19-16 in the first set. But the Bobcats ended the set on a 6-4 run to clinch the 25-21 win.
Fitzgerald led a balanced attack with four kills and five digs, and Texas State held the Wolverines to just .102 hitting in the opening frame. Utah Valley had 13 kills on 49 swings, with just eight errors in the first set.
Texas State then jumped out to a 5-1 advantage in the second set, and the Wolverines never found their footing. Texas State hit .387 in the second set with just three errors, and held Utah Valley to just nine kills with five errors en route to the 25-16 second-set victory.
But the Wolverines came out firing in the third set. Tanuvasa, the WAC Player of the Year, led a run that included nine kills without an error en route to a 10-5 advantage early.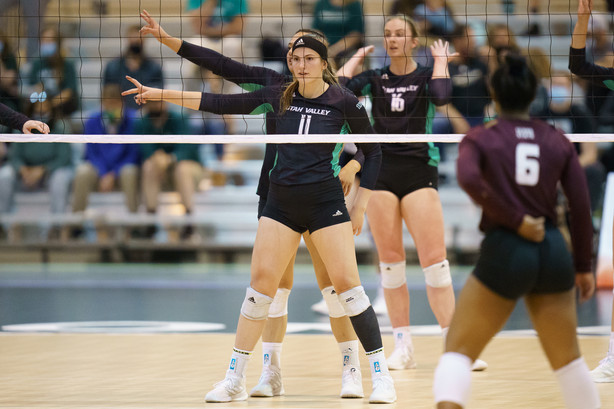 Utah Valley kept its third-set lead throughout, but Fitzgerald pulled the Bobcats within two, 21-19 to cap a 4-1 run. But Atoa called timeout, Tanuvasa righted the ship and Seren Jardine's ace helped the Wolverines end the set on a 4-1 run capped by Tanuvasa's block, 25-20.
"They knew they were playing a little tight, just not themselves," Atoa said. "They let certain situations affect them a bit.
"They just fight. The challenge is how we respond, and when we respond well to adverse situations and challenges, we do OK."
The Bobcats opened the fourth set on a 7-1 run, but UVU didn't turn over. Bryton Bishop had back-to-back aces to pace a 5-1 run that pulled Utah Valley within 19-15. A double block by Tanuvsa and Kendra Nock, combined with an unforced error, pulled the Wolverines within one, 22-21, before the Bobcats' 3-1 run finished off the match.
Wednesday marked the one-and-done end of Utah Valley's inaugural NCAA Tournament, but not the end of the program, Atoa was quick to add. With a full roster returning next year, the one-time junior college coach has climbed near the summit of the highest levels of college volleyball — and as he mentioned, the Wolverines aren't done yet.
"I remember when I first got the position to be the head coach, and the desire to be a Division I coach. I didn't have to change zip codes or even offices to make that jump," Atoa said. "But we felt like it was the right decision, and it's been a long haul. To go back and reflect at the independent championships, the Great West, the WAC, and being in the middle of all of this, it's what I've always dreamed of for our program. I knew it was going to happen; I just wasn't sure exactly when it was.
"It was fun that we were able to do it, and to do it at home. Our team has had a great taste in being here, and I hope they will be able to see what it's like and to try to move on and be successful — like what those other Utah programs are doing right now. Why not us?"
×
Photos
Related Stories