This story is sponsored by Robert J. DeBry—more than 200 years of combined experience practicing personal injury law.
From the outside, Utah can seem a little homogenous. But there's a lot more to the history of the Beehive State than pioneers and green Jell-O. In fact, a look at some of Utah's less-known historical figures might just broaden your perspective.
From a German-Jewish governor to slave-turned-pioneers to federal politician moms, Utah has been home to some pretty dynamic figures.
Simon Bamberger
In the history of Utah governors, Democrats certainly do not make an overwhelming showing—much less Jewish Democrats. But in 1916, Simon Bamberger changed the face of Utah politics when he became the first non-Mormon, the first Democrat and the only Jew to govern the state, says the Jewish Virtual Library website.
A native of Hesse-Darmstadt, Germany, Bamberger emigrated from Europe to New York as a teenager. A string of bad luck and happenstance brought him to Utah, where he invested in hotels and later, a mine. The mine was successful, but Bamberger continued to work, raising funds to build a railroad connecting other mines in which he'd invested.
Admiring his industrious spirit and civic duty, Bamberger's friends who were members of The Church of Jesus Christ of Latter-day Saints urged him to run for governor. After taking office, Bamberger got to work. During his tenure, he created a state department of public health and water conservation policies.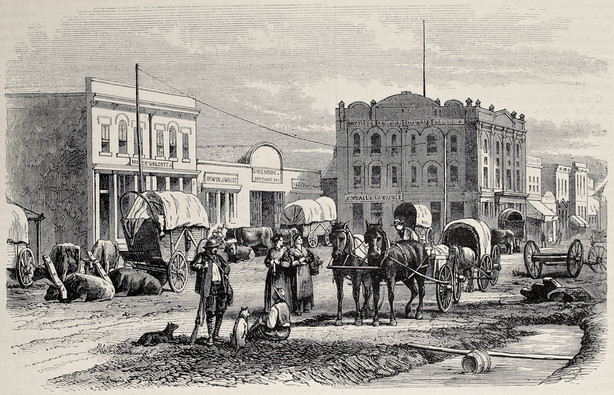 Green Flake
Born a slave in North Carolina, few would predict Green Flake would die a free man—and member of The Church of Jesus Christ of Latter-day Saints—in Utah. But when Flake's owner, James Madison Flake, joined the church after meeting Mormon missionaries, the Flakes moved—along with their slaves—to Nauvoo, Illinois and then to Winter Quarters, Nebraska, according to The Church of Jesus Christ of Latter-day Saints History website.
Before they made the trek west, the Flakes, along with two other Mississippi families, sent their slaves ahead to prepare the way—and the destination. Flake was a pioneer—even for the pioneers.
Flake drove the first wagon into Emigration Canyon and was one of the first pioneers to arrive in the Salt Lake Valley In fact, by the time Brigham Young arrived, Flake had already planted crops.
Philo Farnsworth
There's a good chance the world would not have survived 2020 without Beaver-native Philo Farnsworth. The American inventor, who was a science prodigy from his earliest years, eventually developed the first all-electronic television system, according to Encyclopedia Brittanica.
Always academically inclined, Farnsworth attended Brigham Young University while still in high school. Unfortunately, Farnsworth was forced to drop out when his father died in 1924. Instead of pursuing his education, he started working to support his family.
Later, while working for charity fundraisers, Farnsworth received funds himself to help him pursue his television dreams. In 1927, he successfully made his first electronic television transmission and filed a patent soon after, states Encyclopedia Brittanica.
Barney Clark
In the 1980s, one dentist from Seattle made history for a very unlikely reason; Barney Clark was the world's first recipient of a permanent artificial heart, according to University of Utah Health. A dentist from Seattle, Clark suffered from congestive heart disease that had progressed to the point he was not a candidate for a heart transplant.
Rather than surrender to fate, Clark agreed to become the first recipient of the Jarvik 7 artificial heart for human implantation, developed by University of Utah doctor Robert Jarvik. If successful, the Jarvik 7 would require Clark to be tethered to a large external air compressor for the rest of his life.
In a 1982 surgery that made headlines around the world, Clark awoke with the Jarvik 7 in his chest and lived—for 112 days. University of Utah Health says Clark died from circulatory collapse and secondary multi-organ system failure, but his legacy of medical innovation lives on in Utah—and far beyond.
Ivy Baker Priest
If you happen upon U.S. currency dated between 1953 and 1961, you'll find the signature of a notable Utahn—Ivy Baker Priest. Utah Women's History says though she was born in 1905, Priest was a pioneer of her own right. She forged a successful political career during a time when it was uncommon for women to seek careers outside their homes—let alone hold political office.
Eventually serving as U.S. Treasurer under Dwight D. Eisenhower, Priest was a voice for women throughout her life. She compared her dual personalities —one as a civil servant and the other as a mother to four children—quite fittingly to two sides of a dollar bill, each different in design.
John Beck
This is not the John Beck who played quarterback at BYU and today is much better known.
The earlier John Beck was a native of Germany who joined The Church of Jesus Christ of Latter-day Saints in his youth, served a mission in Germany and Switzerland and immigrated to Utah in 1864, where he settled in Lehi. According to Archives West, Beck became convinced he knew where ore could be found in the nearby mountains and made a stake in the Tintic region. His property eventually became the high-producing Bullion Beck Mine, which made Beck both rich and prominent in the area.
Historical records portray Beck as not only industrious but very generous. He constructed the first Church of Jesus Christ of Latter-day Saints building in Eureka near his mine and encouraged his fellow German countrymen to immigrate to Utah, notes Utah Natural Oil Resources.
Mia Love
The daughter of Haitian immigrants, Mia Love was not a shoo-in for U.S. Congress. Born in New York and a theater major in Connecticut, she came to Utah after joining The Church of Jesus Christ of Latter-day Saints, notes the Office of Art & Archives of the U.S. House of Representatives.
An ardent supporter of small government, Love was not only the first African American from Utah elected to the U.S. House of Representatives, but she was also the first African American Republican woman elected to Congress.
She served as the U.S. Representative for Utah's 4th Congressional District from 2015 and 2019. Love was also elected mayor of Saratoga Springs in 2010 and spoke at the 2012 Republican National Convention, reports the Office of Art & Archives.
According to the Georgetown University website, Love is now a CNN correspondent.
Throughout its history, Utah has been home to pioneers–and not just the kind who drive wagons and wear bonnets. From making breakthrough medical advancements to breaking glass ceilings, amazing people have made—and will continue to make—Utah a culturally rich and diverse place to live.
×