OGDEN — J.J. Overton will trade in Wolverine green for Wildcat purple for his final season of college basketball.
The 6-foot-6, 190-pound senior from San Diego will graduate and transfer to Weber State for his final season of eligibility, a source confirmed to KSL.com. Overton's transfer was first reported by CBS' Jon Rothstein.
Overton, who played two seasons at Saddleback College in Mission Viejo, California, tied for the lead in scoring (with teammate Trey Woodbury) for Utah Valley in 2020-21 when he averaged 15.6 points on 50.7% shooting. The senior whose father, Chuck, played two seasons at Salt Lake Community College also averaged 4.2 rebounds per game — trailing only standout posts Evan Cole (6.4 rpg) and Fardaws Aimaq (15.0 rpg), the standout center who recently declared for the NBA draft but did not sign an agent so as to keep his collegiate eligibility.
At Weber State, Overton will reunite with former UVU assistant coach Eric Daniels. The son of former UCLA, Utah and Gonzaga assistant Donny Daniels joined head coach Randy Rahe's staff in July 2019 following four seasons in Orem, where he was mentored by former BYU coach Mark Pope. Daniels' move corresponded with Overton signing with the Wolverines, with one source adding that the two became close in Overton's recruitment out of Saddleback.
Overton was one of the only returners on a roster that featured 16 newcomers on UVU coach Mark Madsen's second-year roster in Orem, but stuck with his commitment to the team (and his degree) despite interest from other programs. The senior will have one final season remaining as a graduate student.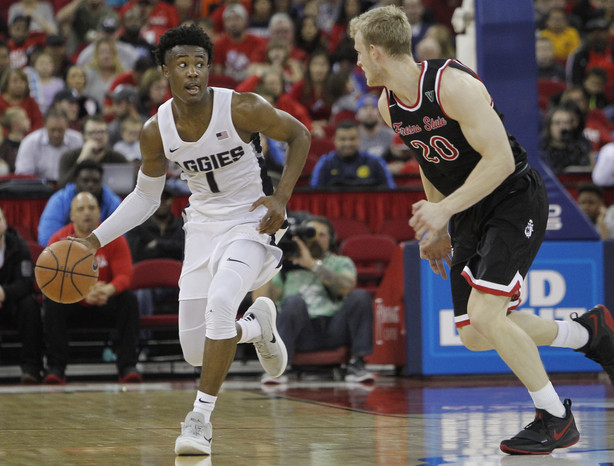 Overton is the second transfer pickup Rahe received this week, joining Marquette graduate transfer Koby McEwen. The former Wasatch Academy star played two seasons at Utah State, averaging 15.6 points and 3.2 assists per game as a sophomore for the Aggies.
But when Utah State fired Tim Duryea to bring in Craig Smith, McEwen — who hails from Toronto, Ontario — opted to transfer to the Big East school in Milwaukee. He played two seasons with the Golden Eagles, averaging 10.2 points, 3.6 rebounds and 2.9 assists per game in 27 games — including 23 starts — as senior in 2020-21.
The 6-foot-4, 205-pound fifth-year product has 117 games of Division I college experience — plus a redshirt season in 2018-19 that he used at Marquette due to NCAA transfer rules.
×
Related Stories