Estimated read time: 11-12 minutes
This archived news story is available only for your personal, non-commercial use. Information in the story may be outdated or superseded by additional information. Reading or replaying the story in its archived form does not constitute a republication of the story.
SALT LAKE CITY — Utah's capital city will continue to have a mask mandate Saturday and beyond while the rest of the county's mandate will expire along with the statewide order that expires Friday night.
Salt Lake City Mayor Erin Mendenhall announced Wednesday that Salt Lake City will keep its mandate in place in all public settings beginning Saturday. The order was supported by the Salt Lake City Council. The mayor signed a proclamation that will keep the city's mandate in place from Saturday until "the mayor rescinds the proclamation, or ends the city's state of emergency."
"We need to keep doing what has worked: wearing masks," she said, standing near the steps of the Salt Lake City-County Building. "My job is to protect the people who live in this city, to try to protect the people who work in this city, and to protect the businesses who employ people here."
Mendenhall's announcement came a little more than an hour after members of the Salt Lake County Council announced that the countywide public mask mandate will not be extended after the current state order ends Friday night.
Inside the city's decision
Masks and other face coverings emerged last year as one of the best ways to prevent the spread of COVID-19, especially before vaccines were developed.
Mendenhall said the decision made Wednesday comes from data that shows the city continues to experience high COVID-19 case rates and that COVID-19 vaccinations have been disproportionately distributed through the city's many neighborhoods. That's on top of ongoing threats of coronavirus variants.
"By the state's own standards, every part of Salt Lake City is still in the high rate of case incidences or very high rate," she explained. "The state has also only reached 56% of its goals for allocating prime doses of the vaccine so far. And here in Salt Lake City, only a quarter of the residents in Glendale and Rose Park have received at least one dose of the vaccine compared to about 50% in the Avenues and the East Bench."
When questioned about what authority she had to extend the mandate, the mayor said city attorneys reviewed the bill and found nothing in it that prohibited cities from enacting their own measures. She added the mayor's office also has the ability to issue mandate orders, which is why the city issued mandates before the statewide order, too.
Dr. Russell Vinik, the chief medical operations officer for University of Utah Health, said the data shows masks work in stopping COVID-19 spread. He pointed to the record-low numbers of RSV and influenza cases in Utah as examples that the masks, which can help to prevent the spread of other airborne viruses, have worked.
The reason why he supported the city's decision is that public health experts have said repeatedly that masks are most effective when everyone is wearing them and because of the threat of coronavirus variants. He added that even with vaccination efforts well underway, there are projections for another 80,000 to 500,000 possible COVID-19 deaths nationwide before herd immunity is reached, with the lower figure based on keeping health protocols like mask mandates in place.
"So for us to get the most benefit out of a mask, it's not just a personal decision for you to wear a mask, but it is also incumbent on the people around you who care for you and care for the community to also wear a mask to prevent (transmission)," he said.
During Wednesday's briefing, Mendenhall praised the statewide mask order that former Gov. Gary Herbert issued last year and that Gov. Spencer Cox continued when he took office in January. She said the mandates "saved lives" and she was disappointed that the mandate would end under the passage of HB294.
She added that the city will continue to push for masks as long as the public health data suggests they should be worn.
"I can't wait for when the data allows me to write an order rescinding the life-saving mask requirement but today is not that day, and April 10 is not that day either," she said.
The city wasn't alone in extending the mask mandate Wednesday. The University of Utah, which is located in Salt Lake City, sent out a statement Wednesday afternoon that acknowledged masks will be required at all university-owned or university-operated buildings Saturday and beyond based on guidelines issued by the state, the Centers for Disease Control and Prevention and the University of Utah Health.
"A decision about requiring masks in the fall will be made closer to the start of the 2021-22 academic year and will be based on public health guidance at that time," the university added.
Hogle Zoo, also located in Salt Lake City, will extend its requirements to align with the city's proclamation, too. Hogle Zoo spokesperson Erica Hansen explained that masks aren't just beneficial in slowing the spread of COVID-19 between humans, but some of the animals at the zoo are also susceptible to the coronavirus.
"Out of concern for the health of our animals, staff and guests, masks will still be required at Hogle Zoo," Hansen said, in a statement.
Most of Salt Lake County mandate to expire
Meanwhile, Salt Lake County Council Chair Steve DeBry said Wednesday morning that the county council will not meet Friday to extend its mandate. It means the county's mandate will expire after Friday night.
Debry said the decision was made after the council received a letter from Salt Lake County Health Director Gary Edwards stating that he did not recommend that the county extend a mask order following the passage of HB294, which was referred to as the COVID-19 pandemic "endgame" bill during the state's legislative session.
"I respect Director Edwards' position and I agree with his statement that, at this point in the battle against COVID-19, 'vaccination, not mask-wearing' is a strategy that will ultimately get us to the point of being able to declare the pandemic over," DeBry said in a press briefing at the council's meeting chambers.
As of Wednesday afternoon, the county health department reported 2,050 active COVID-19 cases in the county. It also reported having 239,299 fully vaccinated residents and 161,616 partially vaccinated residents.
DeBry was joined Wednesday morning by county councilmembers Aimee Winder Newton and Laurie Stringham. Winder Newton said the council's decision to not extend the mask order wasn't a declaration of victory over COVID-19.
"I just want to reiterate that just because we are not implementing a mask mandate does not mean the pandemic is over. We still need to rely on all of our Salt Lake County residents to use their good judgment when they're out in public to ensure — if you haven't been vaccinated — you're wearing your mask," she said. "If you don't know if the people around you have been vaccinated, it's important to still wear your mask."
The state's most populated county has had a mask mandate in place since June 27, 2020, when Salt Lake and Summit counties became the first in Utah to require masks in public places in an effort to curb the spread of the coronavirus. It was then extended through the end of 2020 in August. There was a statewide order in place by the time 2021 began.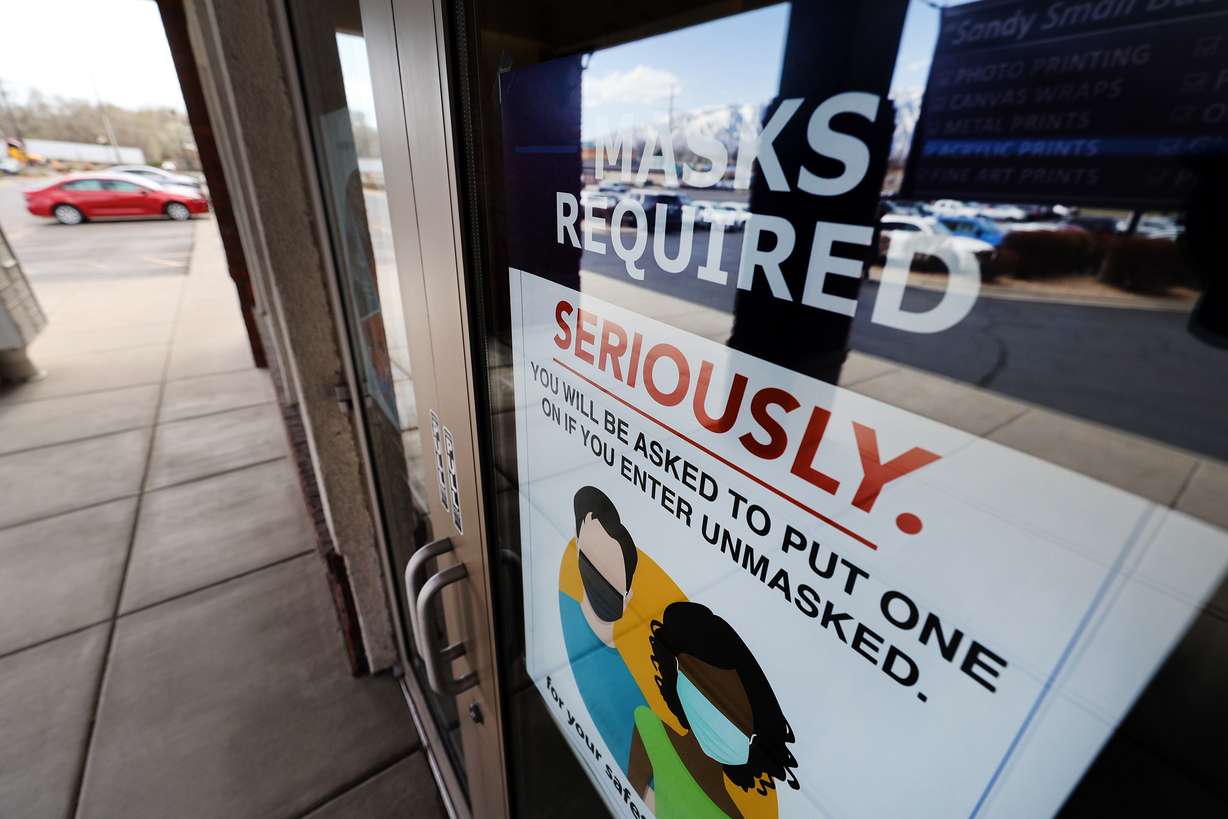 The council's decision came a day after Salt Lake County Mayor Jenny Wilson called on county residents to continue to wear masks even after the mandate expires.
"Here in Salt Lake County, please continue to wear a face covering," she said Tuesday.
Neither Edwards nor Wilson attended the county council's briefing.
In a tweet from her personal account Wednesday, Wilson wrote she was "disappointed, frustrated and concerned" about the county's mandate ending. From her professional account, she explained the decision was made because "the legislature expressly prohibited county executives from being able to extend the mask requirements."
DeBry said the council will "work closely" with Edwards in the future and could revisit its decision if the county's COVID-19 trends reverse beyond Saturday.
That means the county will keep tabs on figures like new COVID-19 cases, including if new coronavirus variants cause issues during or after the vaccination process, in case there are any spikes. They will also work to make sure hospitalizations and intensive care unit utilization are low.
"We will look at that closely and work closely with the health department to make sure we're still on that downward trend and we don't reverse the good things that we're doing," DeBry said.
Where masks will still be required in Salt Lake County
While the state's and county's mandates will expire at the end of Friday, it doesn't necessarily mean masks won't be required in some places. In addition to Salt Lake City, where the mask mandate won't change between Friday and Saturday, there are a few exceptions regarding mask policies in Salt Lake County.
The state and the county will still require masks to be worn in K-12 schools after the mandate ends. Debry added that masks will also be required in all county-owned facilities beyond Friday, per an executive order issued by Wilson this week. That includes buildings like county libraries, senior centers or the county council chambers.
Face coverings will also remain required in federal buildings and public transportation settings after April 9 due to executive orders issued by President Joe Biden. That's why Utah Transit Authority announced Tuesday that it would continue to require masks for all its riders after the statewide mandate ends. In a tweet Wednesday, Salt Lake City International Airport officials reminded any potential air travelers that masks will be required after the state mandate ends, too.
Masks can also be required at events and locations where there are more than 50 people, as well as by private businesses. That's why some businesses like Smith's, Harmons and Maceys, or even the Utah Jazz, have all previously announced they will continue to require masks Saturday onward.
---
We would just ask our residents that you please be respectful when you go into a business that's asking you to wear a mask. We will have people out and about who may be in masks or maybe not, but we all have to make sure we're all treating each other with the utmost respect as we continue to get through this pandemic.
–Salt Lake County Councilmember Aimee Winder Newton
---
Some politicians and business owners have expressed concern for what this will mean beginning on Saturday. Matt Caputo, CEO of Tony Caputo's Market and Deli, attended the Salt Lake City mask decision announcement briefing to speak on behalf of food and retail essential workers.
Caputo argued Wednesday that the mandate should only be lifted once all essential workers have received the vaccine. He said Caputo's went to all its employees the moment the COVD-19 vaccine became available to ensure all that wanted a vaccine got an appointment. Even through that effort, the last appointment was scheduled for May 1, meaning that the last employee would get receive full immunity likely in June.
Both he and Salt Lake City Downtown Alliance executive director Dee Brewer pleaded for customers to direct their anger away from the essential workers when the mandate is kept in place. They pointed out that frontline workers remained at risk for contracting COVID-19 because they are often dealing with many customers.
"We owe frontline workers the courtesy a few more weeks of mask use until they can achieve the protection of vaccination ... we are hopeful that we can all achieve immunity soon," Brewer said.
Their pleas were partly based on experiences frontline workers went through before the statewide mask mandate went into place. Caputo said workers became emotionally drained having to deal with customers irate over the businesses' mask policy on a daily basis.
"It wasn't sustainable," he said. "People were burning out. They were quitting and leaving the industry. Professionals who had been in it for years were leaving what they loved to do. For essential workers dealing with that, it truly became one of the hardest parts of the pandemic."
It's something that he said became "so much easier to deal with" about as soon as the statewide order went into place. That's why he argued against the statewide mandate being lifted.
The Caputo's locations in Salt Lake City won't have to deal with making a decision different from other neighboring businesses. For businesses outside of Salt Lake City, Winder Newton also pleaded Wednesday for customers to respect various businesses' decisions.
"We would just ask our residents that you please be respectful when you go into a business that's asking you to wear a mask," she said. "We will have people out and about who may be in masks or maybe not, but we all have to make sure we're all treating each other with the utmost respect as we continue to get through this pandemic."
×
Related stories