Carbon and Emery Counties have historically been known for mining, the railroad and old wild west outlaw activity. In the late 1800s, the "dirty dozen" and Butch Cassidy's "wild bunch" made their homes in the plateaus of southeastern Utah. In fact, one of the boldest robberies in U.S. history was pulled off in the Carbon Corridor close to Helper in the small town of Castle Gate. Butch Cassidy was the mastermind behind the infamous Castle Gate Payroll Robbery.
Located in a remote area between the two counties sits an amazing outdoor shooting range. The North Springs Shooting Range and Recreation area was inspired by the area's old wild west history and serves as a mecca for many shooting enthusiasts both locally and nationally. Groups such as Utah's Well Armed Women, National Rifle League, Single Action Shooting Society, Long Range Shooters of Utah, law enforcement organizations and more visit the range to test and perfect their skills.
This unique outdoor shooting facility provides a plethora of shooting venues including long-range and pistol shooting, 3D archery targets, excelsior bale and law enforcement targets as well as cowboy action and trap shooting. Close by are camping sites, ATV trails, and more!
A visit to the old Castle Gate Town will make you feel as if you are visiting the wild west. It features 15 shooting bays with buildings and props reminiscent of an old western town. There are more than 200 steel targets of various sizes and shapes for pistol caliber and .22 long rifle weapons, from three to 50 yards. Bucks Place is the cabin at Castle Gate Town and features a kitchen/meeting area, running water, restrooms and a pavilion with a capacity of up to 100 people. In the commons area, there are three pavilions for additional seating. The Castle Gate Town is the ideal venue for family parties, meetings, trainings, weddings, corporate retreats or just a day away.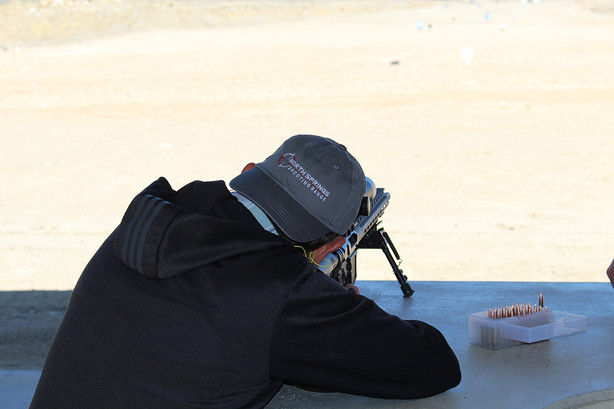 Just to the east of the Castle Gate Town is Buffalo Canyon, a long-range shooting venue with steel targets set up from 25 to 400 yards and a three-foot steel buffalo at 775 yards. At the 100 yard range, there are 12 separate pistol shooting bays under a covered canopy, with a retrieving target system. Six of the bays go out to 80 feet and the other six go out to 100 feet. There is also a steel challenge range with a variety of steel targets, including falling plates and dueling trees.
Don't miss the enclosed shooting area at the 1,000 and 600-yard ranges with radiant heaters to help withstand the colder temperatures. There are hard backers at 100 yards, 600 yards and 1,000 yards, with portable target stands that can be set at any distance between 0 and 1000 yards.
The Trap Range consists of a single, electric trap thrower with a 50-bird capacity. The trap thrower has the ability to wobble up and down, and left to right 45 degrees, and is activated with a remote button or foot pedal. There are five concrete shooting stations at 16 yards.
If archery is your passion, then visit one or all of the four separate archery venues: the sight-in/practice range, an excelsior balefield range with 28 targets, and finally, the two 3-D ranges. The flat range is for all skill levels, with the challenge course being designed for the more advanced archer. No broadheads are allowed at any of the archery ranges, field points only.
North Springs Shooting Range is located just 15 miles southwest of Price, Utah at 5245 S 8000 W, Price, UT 84501. From Price travel seven miles south via SR-10, turn right at SR-122 and travel for three miles, turn right at Wattis Junction for five miles. The range is open to the public from 9:00 a.m. to dusk Thursday-Sunday.
The Carbon Corridor is where all southeastern Utah vacations start. Whether you are heading to Goblin Valley, Moab, Arches, or Canyonlands, the Carbon Corridor should be your first stop for adventure. For more information about North Spring Shooting Range visit carbon.utah.gov/nssr.
For other area attractions go to carboncorridor.com.
×