Estimated read time: 4-5 minutes
This archived news story is available only for your personal, non-commercial use. Information in the story may be outdated or superseded by additional information. Reading or replaying the story in its archived form does not constitute a republication of the story.
SANDY — Sunday represented a day of new beginnings and celebrated endings.
While celebrating the MLS debut of goalkeeper David Ochoa and the retirement of defender Nedum Onuoha, Real Salt Lake ended with an all-too-familiar result from Sunday's season finale.
Khiry Shelton and Erik Hurtado scored a goal on either side of halftime, and Sporting Kansas City finished off Real Salt Lake 2-0 with their third-straight shutout Sunday under the first snowstorm of the season around Rio Tinto Stadium.
But the game will be most known by RSL fans — whose team had already been eliminated from playoff contention — for the brackets of age and experience: Ochoa on the rise, and Onuoha heading off into the sunset.
"It was an honor to play alongside him," said Ochoa, who made four saves on 12 shots faced. "He's a veteran in the locker room, and when I came in last year as a rookie, he was one of the players I looked up to. I wish I could've played more games with him because he's so experienced, but I'm so thankful to be able to play with him."
The loss secured a losing home record for Real Salt Lake, which posted a 3-4-3 record at Rio Tinto Stadium. RSL finished the year with a 5-10-7 record, one point ahead of Houston for last place in the Western Conference.
Just one place after finishing third in the West, Salt Lake finished 21st in Major League Soccer — its worst numerical finish in the history of the rapidly expanding league. With exceptions to be noted like a shortened season due to the coronavirus pandemic and a rapidly expanding league over the past decade, RSL's 22 points are the fewest in team history since accruing 20 after the club's inaugural season in 2005.
With the finish, the off-the-field issues surrounding the club, and the difficulties brought on by 2020, it may have been a relief to close out the season.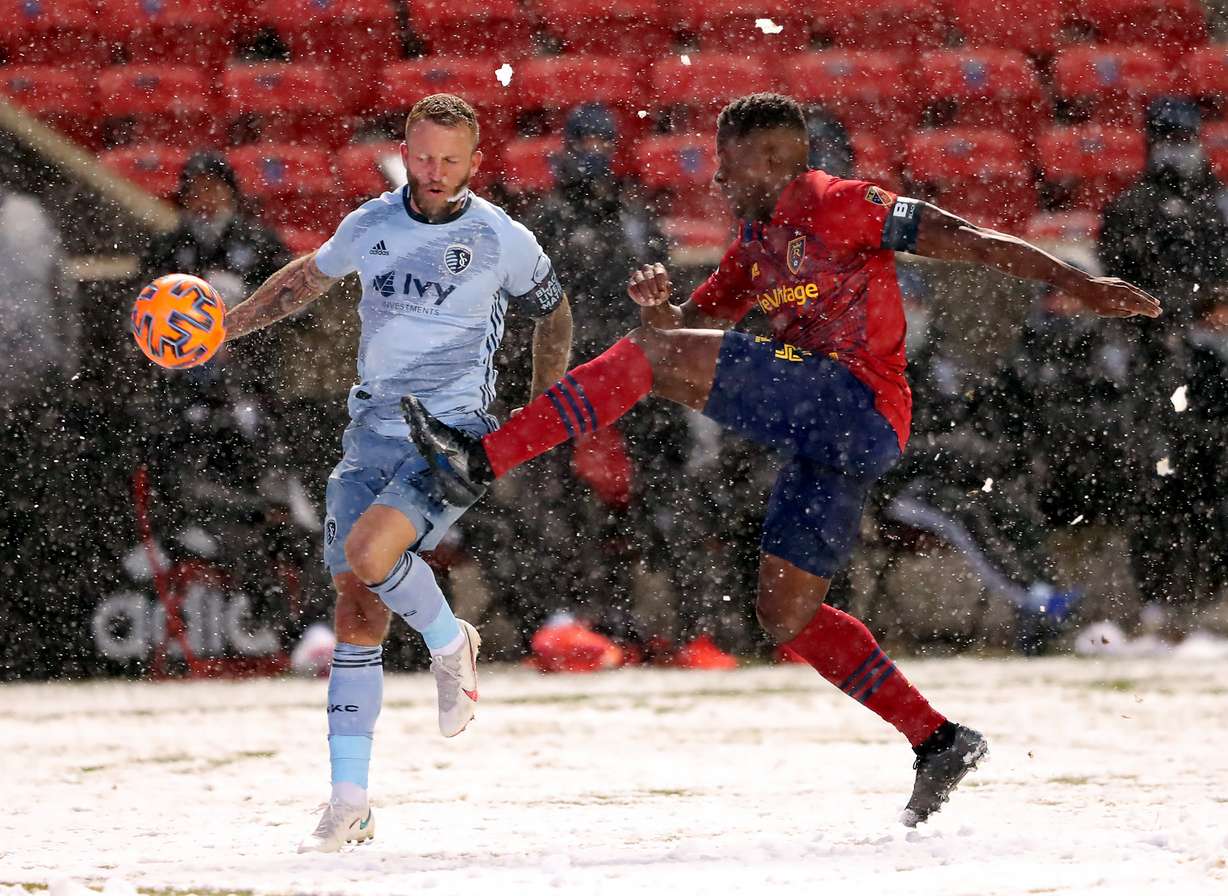 Not so, head coach Freddy Juarez said.
"I wanted to win this one for so many reasons," said Juarez, who entered his first full season as head coach of the team. "For Nedum, for the fans, for so many people. I didn't even think about the relief; I woke up this morning so excited for the game. So many reasons why we wanted to get a win."
Shelton gave the visitors a lead a few moments before the half, tapping home a deflected shot that also caromed off Ilie Sanchez, Roger Espinoza and RSL's Marcelo Silva after Ochoa initially made a save on a corner kick in the 45th minute that put Sporting up 1-0 at halftime.
But that wasn't all.
Hurtado doubled the advantage just three minutes after halftime, splitting three defenders with a run in the 48th minute and tapping home an empty-net shot after Ochoa slid off his snow-covered line at Rio Tinto Stadium.
Kansas City played like a team trying to secure the top seed in the West. RSL felt more like a team playing for pride, at best, after having been eliminated from the postseason already on the Western Conference's points-per-game metric instituted in the past month after multiple games involving several teams were canceled due to the coronavirus pandemic.
RSL's players didn't make any excuse. But the snow didn't make things any easier, either.
"It was crazy," Onuoha said. "Going into the game, we just tried to go out there and win. Before you know it, the conditions were crazy. But I love playing the game, and being out there and being able to be with my teammates felt great.
"It was a tough game; we fought for each other like we have all year. Things didn't go our way, but it's definitely going to be a memorable game for me."
It wasn't anything new for Onuoha, whose career began in 2004 with the club of his youth, Manchester City. But for Ochoa, who grew up in Southern California before moving to Utah to attend the RSL Academy, it was.
"This is actually my first game playing in the snow. I definitely did not like it, but it's all good," Ochoa joked. "It was very strange, and made my job a bit more difficult, so I had to be more tuned in."
Playing in the final match of his storied career that included three years in Utah, former Premier League center back Onuoha wore the captain's armband in a match where Kyle Beckerman and goalkeeper Andrew Putna weren't medically available, and Albert Rusnak was allowed to leave for Europe as Slovakia prepares for a pivotal Euro qualifying match against Ireland.
Perhaps unsurprising, then, that Salt Lake was held to just two total shots in the first hour and didn't register a shot on target until the final 10 minutes.
But it will always be remembered, if nothing more, than for Onuoha, who plans to retire to his native England in December.
"It's been absolutely incredible," Onuoha said. "I've made so many great memories here, with some amazing people and some good times. This is one of the most beautiful places on the Earth … and there are some good times ahead.
"It's been truly incredible. I'm not going to cry, but just know I'm very, very happy."
×
Photos
Related links
Most recent Real Salt Lake stories
More stories you may be interested in