IDAHO FALLS — A family in Idaho Falls is reeling after a devastating barn fire killed more than 200 prized show pigs and six lambs.
The family said the loss is more than financial — but years of a daddy-daughter work team.
But they're not giving up hope.
"The area is nice, the people around this area are fantastic," Roz Romriell said.
For 12 years, Mark and Roz Romriell have been living their dream of owning a farm.
"We love being out this far and having this much land to do what we want with," Roz Romriell said.
Raising and breeding show pigs was inspiration from their daughters, who started participating in 4-H competitions. The Romriells said their first year was a failure in the books, but their daughters were hooked, and they decided to breed their own pigs, eventually becoming producers.
"Since then it's just gotten bigger, and bigger and bigger over time," Roz Romriell said. "It's been Mark and the girls primarily who run the farm. When people say family farm, it very much is that way here."
But last Friday, the family's years of hard work went up in flames.
"I don't even want to talk about it," Mark Romriell said. "Probably one of the roughest things I've ever had to deal with."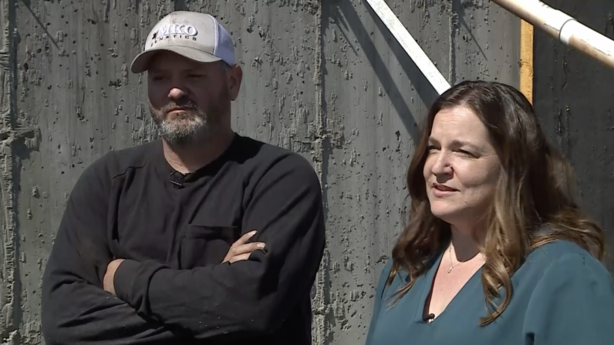 The Romriells don't know how the fire started, but they suspect an electrical issue with a heater might have been the cause.
"They were going to try and open the door but there was already flames coming out the roof," Roz Romriell said.
The entire barn was consumed before they could free their 200 animals. All but six lambs were show pigs.
"It wasn't just about a pork chop," Mark Romriell said.
"It's a pretty big emotional hit, I think to take any animal that you have cared for that much," Roz Romriell said.
The fire was also a major financial hit for the family.
"We bred and raised them so they're hard to replace because they're genetically lined up," Romriell said. "Even if you could find somewhere to purchase them, you're looking at several hundreds of thousands of dollars. It could easily be $500,000."
The Romriells said the barn's roof alone would cost $50,000 to replace. The barn's concrete infrastructure is still under evaluation to determine if it can be salvaged. Plus they have to send refunds to the families who reserved a pig.
"A year in advance they put deposits," Mark Romriell said. "The pigs were in here. We had one family that went out of town for spring break, they asked us to hold onto their pig one more week. Most of the pigs were spoken for; we were going to start sending them out this weekend. They go all over from neighboring counties to northern Utah, St. George, Las Vegas, etc."
The Romriells said their insurance won't cover the barn and they expect it will take several years to rebuild their program as they'll have to start breeding pigs from square one.
However, they're grateful no one was hurt.
"It's been incredible to me what people are willing to do for people they knew, as well as people who have no idea who we are," Roz Romriell said.
A GoFundMe page* and Facebook benefit auction have been set up to help the family rebuild.
KSL.com does not assure that the money deposited to the account will be applied for the benefit of the persons named as beneficiaries. If you are considering a deposit to the account, you should consult your own advisors and otherwise proceed at your own ris
×