Estimated read time: 4-5 minutes
This archived news story is available only for your personal, non-commercial use. Information in the story may be outdated or superseded by additional information. Reading or replaying the story in its archived form does not constitute a republication of the story.
SALT LAKE CITY — On the first play of his long-awaited first All-Star Game, Mike Conley faced up against Chris Paul for the opening tip of the second quarter.
He lost the jump.
"I was not prepared for the tip," Conley said after that game. "I was told that I was going out there and getting ready to guard somebody and I'm looking back (and the bench said), 'Mike, go jump.' I wish I would have won the tip."
You can now consider that a practice run for a much more important one.
With 1.9 seconds left of Utah's 117-114 win over Memphis on Friday, Conley lined up against Ja Morant for a jump ball. The stakes were simple: If he got it, the Jazz win. If he lost, the Grizzlies could have one final chance to tie the game.
The Jazz clearly assumed it was gonna be the latter. So much so that there wasn't a single Jazz player set up behind Conley. Turns out, Conley still has some hops. The veteran point guard rose up and won the tip against the high-flying Morant, and Derrick Favors quickly hustled to get the rebound and secure the win.
"Mike got bounce!" Jordan Clarkson said.
"I haven't seen Mike jump that high since Ohio State," added Donovan Mitchell.
Rudy Gobert joked that "Normally I'd tell him to go up quick like me, but I lost mine today, so I couldn't give him any advice — he wouldn't take me seriously."
That final play officially thwarted a furious Grizzlies fourth-quarter rally, giving Utah the first round of a strange scheduling quirk between Memphis. The two teams will play each other three times in four games, with Round 2 coming Saturday at Vivint Arena.
Before the game, the Jazz talked about the strange midseasons series with the Grizzlies. Gobert said was going to be physical, and Georges Niang warned that Memphis wouldn't go away easily. There wasn't anything particularly noteworthy about those quotes — just the usual cookie-cutter sayings about an opposing team.
Then the game happened.
The final seconds featured Kyle Anderson trying to sky over Rudy Gobert to get a late pivotal rebound (and getting a lot of body), and Morant trying to pry the ball away from Conley, sending the Jazz point guard to the ground in the process.
Physical? Check.
Never say die? Check and check.
"It's a real challenge because you're not gonna be able to stick to just one game plan of beating that team," Niang said before the game. "The way we guard them tonight is going to be different than the way we guard them tomorrow because teams are smart."
Memphis better have a new game plan on Saturday in Round 2 because what the Grizzlies were doing against Donovan Mitchell sure didn't work.
The Jazz All-Star guard had 35 points, six assists and five rebounds. He had it going early, scoring 19 points in the opening half as the Jazz raced out to a big lead. And he had it going late, scoring Utah's final 10 points to help hold off the Memphis rally.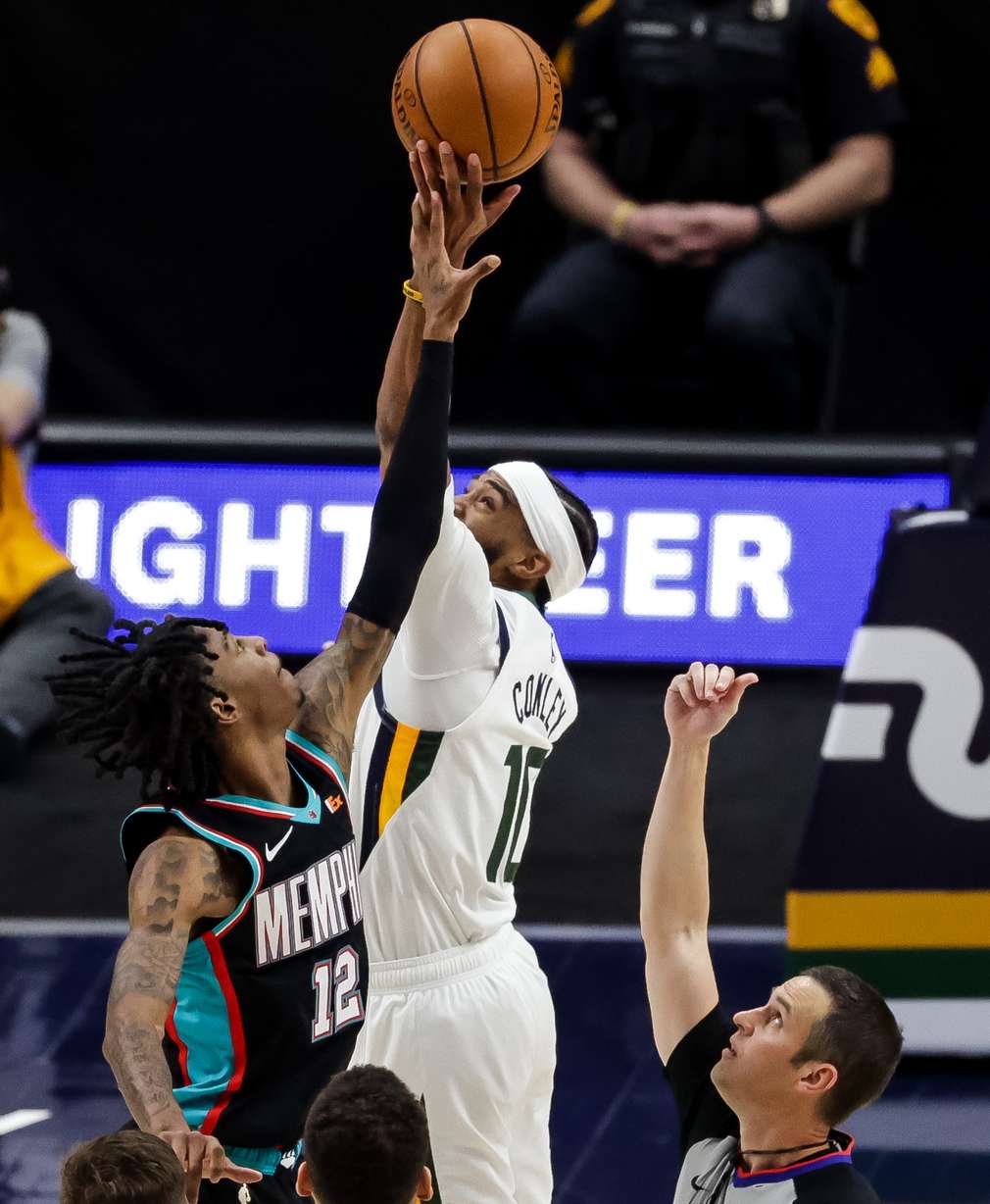 Speaking of that rally, the Jazz will have some things to work on, too, in the rematch.
Utah (33-11) led by as many as 21 points in the first quarter, looking like the team that ran roughshod through the rest of the league earlier this season. Mitchell had it going, Bojan Bogdanovic had found a rhythm by getting into the paint, and Gobert was finishing everything off the pick and roll.
The Jazz, who are sitting at the top of the NBA standings due to their 3-point prowess, made just six 3-pointers in the first half. Memphis made a concerted effort to take the deep ball away, so Utah went inside.
Gobert had 25 points on 11-of-14 shooting; every one of those shots was within five feet of the hoop.
"They were staying home with shooters, so it was tough to get those kick-outs," Jazz coach Quin Snyder said.
Gobert has improved as a passer this season and has found success in finding teammates in the corners as he rolls to the rim. With the Grizzlies not coming down to stop him, he simply scored himself.
"When they're doing a drop coverage and keeping guys on the shooters, it's usually gonna be a two-on-one every time," Gobert said.
But after all that had gone well, a 13-5 Memphis run in the final minutes of the game meant the Jazz had to sweat out a final possession.
Dillon Brooks, who had made three straight 3s in the fourth quarter, attempted a game-tying 3 that bounced around and out. Conley went to the floor to secure the rebound but was tied up for a jump ball with 1.9 seconds left.
Conley didn't lose the jump this time.
"I think it's a rolling bet in the locker room: we're still waiting for him to dunk," Clarkson said. "So we should have put a bet on him winning a jump ball too as well. He wears Jordan — they only sign people that dunk and do stuff like that. I think Mike is the only one that stays on the ground, so hopefully he gets a dunk soon and we win some money on that."
×
Related stories
Most recent Utah Jazz stories