Estimated read time: 8-9 minutes
This archived news story is available only for your personal, non-commercial use. Information in the story may be outdated or superseded by additional information. Reading or replaying the story in its archived form does not constitute a republication of the story.
SALT LAKE CITY — The images were striking: one weight room overflowing with squat racks, dead lift bars, and everything college basketball players would need for a post-practice lift or workout.
The other? A stack of yoga mats and some free weights.
The latter was the image found within the NCAA women's basketball tournament bubble in San Antonio, Texas, an imagine that has since gone viral thanks to social media and sparked a real conversation for change within the governing body of collegiate athletics.
At BYU, the disparities aren't always as striking. The Cougars share the Marriott Center Annex practice facility with the men's team — it's "as much ours as theirs," says head coach Jeff Judkins. But not every team receives that treatment.
When the NCAA set up a pair of weight rooms at hotel bubble sites in Indianapolis and San Antonio, the oversight quickly rose to the surface. Perhaps even worse, though, were some of the replies on social media — mostly via anonymous users and egg-avatars afraid to post their names or identities to the comments. Do women even lift? Why do women even need to lift weights? Perhaps the most shocking were some of the replies to women's athletes telling them to "get back in the kitchen" and other misogynistic snark that should've died in the United States decades (if not centuries) ago.
Plenty of professional athletes and celebrities have already opined on the subject, including Golden State's Steph Curry, who tweeted: "Come on now @NCAA, yall trippin."
The NCAA has already apologized for the oversight, with vice president of basketball Dan Gavitt specifically apologizing for his organization "dropping the ball on the weight room issue in San Antonio." The impropriety will be fixed as soon as possible, Gavitt added.
But the attitudes after the female athletes spoke out, as well as the reasons for the imbalanced oversight in the first place? Those are the bigger issues.
"I was pretty shocked by the presentation of both weight rooms: how amazing the men's was, and how despicable ours was," said BYU guard Paisley Harding, whose TikTok video was among the flood of social media posts highlighting the imbalance and has been viewed more than 1.5 million times. "Some people have said 'that's what women deserve,' and that's disheartening to hear, as a female athlete who I know has a bunch of people looking up to me and my teammates.
"I was definitely shocked by that narrative. There's a lot of misunderstanding going on with women's sports. We started sports later than men, and I think that's snowballed into us not being as popular. But I think people should really educate themselves; it's not about money, time or resources. It's really about where the NCAA wants to put their money towards. Being at the NCAA Tournament, the NCAA is paying for everything, and things are supposed to be equal (as in Indianapolis) — but the weight room was a pretty drastic situation."
BYU star Shaylee Gonzales is grateful for the safety and security provided by the NCAA's bubble. Each athlete gets their own hotel room, in part to quarantine when they first arrive at the hotel and test for COVID-19, which is something different than the regular-season when they travel with roommates and in the buddy system.
For the most part, everything the women need is made available by the organization: meals, snacks, pregame swag, access to practice facilities and transportation to the host sites spread out around the greater San Antonio area — including San Marcos, where the 11th-seeded Cougars will open the tournament Monday against a strong, athletic Rutgers team on the campus of Texas State (10 a.m. MDT Monday, ESPNU).
"I definitely feel like we're getting a little more spoiled," Gonzales said. "I feel like our team chemistry is a lot better."
But there are still issues. From the weight room to different testing protocols at the men's to the women's tournament, this week has shown that the NCAA — as well as other organizations — value women's sports differently than their male counterparts, said Hall of Fame head coach Tara VanDerveer of Stanford.
"This cannot continue to be business as usual," VanDerveer said in a statement from the school. "There are necessary changes that need to be made. With the obvious disparity between the women's and men's tournaments, the message that is being sent to our female athletes, and women across the world, is that you are not valued at the same level as your male counterparts. This is wrong and unacceptable. So much effort from so many people has gone into making this tournament happen. If it is worth doing at all, it is worth doing it right. Let's fix this once and for all."
Judkins has seen the rise in women's basketball in his 20 years at the helm of the Cougars' program — increased media coverage, more television time and access to similar amenities as each school's men's program, and a general overall respect for the game that didn't exist when he first moved from Utah men's basketball to lead the BYU women around the turn of the century.
A lot has gotten better since then, he admits. But there's still a ways to go.
"It's hard to always be second fiddle all the time," Judkins said. "I feel like our team is treated as well as anyone in the country, and it's because of our administration giving us so many opportunities. We travel in first class, and stay in a lot of the same hotels (as the men's team). Our practice facility is just as much ours as theirs.
"The girls know all about that. They would just like to have equal opportunities. The game has changed a lot. Twenty years ago when I started, there was nothing on TV, but now women's basketball is on all the time. The players are getting a lot better, coaches are getting better, and I think some things are getting better than the me's game. The men's game has dropped because all these guys come in one year and then leave. The women don't do that; they stay for four years, so their dynasty stays.
"There's been a lot of talk about it," Judkins added, "so hopefully it woke up some people."
The Cougars have two players with husbands who play on the men's team at BYU: Harding (nee: Johnson) and newcomer Kayla Bells Lee, who recently married center Kolby shortly after transferring to Provo from Michigan State. Those two, in particular, know the differences between the men's and women's basketball programs — and yes, they still exist — and talk about them often with their husbands. That helps give them a unique perspective on gender equality in sports, while also appreciating what their counterparts are doing in their respective realms.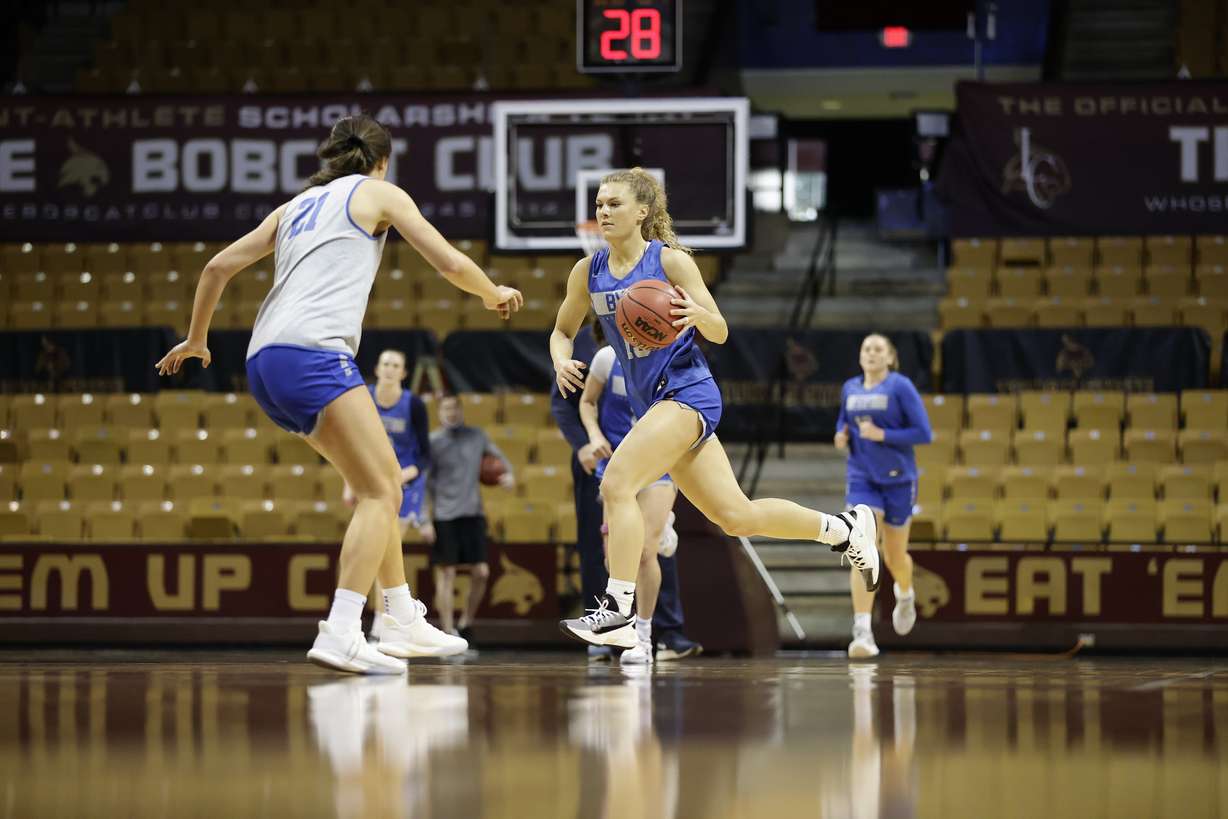 Harding and Lee will organize the BYU women's team to watch the men's team tip off the NCAA Tournament against UCLA (7:40 p.m. MDT, CBS) from their hotel room in San Antonio, even. For obvious reasons, they don't want to take away from the men's tournament.
"I was so excited to know that they were going to the tournament, and for Connor to experience the NCAA atmosphere," said Harding, who is making her second NCAA appearance to her husband's first, "especially after that chance was stripped from there last year."
The weight room controversy was a popular topic on the BYU women's team's group chat, and Gonzales also shared videos and pictures of the disparity to her massive social media following. The conversation helped sparked change, which is good.
But the change needs to go beyond a stack of dumbbells and a few yoga mats.
"Seeing that is very frustrating to me," Gonzales said. "We are very thankful for everything that we get. I feel super blessed to be here in the NCAA Tournament. I don't want to complain about what we're getting. The main point is just equality; being women athletes, I think it's really important that we use our voice and show what we are getting compared to the men.
"It's super unfair. I believe we all should be getting the same resources, the same equipment that the men are getting. We understand that the men are making a lot more money, but it all comes down to equality."
But there's at least one area where the women's tournament in San Antonio may be better the men's tournament in Indianapolis, Gonzales joked, referencing the viral video of Jesse Wade being "rescued" from a broken down elevator in the team hotel.
"Our elevators are working," Gonzales said with a laugh.
NCAA women's basketball tournament
Sunday, March 21
No. 16 Utah Valley vs. No. 1 Stanford
8 p.m. MDT, ESPN
Monday, March 21
No. 11 BYU vs. No. 6 Rutgers
10 a.m. MDT, ESPNU
×
Photos
Related stories
Most recent BYU Cougars stories