MAGNA — It's now been a year since a 5.7 magnitude earthquake centered in northwestern Salt Lake County rattled the Wasatch Front.
The quake, which happened shortly after 7 a.m. on March 18, 2020, left some memorable images. Perhaps none of the images were as memorable as the scattered bricks from the Colosimo's Original Standard Market & Sausage Factory building near the epicenter of it or the image of the Angel Moroni statue atop the Salt Lake Temple without its trumpet, which fell off from the force of the shaking.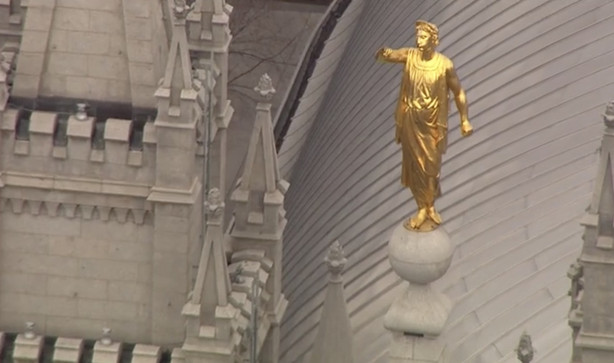 The mainshock and some of the larger aftershocks were blamed for anywhere from $70 million to $100 million in public structure and infrastructure damage, most of which was covered by insurance.
Some federal grant money was set aside for private businesses and homeowners as well. Joe Dougherty, a spokesperson for the Utah Department of Public Safety, said about $1.08 million in federal money was directed to homeowners and another $2.3 million was made available in disaster loans for affected businesses.
He added there was some other federal money approved that could cover deductibles from the insurance-covered public buildings and infrastructure. That's a process that's ongoing so that's why the full cost of the earthquake is still being calculated. It may take a few more months before state officials have a final figure.
The earthquake is likely something that will never be forgotten by anyone who experienced it, especially as it happened during the first week of pandemic-related work from home and remote school experiences.
It also provided valuable information for those who focus a good deal of time on earthquakes. Here's how the major earthquake shook up what's known about earthquakes in Utah and provided a real-life experience for public safety officials working ahead for "the big one."
What the earthquakes taught researchers
One year later, there's still seismic activity being reported as a result of the mainshock. The U.S. Geological Survey and University of Utah's Seismograph Stations have reported over 2,500 aftershocks near the initial Magna epicenter.
The vast majority of those have been minor. About 2,205, or nearly 90%, were rated 0 to 1.9 magnitude and another 137 were rated 2.0 to 2.9. Another 37 aftershocks were magnitude 3.0, including six that were at least 4.0. The frequency of aftershock earthquakes has eased up in recent months.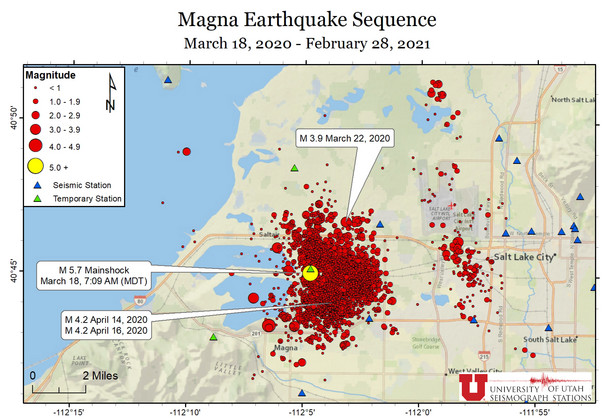 The sheer number of aftershocks isn't abnormal, said Katherine Whidden, a research scientist at the University of Utah Seismograph Stations. She called the number "fairly typical" for a 5.7 magnitude earthquake.
"It was very energetic at the beginning, meaning there were slightly more aftershocks than average at the beginning of the sequence and it tapered off to slightly fewer aftershocks than average as the sequence went on," she explained. "I know it felt like a lot — and at the beginning it was — but it was pretty average, pretty typical for a magnitude 5.7."

While a fault runs through the Wasatch Front, the primary 5.7 earthquake on March 18, 2020, and the larger aftershocks produced seismic activity that hadn't really been experienced in Magna in more recent history.
For instance, there was only six 3.0 magnitude earthquakes in the area since 1962 prior to 2020. The largest of those was a 5.2 magnitude earthquake that happened 59 years ago, according to the Utah Department of Natural Resources.
In the end, it provided researchers like Whidden a gold mine of previously unknown information. First, the earthquake is believed to have occurred on the Salt Lake City segment of the Wasatch fault. Whidden said the earthquake was also "unusual" because it's rare for an earthquake to happen on the fault itself.
In addition, it indicated that the Wasatch Fault isn't as deep underground as once believed. Those new findings have implications for future earthquakes.
"I believe this is the first one we've recorded actually and it looks like the Wasatch Fault is shallower than previously thought," she said. "That means if it's shallower, it's closer to the surface where people are. So the shaking that we may get from future Wasatch Fault earthquakes could be a little bit bigger than we previously expected."
Researchers also documented liquefaction, which is when wet, sandy soil loses strength from the shaking earth, near the shores of the Great Salt Lake and Jordan River, which confirmed previous geologic hazard mapping for those areas.
All of the new information has helped researchers update projections of future earthquakes with what they've learned from the Magna earthquake.
"Going forward, we'll be looking at ground shaking scenarios for larger earthquakes on the Wasatch Fault and how that shaking might be different than we previously thought," Whidden said.
It's good information to have because experts know it's not going to be the last earthquake to hit the Wasatch Front and it certainly isn't the largest one to impact the region.
Why the threat for "the big one" still exists
Scientists and public emergency officials have warned about a 7.0 to 7.5 magnitude earthquake, commonly referred to as "the big one," striking Utah for years now.
Data collected by the organization Envision Utah acknowledged that there were about 22 estimated 7.0 or greater earthquakes in Utah over the past 6,000 or so years. That leaves an estimate of about one every 300 years. The last one is believed to have happened more than 300 years ago, which is what has prompted concerns about "the big one" for a while.
---
Although it felt like big shaking and, intuitively, it seems like it might dissipate some of the stress and put off 'the big one' a little while longer, it doesn't work that way. We're still at the same risk for a magnitude 7.0 that we were before.
–Katherine Whidden, a research scientist at the University of Utah Seismograph Stations
---
Experts say last year's 5.7 magnitude earthquake and its many aftershocks aren't evidence of a precursor for the big one; however, it also didn't do anything to reduce the risk for the big one either. If anything, it's a cautionary tale about the unpredictability of large earthquakes.
"I would say the Magna earthquake, this 5.7, is just a good reminder that we can have a large earthquake here in Utah," Whidden said. "Although it felt like big shaking and, intuitively, it seems like it might dissipate some of the stress and put off 'the big one' a little while longer, it doesn't work that way. We're still at the same risk for a magnitude 7.0 that we were before."
The way Utah's faults are designed, that's the maximum earthquake magnitude is believed to be in that 7.0 to 7.5 range. That's the largest magnitude that can happen because the fault pulls apart which means it can't hold enough stress to form anything as large as a 9.0 magnitude earthquake, Whidden explained.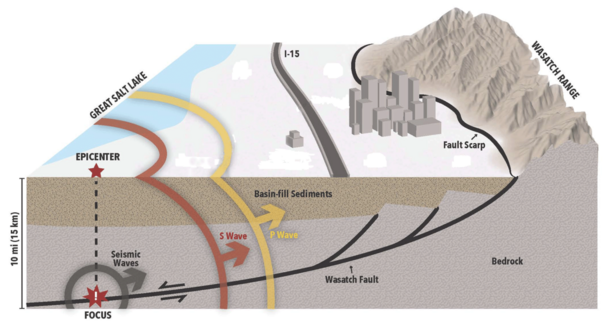 That means the Beehive State is in no position to break the dubious record of the largest earthquake ever recorded, which remains a 9.5 magnitude earthquake that struck Chile in 1960. Still, a 7.0 magnitude earthquake can do quite a lot of damage. A 7.0 earthquake is about 90 times stronger than a 5.7 earthquake in terms of energy, according to the U.S. Geological Survey.
Envision Utah's information pointed to a little more than 60,000 "red tag" buildings and 35,000 "yellow tag" buildings within the four Wasatch Front counties. Those are buildings that would be destroyed or extensively damaged by an earthquake of 7.0 or larger. It's worth noting data was collected before researchers found that the Wasatch Fault was closer to the surface than previously thought.
Either way, it's a natural disaster that could result in over 3,000 deaths, 7,000 injuries and 80,000 displaced households based on Federal Emergency Management Agency estimates. It's also an emergency that's projected to cost over $33 billion in short-term economic losses.
Meanwhile, earthquakes are one of the hardest natural disasters to predict. It's difficult for experts to know exactly when an earthquake will happen or how strong it will be. Dougherty said the everlasting legacy of the Magna earthquake might just be that it reminded everyone of that uncertainty.
"That's the crappy thing about earthquakes," he said. "We just don't know what they're going to do, but we do know Utah is earthquake country and that we expect to have more earthquakes in the future."
It's why public emergency officials continue to stress the importance of being prepared for the day "the big one" hits.
A learning experience for us all
Sometimes it's difficult to simulate something until you experience it. That's why public safety officials say they believe the 5.7 magnitude earthquake led to a little more interest in emergency preparedness.
---
When people take emergency preparedness steps, that's giving them more control over what will happen when we have the next earthquake.
–Joe Dougherty, spokesperson for the Utah Department of Public Safety
---
The Scott Rasmussen firm conducted a poll of 964 registered Utah voters last May in the months after the earthquake on behalf of the Deseret News and the University of Utah's Hinckley Institute. The poll found a split impact from the earthquake, according to the Deseret News.
Fifty-two percent said they had taken extra steps to be prepared for a future earthquake while 43% said they had not. Of those who said they had, 58% said they bought supplies and 32% said they educated themselves about emergency response.
Dougherty added that Utah agencies conducted some less scientific polls on the matter that also found Utahns who said they became more interested in emergency preparedness after the earthquake.
Given the risk for an inevitable large earthquake, Utah has participated in the Great Utah Shakeout every year for some time. It's an event where people practice procedures for when a major earthquake does happen.
There are also several other programs aimed at earthquake safety. Be Ready Utah provides tips for any emergency and then there's Salt Lake City's "Fix the Bricks," which helps city residents retrofit older homes more susceptible for earthquake collapse.
"Fortunately, a lot of people got the reality check," Dougherty said, of how the Magna earthquake was perceived.
He added that state experts would run into people on occasion who argued that all the preparedness was pointless because there weren't any major earthquakes even after all the years of talking about their risks. But an estimated 2.1 million people felt the mainshock last year.
"Now that you have that reality check, you have a decision to make," he continued. "We know that earthquakes are possible. We know they could be worse. We know that the vast majority of people are going to survive, so what do you want your own recovery to look like after a major earthquake? If you want to be self-sufficient after the earthquake, then you have to start doing things that you are."
Tips for earthquake preparedness:
Purchase earthquake insurance
Secure items that could fall on you such as books, potted plants or heavier objects that could fall in an earthquake. Be prepared to move away from any heavy object that can't be secured during an earthquake
Keep at least a 3-day supply of food and water at home and enough immediate needs at work
Have a portable radio available for information after a disaster
Keep sturdy shoes and a flashlight by your bed. Shoes protect you from stepping on glass or any other sharp objects following an earthquake. The flashlight helps reduce any drains on your cellphone battery
Have extra medication you may need on hand
Keep emergency literature and make sure it's accessible in an emergency
Know the location of emergency exits, fire alarms and fire extinguishers
Have plans ahead of time for pets in an emergency situation
What to do when any earthquake happens:
Seek cover
Move under a desk, table or other heavy furniture. Hold on and move with it as it moves
Move against a wall in the interior of a building, covering and protecting yourself in the process
Move away from windows, tall filing cabinets and other large objects that could fall. In addition, stay away from windows since windows can easily break during an earthquake
If it happens while you are in bed, stay there and protect your head with a pillow.
People in a wheelchair are encouraged to lock their wheels in a safe position and cover their heck and neck with their arms
Anyone outdoors is encouraged to avoid power lines, trees, signs, buildings vehicles and any other hazards
Anyone driving should pull over to the side of the road, avoid overpasses, bridges, power lines, signs or other potential hazards
Experts from the scientific and public safety communities are scheduled to have a virtual town hall meeting about earthquake safety Thursday evening to discuss the lessons from the Magna earthquake one year ago. The event begins at 7:30 p.m. and will be streamed live on Be Ready Utah's YouTube channel.
The next Great Utah Shakeout event is also scheduled for April 15.
Given the many unknowns that still exist regarding earthquakes, those who oversee public safety argue that preparedness is the best way to gain power over the situation.
"When people take emergency preparedness steps, that's giving them more control over what will happen when we have the next earthquake. … If you are using the experience to learn and make yourself safer, that's the best thing we could ask for moving forward for the next one," he said. "Your earthquake preparedness is going to help you weather any storm, any flood (or) a job disruption. Any interruption in your life, your preparedness now will help with any of that."
×
Photos