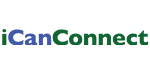 This story is sponsored by iCanConnect.
It's safe to say this past year hasn't been easy for anyone. But for those who have significant vision and hearing loss, the COVID-19 pandemic has created unprecedented challenges—from staying connected to friends and family to coordinating health and medical appointments to successfully working or learning remotely.
Fortunately, help is available through iCanConnect – also known as the National Deaf-Blind Equipment Distribution Program – a national program providing support, equipment and training to qualified individuals who have significant hearing and vision loss.
Working through local contacts in all 50 states, plus the District of Columbia, Puerto Rico, the U.S. Virgin Islands, American Samoa and the Northern Mariana Islands, iCanConnect assesses each accepted applicant's needs to determine how to best facilitate their communication preferences and goals. After the assessment, participants in the program then receive equipment and training free of charge. Equipment might include braille devices, computers, mobile devices, phones, signalers and various types of accessories and software.
"Having access to the right equipment and technology is important," said Jenn Henkle, whose daughter, Molly Henkle, participates in the program. Molly, who has CHARGE syndrome, is deaf and uses American Sign Language (ASL) to communicate – which was challenging during the COVID-19 pandemic. Thanks to equipment and training from iCanConnect, Molly was able to continue her speech therapy throughout the pandemic.
"Molly has made amazing strides in her speech over the past few months through teletherapy," Henkle said. "If she didn't have her tablet through iCanConect, she wouldn't be able to continue her speech therapy, and she wouldn't be as advanced as she is today verbally."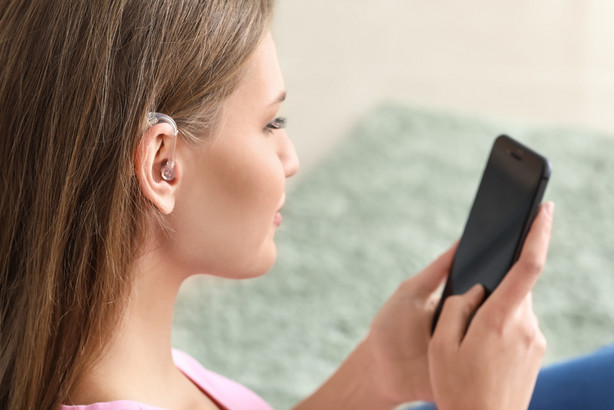 Of course, communication isn't just challenging during a pandemic – particularly if you suffer from hearing and vision loss. Last year, Glen Braxton, a 53-year-old Virginia resident, received a smartphone along with the training necessary to use it. Up until 2019, Braxton had never used – much less owned – a phone. But when his sister, Monica, learned about iCanConnect through the Virginia Department for the Blind and Vision Impaired, she helped Braxton apply for the program. An iCanConnect local contact then assessed Braxton's needs, supplied him with the smartphone and trained him to make and receive calls and send basic text messages. The result was life changing.
"iCanConnect has given Glen the confidence to be more self-sufficient and understand there are a lot of things he can do," said Braxton's mother, Sandra. "He's much more independent now that he has a phone."
iCanConnect participants include individuals of all ages and who have a wide range of disabilities, including those with CHARGE Syndrome and Usher Syndrome, to the elderly who have age-related hearing and vision loss. For some, their disability has been a lifelong challenge, while others are facing an incredibly challenging new normal.
For example, Alisha Merritt, a 41-year-old single mother who has Usher syndrome was accustomed to hearing loss and struggled to see at night. Then, with her son in preschool, she began losing her vision in earnest. By the time he was in kindergarten, she could no longer drive.
"It happened so fast," she said. "I couldn't help with schoolwork or read books to my kids anymore. I wasn't able to read the mail, so I had to ask them to read it for me… I stopped being able to communicate."
Merritt's older sister, who also has Usher syndrome, told her about iCanConnect. After an evaluation, the program provided Merritt with an iPhone, an iPad and a wearable alert device that provides real-time notifications for phone calls and messages.
"I use text messaging with my kids the most," Merritt said. "My alert device is great. It vibrates when I have a new message or when the phone is ringing so I never miss an important message from my family."
If you or a loved one is suffering from loneliness and disconnection due to hearing and vision loss, you may be eligible for equipment and training from the National Deaf-Blind Equipment Distribution Program. iCanConnect applicants must have both significant hearing and vision loss and must meet the program's income guidelines. For specific requirements, please visit iCanConnect. To apply for the program, contact your local iCanConnect program representative.
×