SALT LAKE CITY — Southern Utah head coach Todd Simon inherited a pretty lowly program five years ago.
The 2015-16 Thunderbirds had won just five games and finished last in the Big Sky. With limited resources and what at times felt like minimal support, no one in the SUU administration expected a miracle from Simon in his first few seasons. There were no illusions of grandeur of quickly winning conference titles or anything like that — heck, having somewhat competitive games would have been seen as a success.
With that the case, a joke began to grow within the SUU administration during those early years: Since Simon had history in Las Vegas — first as the head coach at national powerhouse Findlay Prep and then on the staff at UNLV — people around the school started tracking how the T-Birds were doing against the spread. It kept things interesting during a long rebuilding process.
Saturday, though, was a lot more fun. Turns out winning on the scoreboard is a little bit better than winning on a spreadsheet.
Nearly five years after taking over the program, Simon and his Thunderbirds won the Big Sky regular-season championship.
Southern Utah defeated Portland State 73-54 at Viking Pavilion to claim their first conference regular season trophy since 2001 — the year they made their only NCAA tournament appearance. It's just the school's second conference championship in its history.
Southern Utah finishes the regular season with a 19-3 record and 12-2 mark in conference play, a half game ahead of Eastern Washington and Weber State.
John Knight III, a Utah State transfer, had a game-high 26 points and was 11 of 13 from the field to lead SUU to a championship-clinching victory. Senior guard Dre Marin added 19 points and three assists. As a team, SUU shot 60% in a game it dominated from the tip.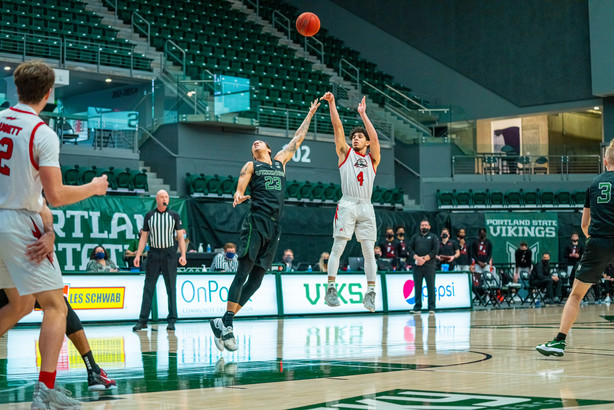 With the championship on the line, the T-Birds made easy work of the Vikings (who are coached by SUU alumnus Barret Peery). SUU jumped out to a quick 7-2 lead and led by 16 points at halftime in a game they never trailed.
SUU wasn't expected to be in this position — not at the beginning of the season and not even at the beginning of the week. The Birds entered the final week of the regular season trailing Eastern Washington by a half-game in the standings. And that's just where they were supposed to finish. But the Eagles were upset by Idaho State on Wednesday, giving SUU a surprise path to the title.
All the T-Birds had to do then was sweep the Vikings and they would be champions.
Led by a 26-point effort by Knight III, SUU beat Portland State 68-58 on Thursday, and it was Knight III who came through again on Saturday. Along with his game-high 26 points, he added five assists, four rebounds, two steals and a blocked shot to lead SUU in the championship-winning contest.
Southern Utah will be the No. 1 seed in next week's Big Sky tournament in Boise, Idaho, looking to earn the program's second berth into the tournament. The T-Birds will open tournament play with a quarterfinal game on Thursday at 11 a.m. against the winner of the No. 8-No. 9 seed game.
×