SALT LAKE CITY — Utah representatives agreed Wednesday that more needs to be done to protect the Capitol and officials, passing SB222 to spend more than $1 million on security measures.
"I wish (it) was not necessary, but because of what we've seen in recent history, both here and in Washington, D.C., it's becoming more important for us to focus on the issue of security around our Capitol, around our elected officials and even around our staff," said floor sponsor Rep. Robert Spendlove, R-Sandy.
SB222 expands the security responsibilities of the Utah Department of Public Safety and gives the department power to "assess, monitor and address any threat to a public official, a public official's staff member, or any part of the Capitol Hill complex." The bill wraps in protection for a governor-elect and their immediate families if needed.
It passed the House on a 48-20 vote. It cleared the Senate on Friday unanimously. The bill goes to the governor for his signature or veto.
"So, if you know, once in a while we do things that make people mad. And sometimes we make people mad enough that they make threats toward us," Spendlove said.
These increased security measures come even after public attendance was banned at the Utah Capitol, limited seating in the chambers and committee meetings for legislators, staff and media and required masks to be worn following the COVID-19 pandemic. When the public ban was lifted public visitors would still have UHP check bags and were required to follow social distancing guidelines.
The bill says there needs to be a "demonstrable need or a specifically identified threat" to a person or the Capitol complex to be made before extra security measures, training or people are put into action.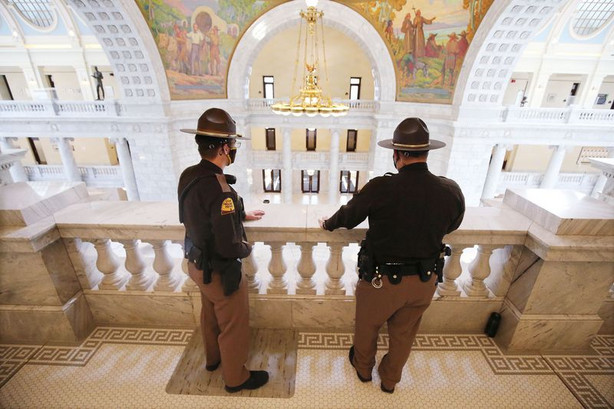 The Jan. 6 attack on the U.S. Capitol and armed rallies outside the state Capitol spurred Spendlove to push the bill.
"If those threats rise to the level of being serious and actionable, then even now, they have the ability to provide some of that protection for our members. What we don't have right now is there is no level of protection for our staff," said Spendlove.
Despite the bill's specific outline of a required threat threshold, some lawmakers were still not happy with the bill's purpose.
"As a general rule, we don't provide these protections to members of our U.S. Senate members of our congressional delegation," criticized Rep. Casey Snider, R-Paradise.
"Look, as much as anyone, I want to see people safe. I want to see people taken care of. But I think there's a balance here between safety, which is always paramount, but also providing levels of protection that we don't equally distribute among our high-ranking elected officials," he said.
But Rep. Travis Seegmiller, R-St. George, and Rep. Ray Ward, R-Bountiful, both challenged this statement, noting they'd received death threats, threats of violence or vandalism at their homes.
"This is not a selfish thing. It's about trying to protect ourselves," said Seegmiller.
Related:
Ray said that the ability of law enforcement and other personnel to respond quickly to threats helped him face past death threats aimed at him and his family.
The bill sets aside $680,00 for annual security and initial one-time cost of $500,000.
"In my opinion, it doesn't happen often, (but) it does happen. And unfortunately, based on the events of the last 12 months, let's just at least give the commissioner the option on an as-needed basis to talk to legislators and other executive branch officials if they feel there's a need," said Rep. Joel Briscoe, D-Salt Lake City.
×
Related Stories