SALT LAKE CITY — A few months removed from an amended and shortened football schedule, the Pac-12 announced a full 12-game slate Tuesday for the 2021 football season.
A lot has changed since the COVID-19 pandemic unleashed its force on the sport, but there's hope 2021 will be different and football will resume like before — starting with a full schedule starting in September. For Utah, that means a season-opening contest on Sept. 2 against the currently ranked No. 2 Weber State team that opened up its spring season Saturday with a 49-21 rout over Idaho State.
It's a quick turnaround for the Wildcats, but the FCS national championship contenders will give the Utes a dominant FCS opponent to get the season started, at a fully renovated Rice-Eccles Stadium no less.
Utah will conclude its nonconference play with road contests against BYU on Sept. 11 and against San Diego State on Sept. 18. Utah was forced to skip BYU last season, which went 11-1, due to the Pac-12 canceling its nonconference slate, with the home contest for Utah being made up in a later season. The Aztecs are coming off a 4-4 season in 2020.
The Utes will open up conference play on Sept. 25 with a home match against Washington State, who went 1-3 last season in a significantly altered year. The Cougars are one of five conference opponents that will play at Rice-Eccles Stadium this season. The others include Arizona State (Oct. 16), UCLA (Oct. 30), and back-to-back home games against Oregon (Nov. 20) and Colorado (Nov. 26).
Utah will be on the road four times, with only one road back-to-back that includes Stanford on Nov. 5 and Arizona on Nov. 13. The biggest road contest will be a South Division showdown against USC on Oct. 9, which will come a week after Utah's bye week on Oct. 2. The final road game will be a meeting in Corvallis, Oregon, as Utah takes on Oregon State. The last time Utah traveled to Corvallis, the Utes beat Oregon State 52-7 and narrowly missed a shutout over the Beavers.
Speaking to the Pac-12 Network's Yogi Roth and Guy Haberman Tuesday morning, Kyle Whittingham said the bye week comes at a good time for Utah — a time Whittingham considers to be the midpoint in the season when counting all the lead-up time with fall camp.
"I would say yeah, not only for that reason but when you're looking at fall camp and the season combined — that at week four is right about midway. It's not midway through the season obviously, but when you combine two-a-days and the grind that that is, that gives them a nice break right about the midpoint, and then, of course, it's always great to have a little extra time to prepare for the Trojans."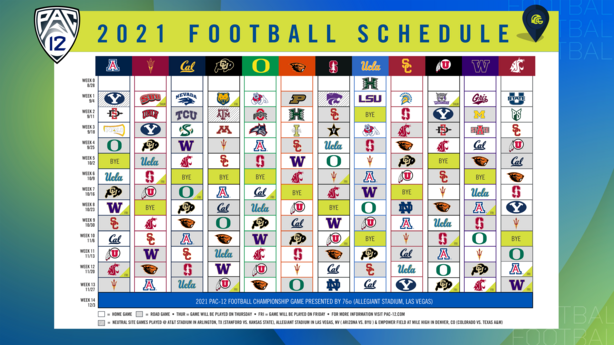 Utah's schedule features two Friday night contests against Stanford and Colorado, and the traditional Thursday night season opener against Weber State.
"When you look at it, it's pretty much laid out as we expected," Whittingham said. "We typically play USC early in the season, and same thing this year, and get Oregon late in the year at our place, which could be affected by weather, and then, of course, we always finish with Colorado at the end, so not a lot of surprises and it looks solid, so we'll see what happens."
Utah is expected to open up spring camp sometime in March, and Whittingham said the biggest priority will be that of settling a pecking order at quarterback. Utah lost starting quarterback Cameron Rising to a season-ending injury in the team's first game of the season last year, and Jake Bentley transferred from the program. But Utah picked up two transfer quarterbacks in Ja'Quinden Jackson (Texas) and Charlie Brewer (Baylor).
"Number one is getting the quarterback situation ironed out, and that won't be completely ironed out in spring because Cam Rising won't be able to participate," Whittingham said. "But the room has essentially been rebuilt and we've got a lot of new faces in there, and so that'll be job one."
Whittingham also mention the need to settle on a solid offensive line and a starting running back after freshman starter Ty Jordan tragically died in December and two running backs entered the transfer portal during the season. At running back, though, Utah picked up two players from the transfer portal that could add immediate help, Oklahoma transfer TJ Pledger and LSU transfer Chris Curry.
Whittingham added that the wide receiver room will need more attention, likely from the transfer portal, after spring camp due to starters Bryan Thompson and Samson Nacua entering the transfer portal in February. Utah will also be without its wide receiver coach now that Guy Holliday is no longer with the program, though Whittingham did not mention his departure during his interview with the Pac-12.
"Receiving room has taken a hit, there's no way around that the last couple months and so we've got — we're still not done adding to that room," Whittingham said. "We've got to add to that room in the offseason through the portal, most likely, and that is something that is a top priority — not in spring ball because we're going to develop the players we've got — and then we've got to add more players to that once spring ball is over with."
Holliday spoke to 1280 The Zone Tuesday morning, who addressed his departure and said it was "pretty sudden." He said the last year or more had been difficult and not just for all that COVID-19 brought to the team.
"It drained me," he said. "I was drained. I was tired. ... When coach and I sat down, I understood it. Believe me, I understood it."
"I want to clear the air as far as I've always said I speak for myself," he added. "The University of Utah, they've been good to me. Me leaving there and everybody needs to know that they're taking care of me. This is not, 'Hey, they kicked me' — no, they're doing some things right by me, which I appreciate. I appreciate Mark Harlan, and I appreciate the opportunity that Whitt gave me. We had a great relationship — we still do. You've got to make tough decisions and do tough things."
×