PROVO — The most eye-catching thing Caleb Lohner did Thursday night in BYU's 79-73 win over San Francisco was the dunk.
With 3:10 left in the first half, Lohner ran barrel-chested downcourt on a fast break, glanced at Spencer Johnson after the American Fork grad forced a steal, and gave him a "pretty please" with a nod, or maybe a few words, or a scream.
Whatever it was, Johnson relented, dishing a dribble handoff to Lohner around the free-throw line as the Wasatch Academy product soared through the air and rattled the rim with the force of a thousand furies that sent the reduced capacity crowd of just over 1,700 to their feet.
Lohner loved it, Johnson loved it, the crowd loved it. Even the Dons' bench, which bristled at the impact, secretly loved it.
"He has an unbelievable upside, and it's just fun to watch," BYU coach Mark Pope said, joking that Lohner owed him that dunk after a similar attempt last week in California wasn't executed as well. "It's unfortunate that all of Cougar Nation hasn't been able to see his trajectory all year."
But the dunk — as impressive and awe-inspiring and jaw-dropping as it was — wasn't the most impressive thing Lohner did all night. It's far from the most impressive thing he's done all year.
For Lohner, the 6-foot-8 Dallas native who prepped under the tutelage of his cousin David Evans in rural Sanpete County, the most important thing about his freshman season at BYU (18-5, 9-3 WCC) has been the little things. As cool as that dunk was, he and his coach pointed toward a bigger moment in the second half when Lohner pulled down an offensive rebound and kicked it out to Alex Barcello, who poured in one of his school-record seven consecutive 3-point makes in the win.
Lohner had 13 points in the first half against the Dons and didn't score after the break. But he did have three rebounds and two assists in 17 minutes, which may be just as important.
At least, it is to him.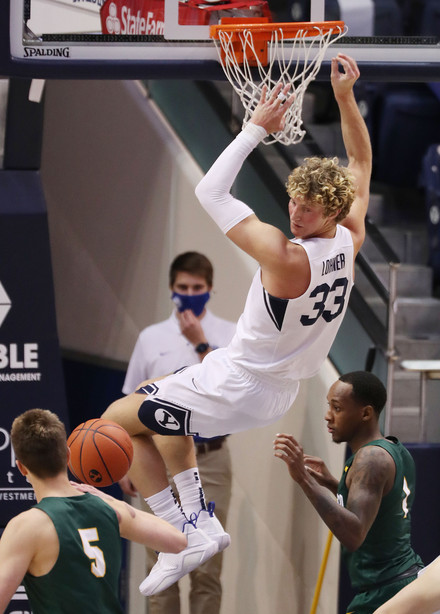 "I just didn't score as much. I got some more rebounds, made some plays," Lohner said. "But this team is awesome. That's what's cool — I scored in the first half, and in the second half, I didn't need to.
"We had some guys step up in this big team effort. It's awesome — just a big family we've got."
Once the Cougars' best offensive rebounder, Lohner has improved each game, whether on the glass, in his defensive assignment, or in his ability to get out in transition. While he's led the team in rebounding all season with 6.7 boards per game, he's coming into his own as BYU seeks to clinch its first trip to the NCAA Tournament since 2015.
And as the Cougars hit the most important stretch of the year, with Senior Night to honor the three-man senior class of transfers Alex Barcello, Brandon Averette and Matt Haarms, Lohner — like his team — is peaking at the right time.
While Lohner is averaging 7.5 points per game — the fourth-best mark on the team, behind that senior class — it's in the last few weeks that he's really shined.
The one-time Utah basketball signee has scored in double figures in five of the past seven games, including a career-high 19 points and nine rebounds in an 80-52 win at Pacific. Two games after finishing one rebound shy of a double-double, he did it again against the Dons.
But those things don't matter for Lohner. The little things do.
"Caleb Lohner worries about the right things," Pope said. "That is his greatest accomplishment this season: he's a freshman who worries about the right things.
"It's incredible for a freshman to come in every single day, and figure out how to be a force on the glass and lock down his defensive assignment. When you build your game that way, you have a chance to grow into something incredible."
Over the past six games, which BYU has won all but an 82-71 loss to top-ranked Gonzaga, Lohner has been among the Cougars' best players. He's averaged 12.3 points, 7.8 rebounds and 1.0 assists per game over that span, which has seen his minutes increase to 27.3 per game as he's adjusted to his new role as a full-time starter.
But more impressive, his teammates say, is what Lohner has done in that span that isn't seen by the handful of fans, media and TV viewers at home. It's what Lohner has done in practice, showing up early every day and digging into scouting reports, film review and schemes with the energy only a freshman could muster but few do.
It doesn't mean he's perfect. But Lohner is willing to work, to try — and to learn from his imperfections.
"He doesn't get too caught up on his mistakes," Barcello said. "He makes a mistake, and immediately moves on to the next play.
"Every freshman that comes in, the game is really sped up for them as they transition from high school to college. But as the season progressed, the game has really slowed down for him, and I really believe it's because of the mindset he has."
And that's what Pope needs on his team, not just from Lohner, but from the rest of the group. That's what they need to break its current drought away from college basketball's biggest stage, and for a chance to compete with the top of the West Coast Conference, the Zags and the rest — like a San Francisco squad whose resume includes a 61-60 win over 15th-ranked Virginia.
Lohner's getting better, and starting to peak at the right time of his freshman season. So, too, are the Cougars, as they prepare to host conference rival Saint Mary's at 8 p.m. MT Saturday (ESPNU).
"I think we're getting better," Pope said. "I think all of these guys are getting better, getting more comfortable with each other, and figuring things out on the court. I do think we're getting better."
On the Air
Saint Mary's (13-7, 4-5 WCC) at BYU (18-5, 9-3 WCC)
Saturday, Feb. 27
Tipoff: 8 p.m. MT
TV: ESPNU
Radio: BYU Radio 107.9 FM, KSL NewsRadio 102.7 FM/1160 AM
×
Photos
Related Stories