Estimated read time: 2-3 minutes
This archived news story is available only for your personal, non-commercial use. Information in the story may be outdated or superseded by additional information. Reading or replaying the story in its archived form does not constitute a republication of the story.
BOUNTIFUL — Megan Peterson tested positive for COVID-19 almost a year ago and has since credited the vaccine for protecting her from what she said would have been a devastating second round with the virus.
Peterson is still getting over her first bout with the virus much like hundreds of other Utah long haulers.
Some bounce back from COVID-19 quickly, but there are also more than 14,000 Utahns who were hospitalized.
Peterson said she was somewhere in between. "My oxygen at the time kind of hung around 89%. After 12 days I finally healed to the point that I felt like I could go back to work," she said.
About 10 weeks later, things changed. "I started noticing that I was extremely dizzy at work and even a couple of times almost passed out," she said.
Doctors put her on oxygen for several months.
In December she got the first shot of the Pfizer COVID-19 vaccine before receiving the second shot in January.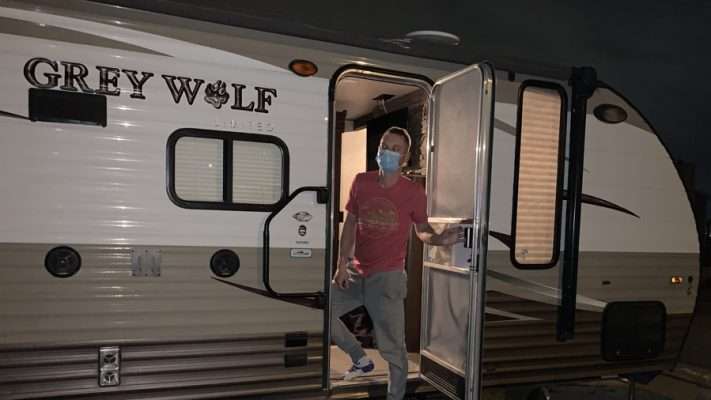 It was welcome news for her, but just a couple of weeks after that, her husband tested positive.
"Yeah, I was terrified. My doctor even told me how dangerous it would be for me to get it again," she said.
She did not test positive and said the vaccine protected her.
"I'm very grateful for it and can't imagine how much worse this would be," she said.
Her husband, Derek Peterson, stayed in the family trailer for two weeks. Luckily, that is the worst that happened.
Megan Peterson has lived with some long-term effects since her first diagnosis, which include body-aches and extreme fatigue.
"I'm 32 years old, a mom of four young kids, and I've seen the damage that it can cause. I've seen it in my job, I've seen it in myself," she said.
Peterson described herself as active and healthy but had a couple of conditions that likely contributed to her long-term side effects, like a blood-clotting disease and inflammation in her heart.
×
Related stories
Most recent Coronavirus stories