PROVO — The new report reared its head like it so often has in the past and came in the same fashion: with a tweet.
John Canzano, a columnist for the Oregonian and Portland-area radio show host who has grown a following by reporting on (and occasionally digging into) the Pac-12, tossed out the revived discussion that has been at the heart of college basketball in the west for weeks.
"Gonzaga and BYU are weighing whether they should opt out of the West Coast Conference basketball tournament," Canzano said. "Nothing in it for either program, except risk of injury, bad loss and infection. They're both NCAA Tournament bound regardless. WCC ADs are talking about this."
The reasons the Cougars and Zags might prefer not to risk exposure and COVID-19 infection in Las Vegas are obvious and have been discussed at length. Suffice it to say here, there is little to gain there — especially for the Zags, who aren't just guaranteed an NCAA Tournament berth, but were also the No. 1 overall seed when the men's basketball selection committee revealed its top 16 teams last week.
Gonzaga and BYU are weighing whether they should opt out of the West Coast Conference basketball tournament.

Nothing in it for either program, except risk of injury, bad loss and infection. They're both NCAA Tournament bound regardless. WCC ADs are talking about this.

— John Canzano (@johncanzanobft) February 16, 2021
BYU isn't in the same boat as Gonzaga, but the Cougars are projected anywhere between a No. 8 and No. 10 seed by every major bracketologist and projectionist — even without an automatic berth awarded to the winner of the WCC tournament.
BYU coach Mark Pope said during his coach's show on BYUtv Tuesday night that similar conversations are being had by teams across the country, and while no decision has been made by anyone in his conference (that he knows), the fact that there are conversations in the vein of skipping the league tournament is a positive sign.
Especially for a team like the one with generational talent led by Mark Few.
"As a fan of the Zags, you see a team that has clearly proven to be if not the best team in the country, one of two teams in the country clearly separate from everybody else," Pope said. "I understand the thought of a seven-day testing period to go to the NCAA Tournament, and that's the Zags' one goal in mind. There's that weighing what could get in the way of having a real shot to do that, and it's legitimate to consider it.
"What the final answer is, I don't know. But you understand the question, for sure, and we understand that question for sure."
As for the Cougars: They're just trying to get to Thursday's game at Pacific, the first of back-to-back games in California after a 10-day layoff (6 p.m. MT, CBS Sports Network). That game will be followed by a Saturday afternoon tipoff at Loyola Marymount (1 p.m. MT, CBS Sports), which is less than a week removed from an 80-76 win over the Tigers itself.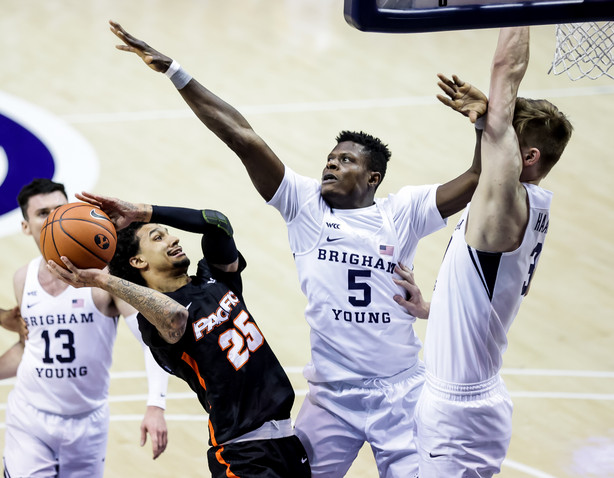 For a team that has already had two games in the Golden State canceled after BYU has chartered a flight to the host city, that's enough of a challenge. Add to it the Tigers (6-6, 3-5 WCC), who took BYU to double overtime before the Cougars held on 95-87 at home, and it's understandable why Pope may prefer to focus on this week.
"My intent right now is to go play on Thursday, although we've had several games where we've flown out and the game hasn't happened," Pope said. "That's our intent: We're taking this minute-by-minute, and that's why it's a bit silly for anybody to imagine they can set anything in stone right now. The teams that have been stuck in that way have been less successful."
The West Coast Conference released a new metric for seeding teams in the league's annual tournament in Las Vegas this year, a one-time approach that will calculate "adjusted winning percentage" using a proprietary formula developed by former Salt Lake City meteorologist and noted college basketball sabermetrician Ken Pomeroy.
The conference will release a weekly look at the standings based on the formula's AWP, which currently puts Gonzaga and BYU at 1-2, followed by Pepperdine and Saint Mary's — despite the Gaels sitting at a 2-4 record.
It's a unique approach, but one that makes sense in a season unlike any other caused by the COVID-19 pandemic. In the conference's announcement, commissioner Gloria Nevarez and other officials admitted that the volume of games lost due to pauses and virus mitigation efforts will force every team to enter the postseason with a different number of games played.
There's simply no way to play every game originally scheduled anymore.
Proud to have worked with the WCC on this project. Kudos to the league and its members for jumping on board. No need to cram a bunch of makeup games into the final weeks of the season and wear everyone out. Conference standings adjusted based on who you played. https://t.co/YmYI3MQipM

— Ken Pomeroy (@kenpomeroy) February 16, 2021
The Cougars themselves currently have three games set for the remaining two weeks of the regular season, with postponed contests with Saint Mary's and San Francisco still up in the air. Already, San Diego has canceled its two-game series with BYU, a note acknowledged by the conference after initially trying to reschedule the games.
So little is fair about the arrangement, especially in introducing a brand-new metric to judge teams that is different than anything any coach, player or staff member has seen before.
And that's OK, Pope admitted with an air of inevitability while citing NCAA vice president of men's basketball Dan Gavitt.
"It's not going to be fair. There's just no way to make it fair," Pope said. "So let's do the best we can, and the most important thing is that we actually play games.
"As long as you keep yourself there, you reduce some of the frustrations I know all the teams in the league are feeling. But it's the truth."
But if the end result is the formation of a 68-team NCAA Tournament that generates a billion dollars in revenue — crucial revenue, a year after the cancellation of the NCAA's marquee championship due to the coronavirus — then the concept of fairness will take a backseat.
Unprecedented times call for unprecedented decisions.@CoachMarkPope responds to the report that BYU is considering opting out of the WCC Tournament#PopeShow#BYUHoopspic.twitter.com/N3C5XEvzFV

— BYUtv Sports (@byutvsports) February 17, 2021
From the perspective of Pope and BYU, they've done as good of a job as possible to make the tournament, with 20 games played, a 9-2 record at home, and a top-30 NET ranking buoyed by three Quad 1 wins, a 2-2 mark in Quad 2 games, and a (currently) unblemished mark of 9-0 in Quadrants 3 and 4 that include quality wins over St. John's, Utah State, Utah, San Diego State and Saint Mary's.
Pope has put together the type of resume not only capable of earning BYU's first NCAA bid in five years — but maybe, just maybe, even winning a game or two in Indianapolis.
If the Cougars can get there.
"We have a chance," Pope said. "We have depth, we have length — especially in the backfield, and we have the ability to guard; we're a top-35 defensive team right now, and those things are the hallmark of teams that actually have a chance of teams who get into the tournament and can advance. We have to keep proving it, but the ingredients are there to make this happen."
On the Air
BYU (15-5, 6-3) at Pacific (6-6, 3-5)
Thursday, Feb. 18, at 6 p.m. MT
TV: CBS Sports Network (Rich Waltz, Dan Dikau)
Radio: BYU Radio 107.9 FM, KSL 102.7 FM/1160 AM (Greg Wrubell)
Series: BYU leads, 11-6
BYU (15-5, 6-3) at LMU (10-6, 5-3)
Saturday, Feb. 20, at 1 p.m. MT
TV: CBS Sports Network
Radio: BYU Radio 107.9 FM, KSL 102.7 FM/1160 AM (Greg Wrubell)
Series: BYU leads, 18-4
×
Related Stories