Estimated read time: 5-6 minutes
This archived news story is available only for your personal, non-commercial use. Information in the story may be outdated or superseded by additional information. Reading or replaying the story in its archived form does not constitute a republication of the story.
PROVO — Coming out of a first half where the team shot 34% from the field, had eight turnovers and a 32-31 deficit at home to Pacific, the BYU men's basketball team faced a crossroads.
Coming off the worst loss of the season and arguably the worst under second-year head coach Mark Pope, the Cougars' season was on the brink. Another loss like the one they suffered at Pepperdine on Wednesday afternoon — and Pacific, which ranks six spots behind the Waves at No. 139 in the NCAA's NET rankings scheduled on three days' notice, certainly qualifies — and BYU's hopes of any consideration for an at-large bid to the NCAA Tournament were over.
There was nothing pretty about what the Cougars did Saturday afternoon in the Marriott Center — in all four sessions.
But BYU's streak of not losing back-to-back games under Pope remained intact.
Alex Barcello had 23 points, nine rebounds and seven assists, and Brandon Averette added 24 points and five assists, and BYU held off Pacific 95-87 in double overtime at the Marriott Center.
Matt Haarms supplied 13 points and eight rebounds for the Cougars (14-4, 5-2 WCC), who made just 18-of-28 free throws — including misses on a pair of go-ahead foul shots in both the final minute of regulation and the first overtime.
Make no mistake: there were a lot of ugly moments in BYU's win over the Tigers, a game filled with moments of unstoppable offense followed by long scoreless droughts by both teams.
Only one thing was pretty about it, really.
"The game was so incredibly awesome, because we won. I'm so happy about that," Pope said. "We went through our whole lineup, and everybody found a way to contribute.
"On not-our-best night, the guys gutted it out. That's the identity of this team: we know we'll stay in there."
Jahbril Price-Noel scored 16, and Jordan Bell added 12 points and 10 rebounds for Pacific. Justin Moore added 18 points for the Tigers (5-4, 2-3 WCC).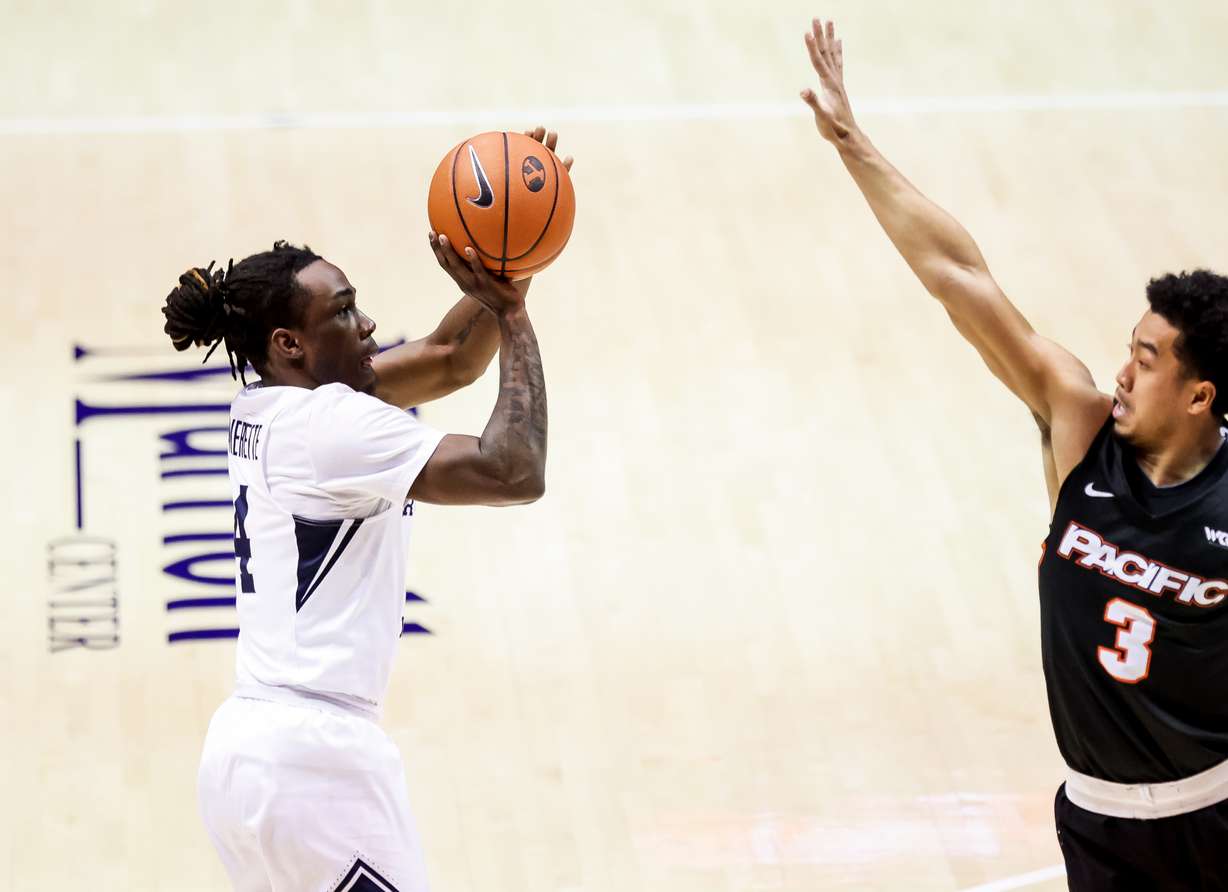 The Cougars opened the second overtime with three-straight buckets, a 7-2 burst through Haarms and Spencer Johnson that put the Cougars up 82-77 with 3:39 left.
They also held Price-Noel scoreless in the second extra session, and Bell fouled out late in the first overtime.
In every huddle, the Cougars said the same thing to each other: keep your fight, stay hungry. Eventually, that fight broke through.
"Eventually they're going to break — and we're not going to break," said Barcello, whose defensive toughness cost him a chipped tooth (since fixed) a week ago. "We're too tough, and we work too hard to break.
They're a talented team. They hit some tough shots down the stretch … even when we were playing pretty good defense. When they get going they can really go. But they missed a couple, and I think that gave us a sense of confidence. Then our bigs and everyone just focused on rebounding, on getting stops, that's how we knew we were going to win the game."
Maybe fatigue played a role in the college basketball team from Stockton, California (elevation: 13 feet) playing in Provo (elevation: 4,551 feet). But so, too, did the Cougars' defensive scheme that sounds simple, except when they didn't follow it.
Whatever it was — probably because of a combination of sorts — BYU looked more like itself.
Averette admitted they may have overplayed Price-Noel, Bell and others throughout the night. After one overtime period, they stopped doing that.
"We made adjustments, stopped switching our bigs on their guards, and giving them easy drive-in opportunities to the rack," the UVU graduate transfer explained. "We kept the guard on the guard and the big on the big.
"That was the biggest thing that helped us in the second overtime: just be solid and make them score over us."
Daniss Jenkins tied the game at 64-64 on a fast break with 52 seconds left in regulation, the sophomore's 11th point of the game on 5 of 12 shooting. But with the clocking winding down on the Cougars' final possession, freshman Caleb Lohner drove into the lane, drew a foul, and knocked down one of two free throws to help the Cougars secure the win.
Lohner, who had 4 points and eight rebounds, missed both foul shots, sending the game to overtime. Ditto for Richard Harward, the Orem High product who had 8 points and six rebounds and followed up a crucial charge-taken in the final minute of overtime by missing a pair of potential go-ahead free throws.
BYU outrebounded the Tigers 46-38, but committed 14 turnovers that turned into 11 points for Pacific. The Tigers led for just 6:19 — mostly in the first half — but only trailed by double digits once, a 95-85 margin just before Moore's bucket with 11 seconds left in the second overtime sliced the deficit.
It was gritty, ugly and grimy — and in many ways, exactly how the Cougars like to play, based on recent run of form.
Lacking offensively and with plenty of mistakes, perhaps the win was just what the Cougars needed — namely, a win — to keep not only their own NCAA Tournament dreams live, but also the hopes of a multi-bid future for the West Coast Conference.
But in a season-defining moment, BYU responded. It wasn't always pretty — except for the result.
"We understand the situation we're in now; the tough loss to Pepperdine put us in a tough spot," Averette said. "It put a lot of pressure on these types of games. We for sure felt that pressure, and I felt like that added a spark to keep battling.
"We're going to battle to the end, and be good with the outcome."
×
Photos
Related stories
Most recent BYU Cougars stories