Estimated read time: 7-8 minutes
This archived news story is available only for your personal, non-commercial use. Information in the story may be outdated or superseded by additional information. Reading or replaying the story in its archived form does not constitute a republication of the story.
SALT LAKE CITY — When a young Black woman from Utah County told a Senate committee of getting "pencils thrown in my hair to see if they would stick," she was trying to shed light on a form of discrimination that may not be widely known about in the Beehive State.
And while discussion of SB80 to amend Utah's anti-discrimination laws did raise awareness of how hairstyles can lead to racial discrimination, it also brought questions of whether it is really a problem and prompted an apology from one state lawmaker accused of insensitivity for how he addressed women testifying as well as for telling a story of befriending Black children in a store.
With the bill stalled last week in the Senate Economic Development and Workforce Services Committee after a 2-2 vote with three senators absent, the question remains: Does Utah need to add anti-discrimination protections for racial and ethnic hairstyles?
Sixteen-year-old Tereza Richardson says such a change would eliminate pressure on minority women trying to join the workforce.
---
I also get told often by like classmates, or just people around me, that if I straighten my hair, I'd be prettier and more professional looking.
–Tereza Richardson
---
"I also get told often by like classmates, or just people around me, that if I straighten my hair, I'd be prettier and more professional looking," Richardson said. "It's just hurtful to hear that because my natural hair shouldn't be defined as unprofessional or anything like that."
National effort on 'CROWN Act' arrives in Utah
Sen. Derek Kitchen, D-Salt Lake City, is sponsoring SB80, which is part of a 2019 national initiative for "creating a respectful and open world for natural hair" that is known as the CROWN Act. The effort was founded by Dove, National Urban League, Color Of Change and Western Center on Law and Poverty.
"It's an opportunity for people that don't understand what it's like to be Black in this world," Kitchen said.
Kitchen wants to add protections for those who have hair traits that come from their ethnicity or race. His bill would prohibit discrimination over hairstyles that commonly are associated with the type of hair texture a person is born with, such as braids, dreadlocks, afros, curls and twists.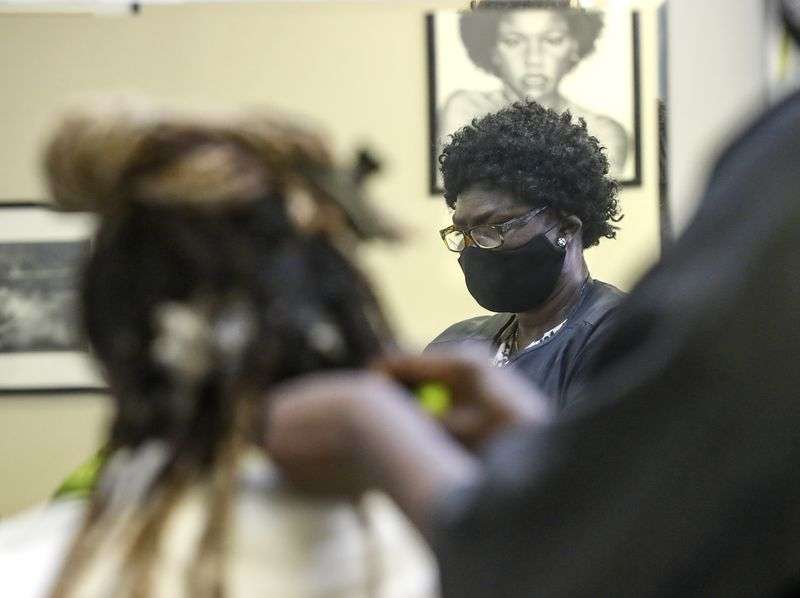 But Sen. Derrin Owens, R-Fountain Green, wanted to make sure that this inclusion of hair didn't alter or change the current definition of race.
Drexel University law professor Wendy Greene told committee members the purpose of the bill wasn't to change the definition of race, but "to affirm … an existing understanding of race, and the ways in which racial discrimination shows itself."
"Federal courts often apply what is known as the immutability doctrine, and a very strict construction of this doctrine, which declares protection against racial discrimination is limited to discrimination on the basis of unchangeable racial characteristics," she said.
In the case of Black women, who face "tremendous pressure to look a particular way," Greene said the "straight hair expectation" from employers causes them to either "cut off their hair or conform."
The issue extends to other groups as well.
Dustin Jansen, an associate professor of American Indian Studies at Utah Valley University, told the committee of discrimination that was aimed at his two 8-year-old sons of Native American descent.
"That braid that they have on their back isn't just a hairstyle for them. This is a decision that they made to live a certain way. That hairstyle represents their knowledge, their wisdom, their thoughts, and they keep it pulled back. And they keep it tight. And they keep it neat," he said.
---
That braid that they have on their back isn't just a hairstyle for them. This is a decision that they made to live a certain way.
–Dustin Jansen, associate professor of American Indian Studies, UVU
---
Jansen said he writes letters yearly to his boys' schools to request that the staff encourage classmates not tease his boys or tolerate comments that "they look like little girls."
"They're not trying to be different. They're not trying to be odd. They're, they're just practicing intercultural lifestyle," he said.
Erika George, a professor at the University of Utah's S.J. Quinney College of Law, sees an economics issue at stake as well.
"There's a tremendous pressure to look a particular way when one is trying to perform and be excellent. It's a distraction," George said. "And I think it's disruptive to economic interest."
If Utah were to enact SB80, it would help minority women and small-business owners. Specifically, it could boost those who care for ethnic hair in salons or sell ethnically related products as more people would have the freedom to maintain natural hairstyles.
Daja Mexican doesn't feel like she's received direct discrimination due to her maintaining her dreadlocks hairstyle.
"I know sometimes going into workplaces it's a little bit intimidating being that my hair might be an issue, but so far it hasn't been an issue," Mexican said as hairdresser Yunia Jada worked on her at Ebony & Ivory Salon in Salt Lake City last week.
"I've gotten mostly positive responses, if there has been anything negative I haven't really paid attention to it," Mexican said.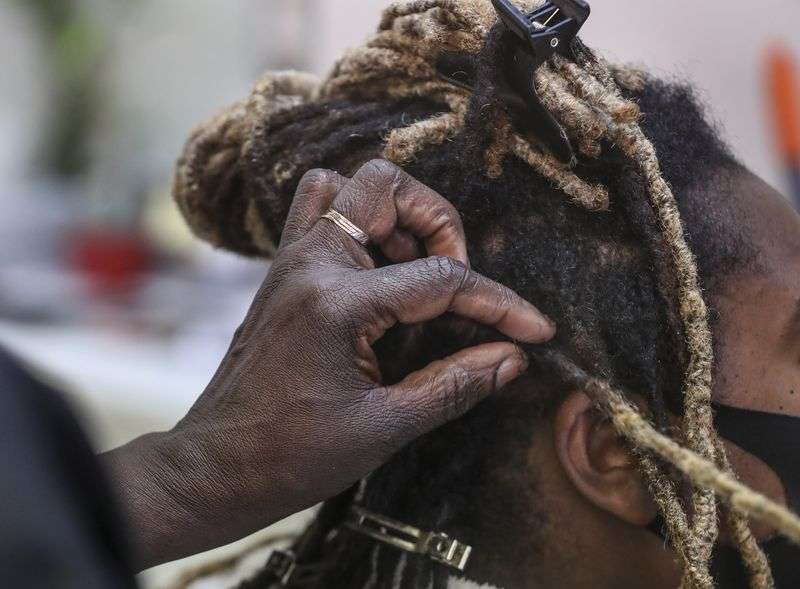 Ebony & Ivory Salon is owned by Trudy Chlepas, who says that she and the other salonists who rent space there, Jada and Norma Zizumbo, cover a wide array of styling for ethnic hair.
Brenda Glover chose a straighter hairstyle, not due to discrimination or stigma, but out of personal convenience, she said. Glover came to the salon for a "relaxation" treatment for her curls.
Glover, who moved to Utah from California eight months ago, said she didn't feel like she has faced any discrimination due to her curly hair. She said the reason behind the choice was to help her live her life more comfortably.
Discussion in committee raises eyebrows
Throughout the Senate committee discussion last Tuesday, Owens tried complimenting the three women who testified in support of the bill by calling them "beautiful."
"(I) just want to let the 16-year-old, that was brave enough to come up and testify, (let her know) she's beautiful and the comments made by anyone, or things done to her ignorance, you know, that we live in a free society where sometimes people just do stupid and ignorant things and I've been guilty of that myself growing up," Owens said.
He also shared an anecdote about interacting with a Black family in a grocery store, taking pictures of the children.
"I got to be friends with them. I don't normally take pictures of children but they were adorable two Black children. Because they were just the cutest kids in the world. One has cornrows on dreadlocks. I wish you could see that (photo)," Owens said.
The comments drew condemnation from Alliance for a Better Utah.
It said Owens and other lawmakers offered "inappropriate and offensive comments" at the hearing.
"Here we are on day nine of Black History Month and we're learning how little some of our elected officials in Utah understand race and racism," Katie Matheson, communications director for Alliance for a Better Utah, said in a news release. "The purpose of the CROWN Act is to protect against race-based hair discrimination. In his comments about the bill, Sen. Owens unwittingly illustrated exactly why Utah needs such protections."
Owens defended his comments in a press release later.
"A brave young woman came to a Senate committee and informed about the possibility someone might discriminate against a person based on a hairstyle. In my effort to praise her for her testimony, I choose my words poorly, and it sounds like I may have offended her and others. I did not mean to offend her or anyone. I apologize if my choice of words during the live committee came off as offensive," he wrote.
Both Owens and Committee Chairman Sen. Ronald Winterton, R-Roosevelt, voted against sending the bill to the Senate floor.
Winterton said that even after living on a reservation and "growing up with Native Americans" he "never realized that this might be a problem."
He also preferred that more of the committee be on hand to discuss the issue.
"I feel bad that we don't have all of our committee members here, because I think they need to be exposed to this. They need to think of it, because it's opened my eyes," Winterton said.
Owens didn't feel like the bill was absolutely necessary and voted against moving the bill forward due to his concerns of adding to the definition of race.
"It's nothing against anyone. It's just I think we're headed in the right direction and not certain that we don't already have in place anti-discrimination laws," Owens said.
Kitchen said overall he was happy with the "open dialogue" during the committee discussion, but hopes to see "a responsive government" to the public support this bill has if and when it comes back up for discussion.
With only four senators present, he said, "it's hard to know what the real temperature on the other side was like."
×
Photos
Related stories
Most recent Utah stories