Estimated read time: 4-5 minutes
This archived news story is available only for your personal, non-commercial use. Information in the story may be outdated or superseded by additional information. Reading or replaying the story in its archived form does not constitute a republication of the story.
PROVO — There was no riled up fan base or emotional outpouring as the BYU women's volleyball team — a squad that has spent 109 consecutive weeks ranked in the top-20 nationally — opened its home schedule this week against Gonzaga.
No sold-out Smith Fieldhouse with fans spilling over into the aisles. No post-match celebrations where players sign autographs and pose for photos with young fans in what they often call the best home-court advantage in collegiate volleyball.
All of this, of course, was different but growing more and more normal in the middle of a global pandemic caused by a virus that has infected more than 107 million people worldwide, including an estimated 29,337 active cases in Utah.
So a lot of things looked different when the Cougars tipped off the season over the past couple of weeks, including Tuesday and Wednesday in Provo for the first time.
No. 12 BYU improved to 5-0 on the young season with a 25-19, 25-22, 25-22 sweep Wednesday over Gonzaga. Kate Grimmer tallied 13 kills, six digs and two blocks for the Cougars (5-0, 4-0 WCC), and Taylen Ballard-Nixon added 12 kills, three blocks and two aces — her third-straight match with double-digit kills.
Whitney Bower dished out 34 assists and nine digs, and freshman Madi Allen added a match-high 16 digs for BYU.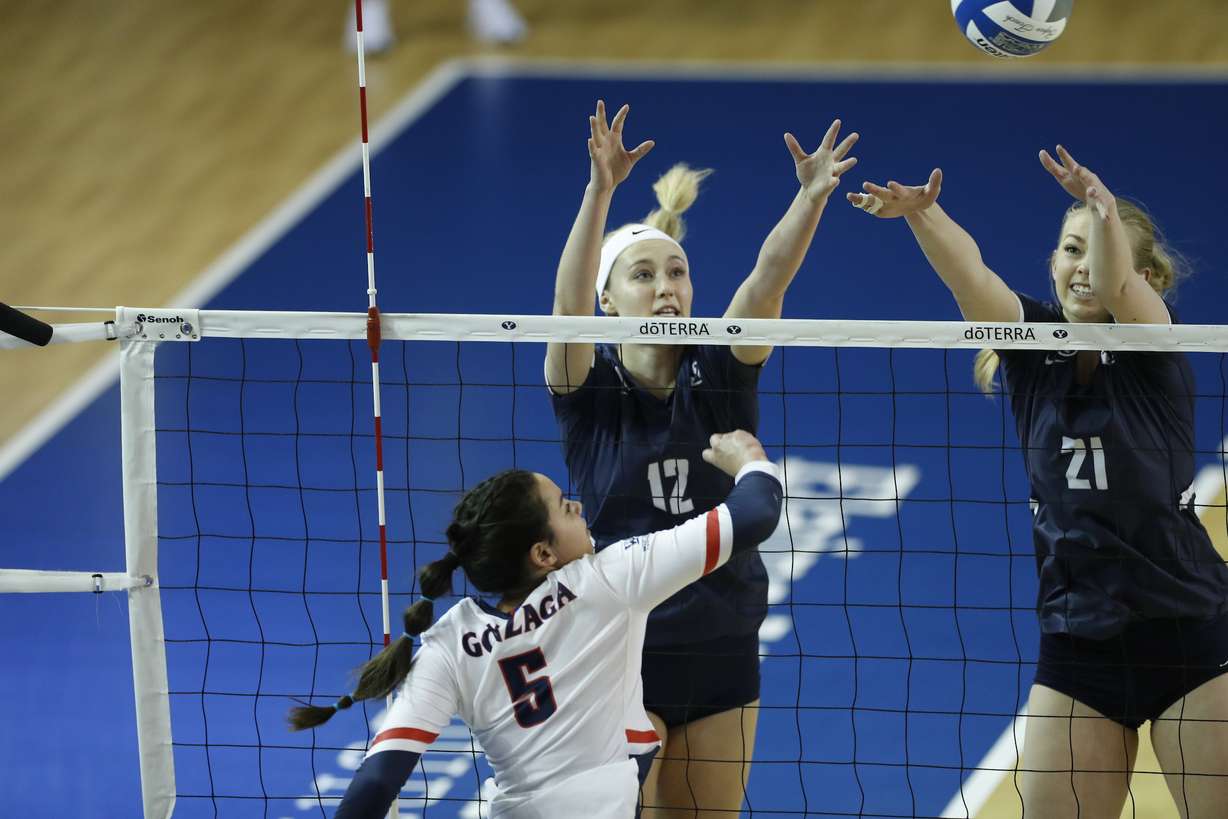 Kennedy Croft led Gonzaga (1-3) with 11 kills and 14 digs
Even with limited crowd sizes and protocols designed to curb the spread of COVID-19, the Cougars keep winning.
"Honestly, when I'm out there, I'm not really paying attention to the crowd," Grimmer admitted. "We usually focus on ourselves, although you can feel the shift in energy. But you just have to figure out a way to just play your game and do what you've been practicing."
Grimmer came in big in the second set, laying down the final four kills for BYU to take a 2-0 lead, then led a 4-1 turnaround that flipped a 20-19 deficit into a 23-20 lead in the decisive third set.
With limited fans in the Cougars' home-opening series with the Bulldogs, Grimmer took a deep breath and found her own energy to seize the momentum. It's what she does best, head coach Heather Olmstead said, and a key reason why the Cougars recruited her.
"Kate's strength is the energy she brings to the team, her enthusiasm and her arm," Olmstead said. "She makes other people want to play better. When Whitney was finding her, it was a big deal for our team to be able to take a load off Taylen and set Kate some balls."
The Cougars are hardly the only ones adjusting to the new normal of playing during a global pandemic. Some schools, specifically in the Pac-12, are required to wear masks when athletic activities allow it — including on the court in sports such as volleyball.
The West Coast Conference doesn't require masks on the court, but it does require them for coaches, reserve players, and those in attendance, from the limited family members and former players in the crowd to staff personnel and a handful of media on the sidelines.
Reserve players wear masks while on the bench, and players usually cover their faces within moments of subbing out of a match.
In addition, players did not rotate between different sides of the court between sets, and the two teams did not retreat to the locker room following the second set, as is customary. Contact between players and the crowd are limited, and those in attendance being primarily family helps to maintain a controlled environment and helps to serve as few disruptions during the unique spring season as possible.
Adapt and survive
With no extended break, teams were given a media timeout at the 15th point to accommodate the BYUtv broadcast.
"It's definitely different," said Ballard-Nixon, who averages a team-best 4.2 kills per set. "But I love the surround sound of the crowd (noise), because it still feels like a packed house. I still love playing at home, and the fans that can come, we love that they are here to support us every game."
But most of the strengths that have made the Smith Fieldhouse a fortress for both the men's and women's volleyball programs were available. The Cougars even used white noise to simulate a sold-out crowd over the PA system, and took timeout breaks for the usual marketing promotions, games, and hype activities for the few dozen attendees.
"I thought the energy in the gym and what marketing did was great," Olmstead said. "I loved the sounds, I loved the music; it felt like coming home to us. Not switching sides or having the ROC, it was definitely weird. But I thought it was great, even if it looks a little different."
×
Photos
Related stories
Most recent BYU Cougars stories