Estimated read time: 4-5 minutes
This archived news story is available only for your personal, non-commercial use. Information in the story may be outdated or superseded by additional information. Reading or replaying the story in its archived form does not constitute a republication of the story.
AROUND THE SHIELD — To the surprise of approximately no one, Alex Smith completed arguably the greatest comeback story in NFL history Saturday night — and was aptly rewarded for it.
Smith nearly swept the voting for the 2020 NFL Comeback Player of the Year award, receiving 49 votes from a nationwide panel of 50 media members who regularly cover the league, to clinch the award announced during the NFL Honors television show.
The former University of Utah star and one-time No. 1 overall draft pick suffered a debilitating tibial and fibular fracture to his right leg after being sacked during a game against the Houston Texans on Nov. 18, 2018. Smith was taken to several medical professionals for treatment, including to a veterans' hospital where he underwent treatment usually reserved for victims of heinous military injuries and bomb explosions.
At one point, doctors discovered flesh-eating bacteria had infiltrated his leg and discussed amputation. They didn't, and Smith — accompanied by his family and wife Elizabeth — began the long road back to recovery.
He opened up about his gruesome injury during an ESPN special report over the summer, which preceded a remarkable comeback tour that culminated in the 2020 season, where he played in eight games, completed 66% of his passes for 1,582 yards and six touchdowns, and helped the Washington Football Team clinch the NFC East title and a playoff berth.
If there were any doubters, Smith proved them all wrong — just by returning to Washington practice in August.
"You know obviously, that was a big part of my initial part of my rehab when I wasn't even really thinking about football at that point, way more concerned with everyday life and tasks, and things," Smith told the Associated Press. "And obviously fortunate enough it did progress to the point where when I started to think about football, it still seemed distant for a long, long time.
"As I worked toward that it was a complex thing, trying to figure out bracing that would best work to try to play quarterback. It literally came up for this summer when I finally got the go-ahead that my bone had healed enough that I could attempt it.
"But even then I think it was hard for a lot of people to digest that I wanted to do this, that I wanted to attempt this. I did get a lot of pushback throughout the entire process. Why was I doing this? This was crazy. There were definitely periods throughout the entire two years of setbacks and when I really would doubt anything like this was possible."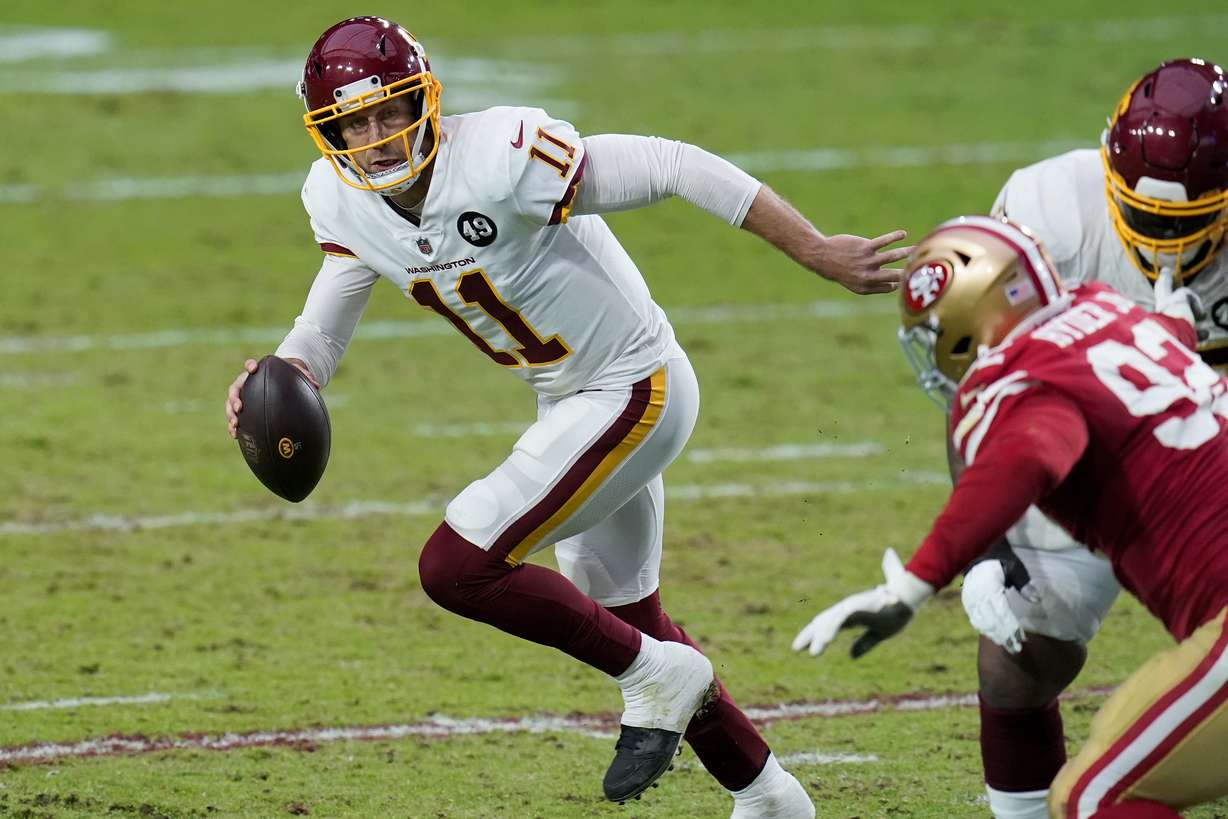 Everyone across the league cited Smith as an inspiration, from teammates to opponents to head coach Ron Rivera, who battled cancer during the 2020 season and finished his final round of chemotherapy in October.
"It is humbling when I hear that," Smith said. "I know for how long I spent thinking about and looking at the men and women who inspired me. I am stuck in the hospital bed, stuck in a wheelchair, spent countless hours googling and looking at videos of our service men and women going through the same rehab as I went through.
"So there were definitely people in front of me that I am so thankful for that allowed me to go down this path. And obviously I am humbled and I guess you hope that you can kind of be a link in that chain for anybody coming behind you."
Steelers quarterback Ben Roethlisberger claimed the other Comeback Player vote, after returning from a 2019 season that ended in Week 2 due to elbow surgery.
Green Bay Packers quarterback Aaron Rodgers edged out Chiefs signal caller Patrick Mahomes for Player of the Year, and Titans running back Derrick Henry won Offensive Player of the Year. Rams defensive tackle Aaron Donald was named defensive player of the year, Chargers quarterback Justin Herbert was named offensive rookie of the year, and Washington's Chase Young took defensive rookie honors.
Browns coach Kevin Stefanski won Coach of the Year after leading Cleveland to an 11-5 record capped by a two-point win over the rival Steelers in Week 17, and Seahawks quarterback Russell Wilson took home Walter Payton Man of the Year honors.
Contributing: Associated Press
×
Related stories
Most recent NFL stories