Estimated read time: 4-5 minutes
This archived news story is available only for your personal, non-commercial use. Information in the story may be outdated or superseded by additional information. Reading or replaying the story in its archived form does not constitute a republication of the story.
Utah has a serious problem.
Every winter, it's the same story—you look out the window expecting to see a bright and sunny day, but your view is overshadowed by a thick layer of smog hovering in the sky.
So you cancel your plans to take the kids to the park, skip your outdoor walk, and anxiously wait for the next snowstorm to clear things up.
But this inversion is more than just a minor inconvenience and an eyesore—it's deadly.
A study from the Multidisciplinary Digital Publishing Institute estimated that air pollution in Utah causes 2,480 to 8,000 premature deaths annually and decreases the median life expectancy by 1.1 to 3.6 years.
Each winter, inversion traps a dense layer of cold air under warm air, trapping pollutants right above the valley—and nearly 50% of these pollutants are caused by transportation emissions, according to Clear The Air Challenge.
The Utah Division of Air Quality says, "If all drivers living along the Wasatch Front were to park their cars just one day per week, vehicle emissions would be reduced by 6,500 tons per year."
While there are certain steps individuals can (and should) take to help clean up Utah's air, employers and businesses of all sizes are uniquely situated to help improve the air pollution problem.
Here are just five ways businesses can help clear the air for Utahns.
Allow employees to work from home
There aren't many benefits that come from a global pandemic, but the Deseret News reported that increased teleworking contributed to dramatically cleaner air last spring.
This prompted the state and some Utah companies to look for ways to allow more employees to work from home when pollution levels are high. Senate Bill 15 would encourage each state agency to keep 40% of employees teleworking on each red air quality day and 70% of employees teleworking on each purple air quality day.
If it's a viable option for your company, teleworking—even on occasion—can have a big impact on the state's air quality.
Consider fewer workdays
If working from home isn't feasible, you might consider cutting down the days employees work each week if there's room for flexibility.
The four-day workweek is gaining popularity worldwide, and the benefits aren't limited to just improving air quality. Multiple studies have found that employees are happier and more productive when they have an extra day off—even if it means working a little harder the rest of the week reports NPR.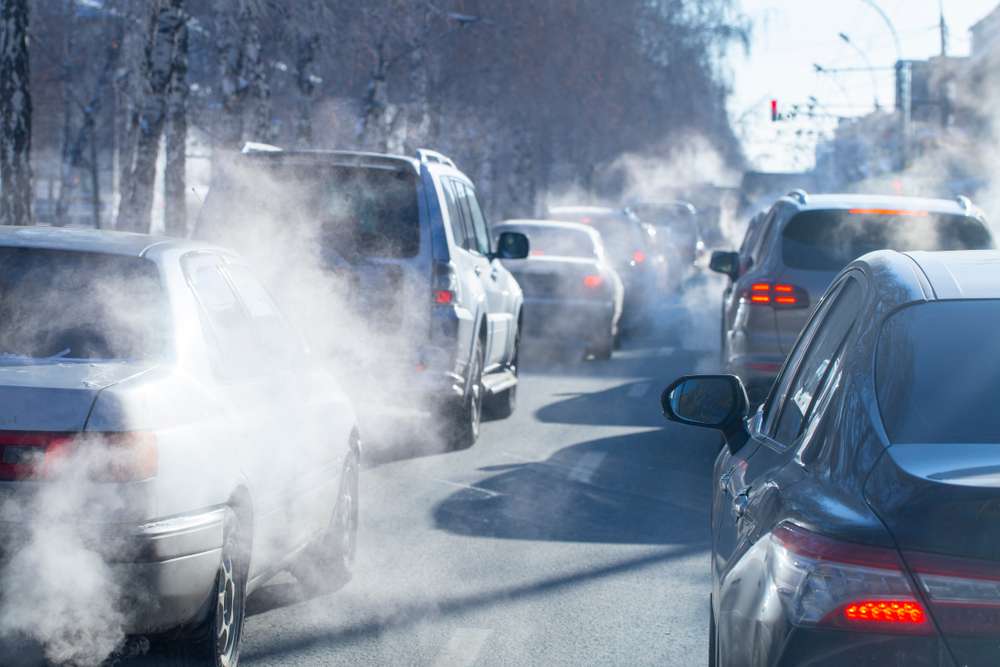 Offer free public transportation
One obvious way to reduce air pollution is to encourage employees to use public transportation. Some companies offer free or discounted UTA passes to workers.
UTA even offers pass programs for companies, allowing businesses to buy discounted passes in bulk. According to their website, participating in the pass program lets you:
Feature transit passes as an additional benefit when recruiting talent
Reduce the need for parking spaces
Gain access to larger talent pools across the Wasatch Front
Offer a pre-tax benefit to employees
Help transit-dependent workers
Show your care about making the community more livable.
For more information, visit rideuta.com.
Take steps to reduce volatile organic compounds (VOC) emissions
A good indication of whether or not something is polluting the air is if it emits a foul odor. Certain paints, coffee roasters, cleaning supplies, and gas-powered tools emit volatile organic compounds (VOCs) that pollute the air.
To reduce these emissions, some companies are switching to water-based paints, electric power tools, and coffee roasters that have exhaust controls.
For those who enjoy a friendly competition for a good cause, there's no better way to help solve the air pollution problem than by signing up for the Clear the Air Challenge.
The challenge is open to Utah drivers and commuters who want to help clear the air by driving less and using TravelWise strategies. By registering as a team, companies can track their collective trips/miles saved and are eligible for recognition throughout the challenge.
Top teams will be recognized at the end of the Clear the Air Challenge for the following:
Most emissions reduced
Most single-occupant trips eliminated
Most miles saved.
Even if your company doesn't win, every participant who uses an alternate mode of transportation at least one day throughout the challenge will be recognized on the results page of the TravelWise Tracker.
Of course, when Utahns take steps toward helping to clear the air, everyone wins.
The Clear the Air Challenge runs through the end of February. For challenge rules and registration information, visit cleartheairchallenge.org.
×