OGDEN — Weber State coach Jay Hill doesn't make a habit of signing Division I transfers to add to the Football Championship Subdivision power he's built in Northern Utah; just eight of them dot his roster in 2021.
But when the right players fall his way, he's willing to take a look and bring in the appropriate players.
He found two of them Wednesday in UNLV's Randal Grimes, a former USC transfer; and Tennessee's Jordan Allen, a former four-star defensive back who the Wildcats will allow to convert back to tight end.
Grimes and Allen joined the program as mid-year enrollees, but rather than preparing for spring practices, the duo are working out as the rest of the team prepares for the six-game, Big Sky season that kicks off Feb. 27 at Idaho State.
"This is the first time we've had to recruit, sign and get our teams ready for games," Weber State coach Jay Hill said. "This time of year, we have coaches changing jobs; we're just not used to doing it all at the same time. It just makes for fun, exciting times."
Grimes' road to Ogden is unique among most players on any FCS roster, let alone Weber State.
The 6-foot-4, 205-pound wide out was a four-star recruit by 247Sports out of Las Vegas' Desert Pines High School, where he earned all-state honorable mention honors by the Las Vegas Review-Journal as a wide receiver, quarterback and free safety.
"We've known about Randal since he was in high school; he was very highly recruited out of Las Vegas," Hill said. "He's just got the athletic ability and the size that you can't turn down, and he's a great kid. We're excited to get him in our program and around our teammates."
Like many Division I prospects, he accepted the highest offer he received at the time, which is how he wound up signing with USC. But Grimes' career with the Trojans yielded little playing time.
He caught just two passes for 17 yards as a freshman in 2017, and played in just three games — including against his hometown Rebels — in 2018 without recording a catch.
After two years in Los Angeles, the well-built receiver returned home to Las Vegas, where he started nine of 12 games in 2019 with 696 yards and seven touchdowns on 44 catches after being granted a waiver for immediate eligibility by the NCAA.
"One of the biggest reasons for me to come back was having my second daughter," Grimes said when he transferred back home to UNLV. "She was born out here, and it was hard for me to be a father and to be 400 miles away. I wanted to come back, and I had the opportunity to play at home. It was a no-brainer."
A year later, when the Rebels brought in new coach Marcus Arroyo to replace Tony Sanchez, Grimes was suspended for a violation of team rules in November after not appearing in UNLV's first two games of the season.
That led to his transfer, and eventually, to Weber State. Among his teammates at Desert Pines? Weber State sophomore cornerback Eddie Heckard — a vital connection as Hill began to take a look at the transfer.
"When our current players are on the table for these transfers, then I'll look. A lot of times, kids are transferring for a reason … most of the time, we aren't taking them," Hill said. "But if we know about them, and I'm getting good recommendations, we try to know everything about them and make sure they're the proper fit into our program.
"Sometimes there's an elite, big-time talent, and we aren't taking them because I don't think the fit is right. Each guy is different."
Both Division I transfers have joined the team, and Grimes, because he didn't play for UNLV in the fall, could potentially be eligible to suit up for the Wildcats during the spring season. Allen, who played with Weber running back Kevin Smith Jr. in high school, will be eligible for the upcoming fall 2021 season, because he played sparingly for the Vols in 2020.
Weber State also added five players during the early signing period, including several who will first serve a two-year mission for The Church of Jesus Christ of Latter-day Saints, like Corner Canyon wide receiver Noah Kjar.
The former Charger standout led the nation with 1,918 receiving yards and 22 touchdowns en route to MaxPreps All-American honors in 2020.
Hill expects three of Wednesday's signees to serve missions, as well.
Weber State new signees
Transfers
Randal Grimes, WR, USC/UNLV (Las Vegas, Nev.)
Jordan Allen, TE, Tennessee (Fairfield, Calif.)
High school recruits
Damon Bankston, RB, Paetow HS (Katy, Texas)
Creyton Cooper, QB, Lehi HS (Lehi, Utah)
Ammon Munyer, TE, Lakeland HS (Rahtdrum, Idaho)
Jalon Rock, CB, Mansfield Summit HS (Arlington, Texas)
Grant Sands, LS, Perry HS (Gilbert, Ariz.)
Lavaka Taukeiaho, OL, Bingham HS (South Jordan, Utah)
Trevian Tribble, DB, Kaiser HS (Fontana, Calif.)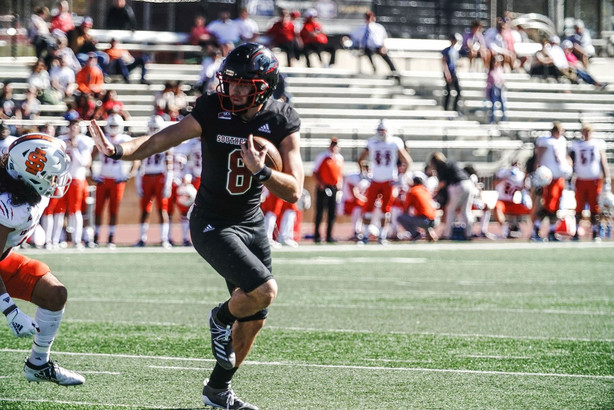 Thunderbirds add 9 more to signing class
Southern Utah added nine newcomers to the recruiting class of 2021 Wednesday, led by two-time first-team all-state and Region 14 player of the year Bodee Blackett from Juab.
Blackett, a two-way receiver and defensive back, had 1,250 total yards and nine touchdowns as a senior in leading the Wasps to the 3A state title.
"We are excited to make Bodee a part of our family," SUU coach Demario Warren said. "He brings speed and toughness to our secondary and a passion for Southern Utah. I love his work ethic and mentality and believe he will do a great job for us."
Blackett and the other newcomers join SUU's 13 signees from the early signing period, a list that includes local standouts David Spjut of Davis and Devon Sa-Chisolm of Orem.
Southern Utah new signees
Bodee Blackett, DB, Juab HS (Nephi)
Jessie Campbell, WR, Mater Dei HS (Chula Vista, Calif.)
Kam Cullimore, LB, Highland HS (Gilbert, Ariz.)
Wyatt Dawe, DL, Pleasant Grove HS (Pleasant Grove)
Braxton Hickman, DB, Snow Canyon HS (St. George)
Trevor Moser, DE, Legacy HS (Las Vegas)
Kyle Sfarcioc, OL, Liberty HS (Peoria, Ariz.)
Mason Thueson, TE, Roy HS (Roy)
Keilen Washington, DB, Dixie HS (St. George)
Dixie State adds 14 signees Wednesday
Head coach Paul Peterson and Dixie State will finally debut in their first season in Division I against Tarleton State on Feb. 27.
But on Wednesday, he added 14 players and a preferred walk-on as part of the Trailblazers' first formal Division I recruiting class.
The group includes eight defensive linemen, two linebackers and a defensive back, as well as UNLV transfer quarterback Kenyon Oblad. The 6-foot-3, 190-pound Henderson, Nevada native started eight of his 12 games as a freshman in 2019, when he threw for over 2,000 yards and 18 touchdowns.
A 2017 graduate of Liberty High School, Oblad finished as Nevada's all-time leading passer with 11,828 yards and 116 yards.
"We definitely had some needs to fill," Peterson said in a team statement. "We addressed some needs at the defensive line position.
"I thought we did a great job with our recruiting visits. There is no (in-person) on or off campus contact with the student-athletes, so we got really good with Zoom and it was a good fit."
The group joins former Kearns running back Isaiah Afatasi and Snow Canyon defensive lineman Isaac Lees, who signed in the early signing period in December.
Dixie State new signees
James Palmer, WR, Skyridge HS (Lehi)
Will Leota, LB, Salem Hills HS (Salem)
TJ McRae, DL, Centennial HS (Peoria, Ariz.)
Cooper Wall, DL, Tumwater HS (Tumwater, Wash.)
Syrus Webster, DL, West Jordan HS (West Jordan)
Poi Aina, DL, Pacific HS (Oxnard, Calif.)
Rick Mua'e, DL, Pine View HS (St. George)
Kenyon Oblad, QB, UNLV/Liberty HS (Henderson, Nev.)
Tyson Guild, DL, Durango HS (Las Vegas)
Mark Andrew Springer, OL, Alta HS (Sandy)
Kailer Laufiso, LB, Copper Hills HS (West Jordan)
Nathaniel Pryor, DL, Judson HS (Converse, Texas)
Bryant Weekly, DB, Pittsburg HS (Pittsburg, Calif.)
Jacob Gibson, DL, Mayfair HS (Long Beach, Calif.)
Preston Anderson, LB, Roy HS (Roy) (walk-on)
×
Related Stories