OGDEN TO ST. GEORGE — The setting was familiar, but the timing and a few other factors may have caused some shock.
Players wore plastic face shields on their helmets, coaches wore masks and face coverings, and a light drizzle coated the practice field at Weber State as the Wildcats undertook their first session of the 2021 spring season.
Yes, there's a lot different in preparing to play football games in the spring. But in the Football Championship Subdivision, it's a reality.
Twenty days after Alabama's win over Ohio State capped the traditional college football season played amid a pandemic, Utah's three FCS schools finally got back on the practice field in preparation for their Feb. 27 season openers.
But even as a new semester and new patterns of weather awaited Weber State, Southern Utah and Dixie State on Friday, a few things remained constant. Football is football, after all.
Even the mild storm felt oddly normal to the Wildcats.
"We've always practiced in December, and they've had to plow the field," said Jared Schiess, a senior defensive tackle from Manti who was named FCS preseason second-team All-American. "Today wasn't that bad … It just didn't feel like it was January today. It was like a normal football practice in the fall. I don't care what month they make us play in, I'll play."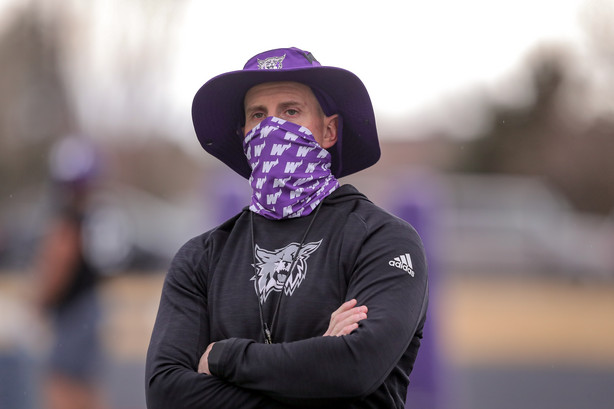 That's good, because the rest of the new protocols — the face shields, masks, a new emphasis on social distancing when possible (such as on the sideline), and the lack of fans and media in attendance — may take some getting used to.
It helps a little that the Football Bowl Subdivision — from Utah to BYU to the aforementioned Crimson Tide and Buckeyes — has already gone through similar protocols to play a 12-week season, in many cases.
But not a lot, said Weber State head coach Jay Hill, whose team is coming off an 11-4 season in 2019 that concluded in the FCS national semifinals. Every team is unique, every situation just a little bit different. The Lehi native and former Utah assistant spent 4-5 hours in Provo over the weekend talking to BYU head coach Kalani Sitake, along with sports medicine and strength training personnel, to learn what the Cougars did to play 11 games in the fall with only one cancellation.
The Wildcats, who have legitimate FCS national title aspirations, will implement some of those standards and procedures. But not every situation is the same.
"Everybody's still trying to figure things out," Hill said during a weekly conference call with local media. "But I will say this: I thought BYU did a phenomenal job figuring stuff out … I've talked to a lot of teams to try to manage it the best that we can.
"But the reality is, something is going to come up and we're going to have to deal with it. We're going to have to manage it, face some adversity, and on that Saturday still go find a way to win."
Weber State opens the spring campaign Saturday, Feb. 27, in Pocatello, Idaho — the first game of a single-season, home-and-home series with Idaho State.
Southern Utah will open the season the same day at Northern Arizona, their designated two-game rival during the Big Sky's conference-only season.
A few hours south on I-15, Dixie State was wrapping up its first official practice as a Division I FCS member on Friday. Snow in the forecast on the Wasatch Front was replaced by the potential for a few showers in St. George, but head coach Paul Peterson has the Trailblazers excited to start up their first season in Division I — finally.
Dixie State will open its postponed six-game schedule Feb. 27 at Tarleton State, the first of a home-and-home series with their fellow transition FCS program. They'll also play at FBS-level New Mexico State and FCS school Kennesaw State in 2021, along with a pair of games against two former Division II Rocky Mountain Athletic Conference rivals.
"I think they can finally see that we've got something cooking," said Peterson, the former Snow College coach and SUU assistant in his second year in St. George. "We're playing some games; these Texas schools aren't going away, and we're adamant about playing here, too. Our guys can see that.
"There were so many unknowns, but now we're playing some football and our guys are fired up. We had some really good energy today. The boys are ready."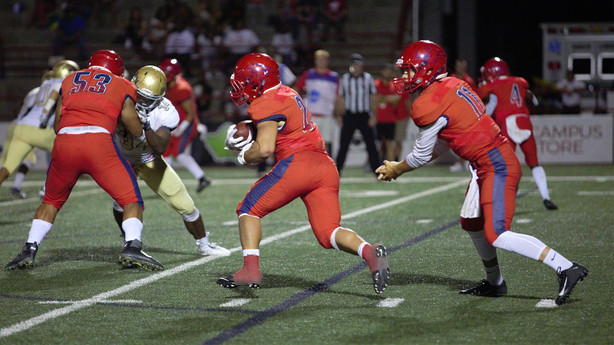 The Trailblazers will compete in the 2021 spring season as an FCS independent, with eyes on entering the Western Athletic Conference when that league reinstates football. With the additions of four Texas schools in Sam Houston State, Lamar, Abilene Christian and Stephen F. Austin, Dixie and fellow WAC newcomer Tarleton State (in other sports besides football) may be able to join the rest of their cohorts as early as the 2021-22 season.
If not, they'll enter the WAC once in-state rival Southern Utah leaves the Big Sky on July 1, 2022. The two I-15 rivals had a game scheduled to play this year, but the series was postponed when the Football Championship Subdivision pushed to the spring, then again when the Big Sky announced a conference-only schedule beginning in February.
Sooner or later, that game will be a conference rivalry — and Peterson can't wait.
"The brand of football they play in Texas, and the potential to expand more, I think we're going to be one of the premier conferences in the FCS," Peterson said. "That's exciting for us; we want to play the best.
"Making this jump isn't going to be easy," he added, "but we're going to come in swinging and competing. We're excited for those opportunities."
×
Photos
Related Stories