Estimated read time: 7-8 minutes
This archived news story is available only for your personal, non-commercial use. Information in the story may be outdated or superseded by additional information. Reading or replaying the story in its archived form does not constitute a republication of the story.
PROVO — Last year, college basketball programs around the country were stunned by the abrupt cancellation of the NCAA Tournament due to the coronavirus pandemic, including the emotional ending to the magical season sparked by Yoeli Childs, Jake Toolson and the BYU men's basketball team.
A year later, and a little more prepared, the NCAA is planning to hold the tournament amid the continuing pandemic that has claimed over 430,000 American lives. The financial impact and millions of dollars lost would simply be catastrophic to university athletic departments nationally.
But with that in mind, a new specter of COVID-19 cancellations has begun to be raised with one month until Selection Sunday: What about the conference tournaments?
Hundreds of teams look forward to the annual end-of-season tradition that is the league tournament every year. But if canceling those events could preserve March Madness, would the end justify the means?
That's the question college coaches, players and commissioners from the West Coast Conference to the Pac-12 and beyond will juggle over the next month. The argument goes that teams securely in the NCAA Tournament — those considered "locks" prior to the conference tournament — have nothing to gain by going to the made-for-TV postseason gathering of league teams. Those same teams would be better off to quarantine on campus for 1-2 weeks and make sure to root out any virus issues prior to arriving in Indianapolis for the NCAA Tournament.
"I think it's a valid question, not just for the WCC but around the country," Spokesman Review reporter Jim Meehan recently told BYUtv. "You've got every conference trying to figure out if they can hold a tournament safely.
"In the WCC, you've got Gonzaga — and I think BYU's NET is in the 20s now, so they're in great shape — might be considering the risk-reward. Do they play in the tournament and possibly have a COVID situation that derails the NCAAs? Those are tough decisions that a lot of schools and a lot of conferences have to make."
The Zags (15-0) are rated No. 2 in the NET — a virtual "lock" to make the tournament — and BYU (12-4) dropped 10 spots to No. 38 after Wednesday's loss at Pepperdine. Gonzaga is currently projected as a No. 1 seed by ESPN's Joe Lunardi.
Meehan and the Spokesman Review have been near the forefront of the postseason plight because of Gonzaga coach Mark Few's open willingness to discuss the difficult decision.
Few, the head coach of the Zags since 1999 who has spent his whole coaching career in Spokane, has concerns that playing a conference tournament might undermine the end goal of an NCAA Tournament and — in the Zags' case — a run at a national championship.
"In every league, I think you need to ascertain where exactly your teams are in regard to qualifying for at-larges and what really is to be gained from the league tournament," Few told CBS Sports. "The leagues make money off them because of attendance, and there's certainly not going to be full attendance this year — most of them aren't going to have anybody.
"So then it becomes, if there's no money to be made, then we need to look at: Can we qualify? So-and-so needs a win. In our league, 'Does Saint Mary's need two more Quad 1 wins to clinch their at-large bid?'"
The Bulldogs have been dominant in WCC play, winning around 86% of their games over the past 20 years. If the Zags, who have legitimate national title potential, finish the regular season undefeated, what motivation do they have to go to the conference tournament?
Wouldn't the Bulldogs be better off staying home and quarantining for two weeks, ready to enter the NCAA tournament bubble in Indiana at full strength?
Meehan admitted he's "not sure" Gonzaga is headed down that path. Few told the Spokesman Review that the program hasn't made a formal decision about playing in the conference tournament.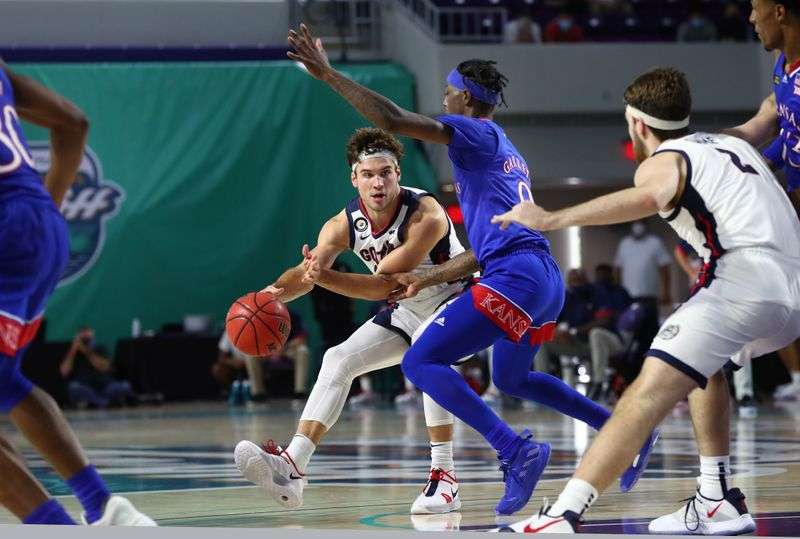 In reality, the conference tournament isn't guaranteed to be played, either. Team and league officials are planning as if the tournament will continue like business as usual — but there remains concern about whether it will be played.
West Coast Conference officials declined to comment on the league tournament when approached by KSL.com. But the conference does have Orleans Arena in Las Vegas reserved for the men's and women's basketball championships March 4-9, much like it does every year.
Still, there are logistical concerns, as well.
Every team in the league has paused its program for at least two weeks (though some teams like Gonzaga faced their biggest issues before conference play began), save BYU and Portland, which have prevented games from being played. With only a month left in the regular season and teams trying to reschedule makeups like BYU's home date Saturday with Pacific as quickly as possible, the distinct possibility remains that not all of those games will be made up.
So how do you even seed a conference tournament if every team enters Las Vegas having played a different number of games?
If Gonzaga were to opt out of the WCC Tournament after an undefeated regular season while the other nine teams in the league reported to Orleans Arena in Las Vegas, it might look like an example of bid collusion. In other words, the NCAA might not even recognize the tournament and award an automatic bid to its winner.
Of course, that's only if the schools opt out. The players, who the NCAA has long maintained are like regular students and not employees of the university, could decline to play — which could presumably leave the programs devoid of punishment. But what player in the prime of their collegiate career would want to leave games on the table for more "what ifs" of a future payout?
"I'm always for playing games; I want BYU to have another crack at Gonzaga," former BYU guard Tyler Haws said. "I don't want anybody pulling out of anything.
"Uncertainty can be a killer. If you get caught up in the what-if scenarios, it can be a tough mental challenge. But I think BYU has done a great job of managing all those things."
Here are the seating charts obtained by CBS Sports for mandated travel seating to the NCAA Tournament. The intent is to keep at least six feet of distance at all times to best reduce risk of transmission. pic.twitter.com/TYrJIDPxmK

— Matt Norlander (@MattNorlander) January 27, 2021
Augmenting concerns are protocols reported by CBS Sports that include strict travel and distancing restrictions for all 68 teams in the tournament, including the use of private buses, airplanes and airports and a requirement that all autobids remain at the site of their conference tournament before leaving for Indianapolis either Saturday, Sunday or Monday before the first round, as detailed in a thread by tenured reporter Matt Norlander.
But if the Zags opt out of the tourney, could BYU join them?
The Cougars are the only other team in the league with strong at-large consideration, according to Lunardi. BYU remained firmly inside the field of 68 after Wednesday's stunning loss at Pepperdine, staying above the "Last Four Byes" of Indiana, Arkansas, San Diego State and Rutgers.
The Cougars and Zags could earn an estimated $1.7 million for the conference by accepting an invitation to the NCAA Tournament. Would the payoff of that summer justify leaving the WCC tournament, or canceling it altogether?
"We're only 15 or so games in, but what they have done to this point, and who they've beaten — four teams in the top 16 — this is obviously a team that has done some special things and has their eye on something beyond the next couple of months," Meehan said. "But I think all of college basketball is sitting back and wondering where we're headed — not just conference tournaments, but what if you get to the NCAA Tournament and have some issues?
"I'm not sure they can change the schedule once the NCAA gets going in Indianapolis … One thing most college basketball fans and administrators can agree on is the importance of having the NCAA Tournament. That has to happen."
×
Related links
Related stories
Most recent BYU Cougars stories