Estimated read time: 5-6 minutes
This archived news story is available only for your personal, non-commercial use. Information in the story may be outdated or superseded by additional information. Reading or replaying the story in its archived form does not constitute a republication of the story.
PROVO — During the first half of BYU basketball's home game over Pepperdine, point guard Alex Barcello saw a loose ball and didn't think twice.
Diving on the ground, the 6-foot-2 senior from Chandler, Arizona, took an accidental elbow from Pepperdine freshman Kendall Munson and immediately grabbed for his mouth.
As the whistle blew, Barcello reacted and spit into his hand: sure enough, there was a half-tooth sitting in his palm following the fracas, which resulted in Barcello earning a foul for his role in the melee.
Of course, the Cougars also got two technical free throws from the incident and went on to beat the Waves 65-54 in the first of two back-to-back games. BYU will play at Pepperdine on Wednesday afternoon in the return game in Firestone Fieldhouse (1 p.m. MT, BYUtv).
But back to the tooth: Barcello never left the arena for any sort of quick fix following the melee. He simply walked to the sideline, handed the sliver to head athletic trainer Rob Ramos, and returned to the court (well, as soon as Ramos had cleaned up any trace of blood around his mouth).
That's just the kind of player Barcello, who has often been described by his Cougar coaches and teammates as "a bulldog," has been during BYU's 13-3 start to the season that has them on track for a second-straight at-large bid to the NCAA Tournament (last year's tourney was canceled due to the coronavirus pandemic).
"We've got some rugged dudes," said BYU assistant coach Chris Burgess, who knows a thing or two about defense from his time playing for the late Utah legend Rick Majerus. "Richard Harward is rugged and physical. Caleb Lohner, Alex Barcello, Gideon George; those guys are mixing in with the other guys and buying into it, and now they're all buying into it.
"These guys are buying into it, because the results are these physical, tough, grind-it-out wins — and we're coming out with wins."
In many ways, Barcello's gap-toothed smile the remainder of the game was an upgrade — because of what it meant to his teammates.
"That toughness is unmatched," fellow guard Brandon Averette said of Barcello, shortly after the UVU graduate transfer put up a game-high 15 points and four assists. "A lot of people wouldn't want to be on the court with a chipped tooth. But he's all about the team; he didn't second-guess it.
"I loved it. I told him after the game, he looked beautiful to me. We call them 'battle wounds.'"
The feeling was mutual, all the way down to Barcello's girlfriend Zoe Simpson, sophomore Trevin Knell spilled during an interview with BYUtv.
"Alex is a tough kid. He gets knocked down every single day, and gets right back up," Knell said. "Zoe said he looked better than ever."
BYU's battle wounds has it ranked No. 29 nationally in the NET, trailing just No. 2 Gonzaga in the West Coast Conference, with three losses to teams ranked in the top 25: No. 24 Southern California, No. 15 Boise State and the aforementioned Zags, who are ranked No. 1 nationally by the Associated Press' panel of voters.
But perhaps more impressive than the Cougars' shiny offense, which averages 76.94 points per game and ranks second in the league with a plus-10.50 scoring margin, is BYU's defense.
The Cougars allow just an average of 66.44 points per game, including an impressive 32.6% opponents' 3-pointers. They're also the top rebounding squad in the WCC, hauling in 40.25 rebounds per game — even ranking ahead of the Zags (39.93).
"This team is definitely different than other BYU teams. We pride ourselves on defense," BYU guard Trevin Knell said. "That's how we're going to win a lot of games: grinding it out and being tougher than the opponent."
That's why that loose ball, that defensive hustle — and yes, that chipped tooth — were so important to BYU.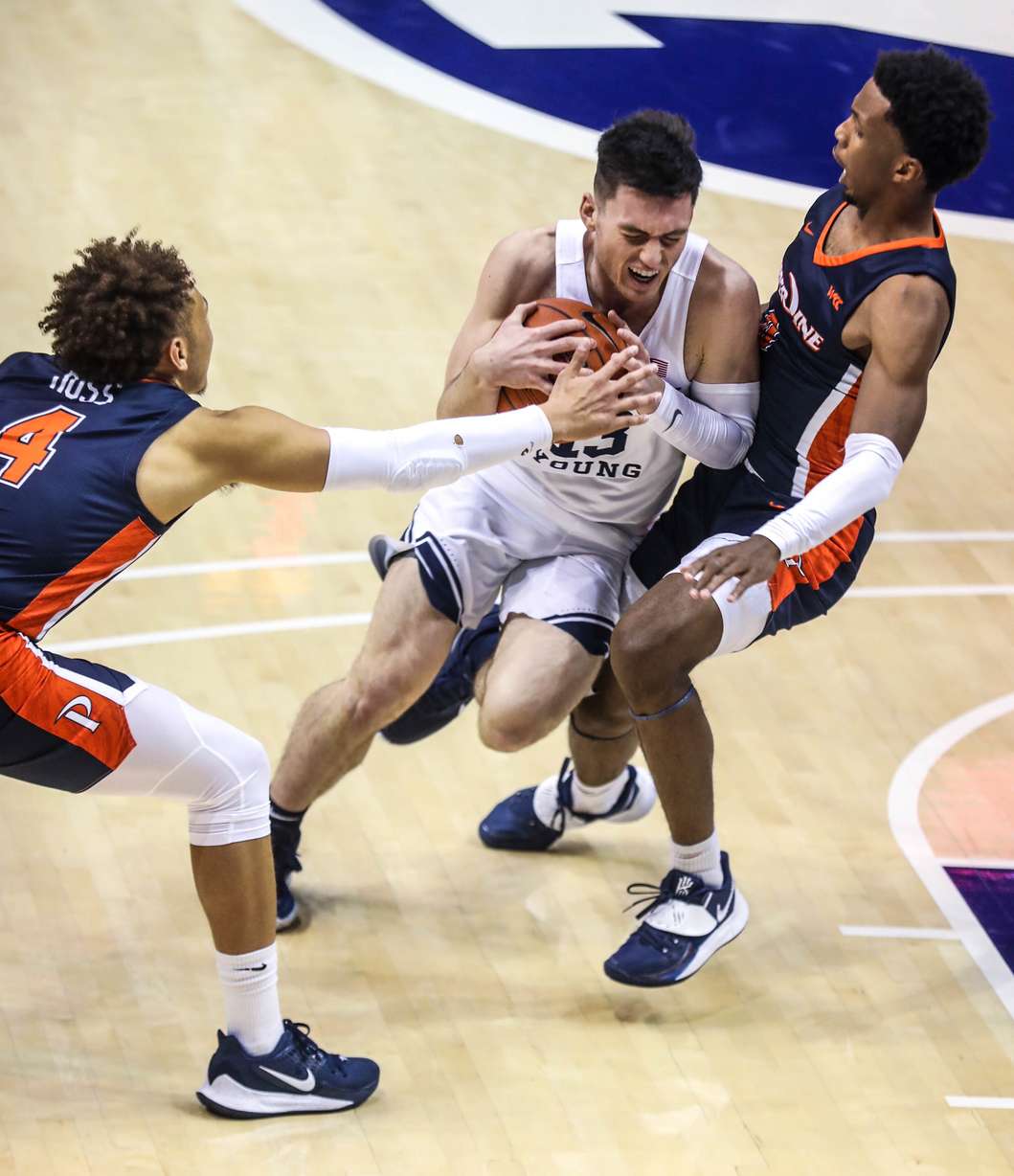 Barcello went to the dentist immediately following BYU's win last Saturday to get his tooth fixed — a procedure that, in the end, is relatively simple.
What isn't so simple is fixing BYU's defense, which was once mocked and derided but now has become a hallmark of head coach Mark Pope's second season in Provo.
Hence, the way BYU celebrated Barcello's tooth, along with his grit, hustle and commitment to defense. Pope joked in the locker room he had half his teeth knocked out during his six-year NBA career, and Barcello's moment was simply a right of passage.
"I have a call into compliance, because I'm trying to get them to put a diamond on the face of that new tooth," the coach joked after the game. "It's going to look so swaggy, I kid you not.
"Every time he smiles, it's going to blind his defender because of the gleam off the diamond. It's going to be so big-time."
The tooth is already fixed, and Knell said the rest of BYU's guard line was fitted those week for mouth guards. None of them want their tooth knocked out when they invariably have to do the same thing Barcello did against Pepperdine.
But they will, because those kinds of plays are a hallmark of the 2020-21 BYU squad.
Maybe someone will lose another tooth Wednesday night.
"It's definitely going to be a challenge," Knell said of the back-to-back matchup. "I feel like they will be hungry for a win, going to their place. But we're ready. We cracked the top-30, and I feel like this is a defining win. We love these type of games. We want games that are close, and can help us grow as a team."
On the Air
BYU (13-3, 4-1 WCC) vs. Pepperdine (6-7, 2-2 WCC)
Tipoff: Wednesday, 1 p.m. MT, Firestone Fieldhouse (Malibu, Calif.)
TV: BYUtv, AT&T Sportsnet Rocky Mountain (JB Long, Wyking Jones)
Streaming: BYUtv.org
Radio: BYU Radio, KSL Radio 102.7 FM/1160 AM (Greg Wrubell)
×
Related stories
Most recent BYU Cougars stories