Estimated read time: 3-4 minutes
This archived news story is available only for your personal, non-commercial use. Information in the story may be outdated or superseded by additional information. Reading or replaying the story in its archived form does not constitute a republication of the story.
SALT LAKE CITY — Utahns have lived the last three years without needing to get a safety inspection on their vehicle, but a state senator says a rising number of "killing machines" on the road that aren't mechanically sound means it's time to bring safety back into the conversation.
"I think it needs to be a conversation that needs to be explored. I have the data on cars that are not equipped to be on the road," said Senate Minority Leader Karen Mayne, D-West Valley City, who is sponsoring SB93 which requires the inspection of a vehicle's lights during an emissions test.
The inspector must inform the owner if lights are not working, but no mandatory repair would be in place and there would be no official enforcement. The bill is meant to promote the peace of mind to motorists, she said.
After being contacted by a constituent, Mayne said she learned the repeal of annual safety inspections has been leading to what Mayne called "killing machine(s)."
"They're transportation, that they weigh a lot, and they're dangerous," she said.
According to statistics from the Utah Highway Patrol: 1,633 accidents were caused by malfunctions of the car, including bad tires, worn brakes, nonworking headlights and insufficient windshield wipers. At least 734 people were injured in those accidents; seven people died.
"That's why we need to, hopefully, someday, we will put some safety regulations back in place," Mayne told the Senate Transportation, Public Utilities, Energy and Technology Committee Tuesday.
The Utah Department of Motor Vehicles' website states that safety inspections are only required on salvage or rebuilt vehicles and most street-legal ATVs before registration. Commercial vehicles require safety inspections for proof to law enforcement only and not as a prerequisite for registration.
From February 2020:
Utah Highway Patrol Lt. Nick Street told the Deseret News that "we are encouraged, when we stop somebody, to check ... actually do a walk about the vehicle and check the equipment."
Street said it is up to the motorist to be aware of and in compliance with Utah's safety requirements. He said if an officer found anything on a vehicle that violated the state safety code, the officer could cite the motorist for failure to comply.
Sen. Kathleen Riebe, D-Cottonwood Heights, supported the bill, noting that "I think that we should be doing more. Our cars are getting smarter but our human error is increasing with all the devices we have."
Riebe and other senators asked if the bill would expand to inspecting other parts of the vehicle, but Mayne said it would not.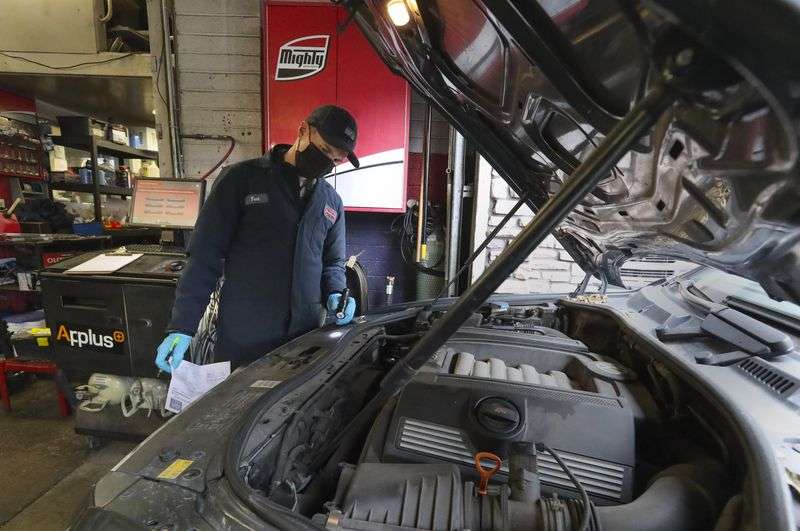 "It's simple. Some say it's piecemeal, but I think it's a step forward," Mayne said, while also encouraging other lawmakers to bring forward legislation that would "make the scope bigger."
There is already another bill in the House that would also add requirements to emissions inspections and is expected to be discussed Wednesday in committee. HB165, sponsored by Rep. Mark Wheatley, D-Murray, would inspect noise suppression equipment and muffler requirements. This bill would mandate compliance for registration or face a fine.
Sen. Jake Anderegg, R-Lehi, and who backed the repeals of mandatory inspections in 2018, criticized Mayne's bill in general, especially the lack of enforcement.
Mayne replied to his concerns by saying, "I think that public pressure can make them."
Despite Anderegg's comments he voted in favor of the bill, which passed out of committee 5-1 to be considered by the full Senate.
×
Photos
Related stories
Most recent Politics stories