Estimated read time: 4-5 minutes
This archived news story is available only for your personal, non-commercial use. Information in the story may be outdated or superseded by additional information. Reading or replaying the story in its archived form does not constitute a republication of the story.
SALT LAKE CITY — Officials from the Utah Department of Health said Sunday that the agency plans to work with the Centers for Disease Control and Prevention in an effort to ensure it is receiving its "fair share" of the COVID-19 vaccine.
The health department made that announcement in a series of "vaccine transparency" statements following a report from the Salt Lake Tribune Saturday that stated Utah had received fewer COVID-19 vaccine doses per capita than other states.
The department acknowledged that vaccines have been distributed to the states based on the share of the adult population. Since Utah's average age is the youngest in the country, it was expected that the state would receive fewer doses.
"We have no reason to believe Utah is receiving fewer doses than it should be," the agency's statement reads, in part.
"We have inquired with CDC to ensure Utah is receiving its fair share of vaccine," it continues. "They are unaware of any discrepancies but have agreed to review their numbers for accuracy."
Since the COVID-19 vaccine rollout began in mid-December, most of the vaccine doses have ended up in the arms of medical professionals and emergency responders. It's also approved for long-term care facility residents, school teachers and older individuals. In Utah, anyone 70 or older is eligible for the vaccine. Some states have started vaccinating individuals 65 and older.
Individuals 70 or older only composed 6% of the state's population at the time of the 2010 Census; about 13% were individuals 60 or older. More than three-quarters of the state's population, at that point, was under 50 years old.
While the Census Bureau still hasn't finalized 2020 Census data, estimates from recent years would indicate that Utah still leans heavily toward a young population including ages that aren't yet eligible for the vaccine based on the federal rollout guidelines. For example, it estimated that only 16% of the state's 3.2 million residents in 2019 were individuals 65 and older.
CDC data updated Sunday evening show that South Carolina (8,803 per 100,000) was last in COVID-19 vaccine distribution per capita in the U.S., followed by Nevada (9,316 per 100,000). But the data show all vaccine distributions since mid-December, including doses delivered to health care workers, emergency responders and teachers whom many fall below the 65-70 or older range. It also doesn't indicate how many were delivered specifically for long-term care facilities — something the federal government oversees.
Neither the CDC nor the state health department provides a breakdown of vaccines delivered or administered based on groups who have received the vaccine. The health department said Sunday that it briefly did provide data as to where vaccines in the state went but pulled that information "while we went through a data quality assurance process." It's expected to return to the department's COVID-19 dashboard in the near future.
Meanwhile, Utah Gov. Spencer Cox announced last week that the state would provide new data about the time between vaccine doses arriving and being administered. The state released a new dataset Thursday showing the number of vaccine doses older than seven days that still hadn't been used.
"No doses should be on the shelf longer than seven days," Cox said during a press briefing. "My sole focus has been on first doses because first doses drive second doses, and every capacity we have to get vaccines out should be focused on those first doses as soon as possible."
The state reported 31,398 unused vaccine doses older than seven days that day. More than 80% of those were set aside for federal pharmacy partners who are tasked with administering vaccines at long-term care facilities.
In its response Sunday, Utah's health department updated the figure to 26,399 unused vaccine doses. Community nursing services and local health departments — the ones tasked with administering doses to emergency responders and residents — had used up all of its allocated supply, whereas hospitals and clinics had used up 96% of their supply, and federal pharmacy partners had used up 49%.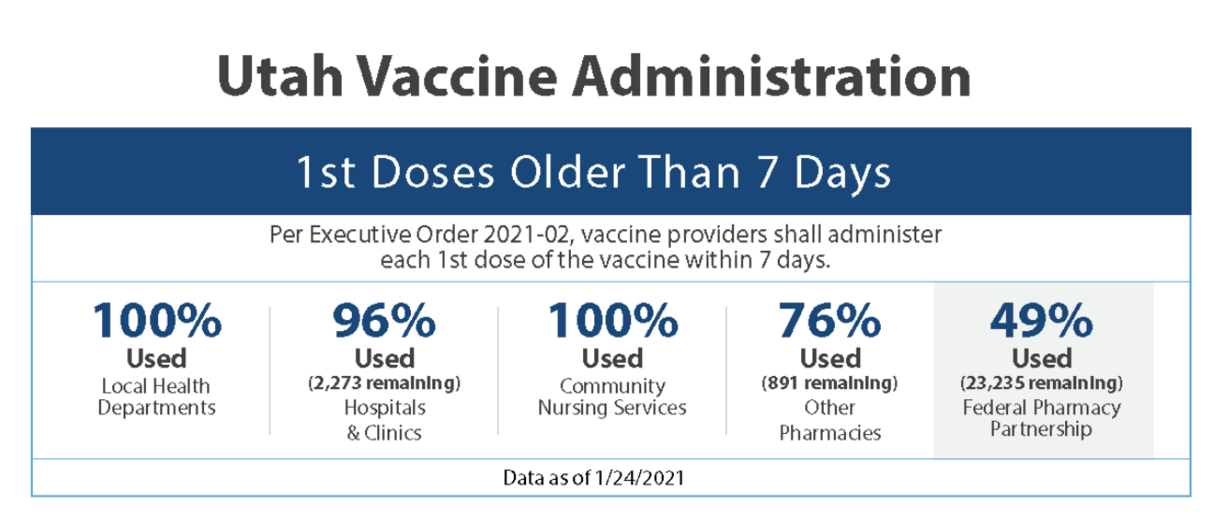 The health department said Sunday that federal pharmacy partners had 28,010 total unused doses — 23,235 of those were set aside for first-use doses. The department asserted that the pharmacies like CVS and Walgreens "are doing an excellent job" vaccinating long-term care facility staff and patients but that the federal government provided too many doses set aside for long-term care facilities than needed.
"Some of these doses are likely on-hand in preparation for upcoming clinics this week. However, it appears the federal government has allocated too much vaccine to these providers," the health department states.
"We will ensure Walgreens and CVS receive the doses they need to fulfill their obligation in long-term care facilities," the department continues. "But any doses above and beyond need to be transferred or diverted to other providers throughout the state that have the capability to get them into arms as quickly as possible."
Nearly 230,000 Utahns have already received the COVID-19 vaccine, according to an update from the state health department Monday.
×
Related stories
Most recent Coronavirus stories