ST. GEORGE — A winter storm warning went into effect Monday and will remain in effect through Tuesday morning for a storm that's expected to provide over a foot of snow in most of southwestern Utah's higher elevation areas.
Road closures
All lanes of I-15 reopened by Tuesday morning but traction laws are in effect for all vehicles from 3 miles south of the I-70 junction to about 9 miles north of Beaver.
Monday night, I-15 was closed in both directions near the state Route 17 junction by Toquerville in Washington County due to crashes and slide-offs, the Utah Department of Transportation reported in a tweet before 9 p.m. No injuries were reported at the time, according to the Utah Highway Patrol. Drivers are advised to check the UDOT Traffic or Waze apps for up-to-date traffic information.
One northbound lane of I-15 was reopened around 10 p.m. Around 10:40 p.m., one southbound lane was also reopened.
State Route 9 through Zion National Park is temporarily closed due to snow and ice and no traffic is being allowed through Zion, park officials tweeted Monday night. Kolob Canyons Scenic Drive was closed earlier in the day due to snow and ice, with projections of 9 to 18 inches for the Kolob Canyons over Monday and Tuesday.
Arches National Park also tweeted Monday morning that its park road was temporarily closed due to wintry weather; access resumed around noon, but park officials advised using four-wheel drive and caution due to the weather conditions.
"Winter driving conditions can be expected along many high elevation routes as well as I-15 south of Cedar City to Leeds, state Route 12 from U.S. Highway 89 to Torrey and U.S. 89 south of I-70," the National Weather Service stated.
Expected snowfall
The National Weather Service first issued the warning Sunday for a storm that's expected to primarily impact southwestern Utah areas like St. George and Cedar City, as well as Bryce Canyon and Zion national parks Monday and Tuesday.
The storm first crept into the area early Monday morning as it moved northeast from southern California and southern Nevada. The weather service warned that 10 to 20 inches of snow was expected in most high-elevation areas with "locally higher totals" reaching upward of 3 feet in the Pine Valley Mountains by the time the storm completely passes through.
The agency also projects 8 to 12 inches of snow to accumulate at Bryce Canyon over the two days, 6 to 8 inches at Escalante, as well as 4 to 6 inches by Kanab, Monticello and the Zion National Park entrance in Springdale.
Even some southwestern valleys are expected to receive snow. The weather service projects about 2 to 3 inches of snow in Cedar City and even 1 to 2 inches in St. George.
A significant winter storm will impact portions of central and southern Utah through Tuesday afternoon. Here are the key messages regarding this system. #utwxpic.twitter.com/TxJQkS1yRX

— NWS Salt Lake City (@NWSSaltLakeCity) January 25, 2021
The winter storm warning expires at 11 a.m. Tuesday.
Additional weather storm advisories were also issued for other parts of southern and central Utah like Delta, Manti and Price, where snow projections range from 1 to 4 inches. Higher snow totals were expected in the mountains between Manti and Price.
The system also began pushing clouds and light, scattered flurries in northern Utah on Monday, said KSL meteorologist Grant Weyman. He added there would be some chance of snow over the next couple of days but likely nothing like what's expected in southern Utah.
The National Weather Service also warned of patchy dense fog in some northern Utah locations and areas around the Wasatch Front Monday.
Update to Utah's snowpack
The storm hitting southern Utah on Monday and Tuesday follows a storm that primarily hit northern Utah over the weekend. Most of the high snow totals were recorded in the Wasatch Mountains south of I-80, according to weather service data. For instance, Brighton and Sundance received close to 2 feet of snow.
Most of the valley snow was reported in northern Utah. Six inches of snow were reported in West Haven. Weyman said both storm systems, which also provided plenty of precipitation in California were "really a good thing for most of the West."
That's because Utah, and most of the West, ended 2020 with severe or exceptional droughts. As of Monday morning, most of Utah's snowpack regions remained at 50-60% of the normal for the end of January after the weekend storm.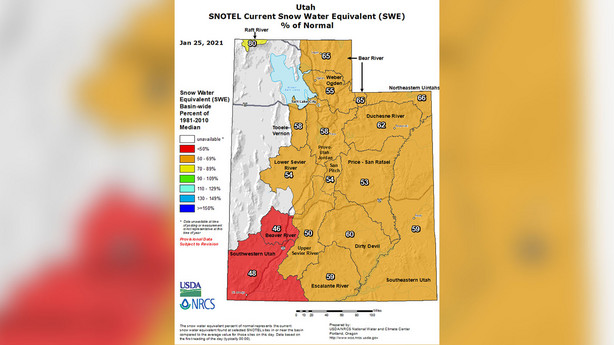 After receiving 0.41 inches of precipitation over the weekend, the weather service data show that Salt Lake City remains 0.52 inches below its January average and 3.59 inches below its precipitation average for this point in the water year, which began on Oct. 1.
There is another system that is expected to impact mostly southern Utah by the end of the workweek. That will continue to aid snowpack numbers in that region, which entered this week below 50%.
"We all know that we desperately needed that snow in the mountain areas, but the snowpack numbers were even more dismal in the southern and the western part of our state," Weyman said. "And that's where it looks like we'll get most of our stormy weather not just today or tomorrow but by the end of the week, as well."
Full forecasts for areas across Utah can be found at the KSL Weather Center.
×