Estimated read time: 4-5 minutes
This archived news story is available only for your personal, non-commercial use. Information in the story may be outdated or superseded by additional information. Reading or replaying the story in its archived form does not constitute a republication of the story.
AROUND THE SHIELD — Whether in high school, college or in the NFL, Daniel Sorensen has had a knack for making big plays.
His latest — a goal-line forced fumble in an AFC divisional round win over the Cleveland Browns — has the former BYU safety one win away from his second-straight Super Bowl.
He'll likely never be forgiven in Cleveland for leaning in and knocking the ball loose at the goal line as Browns receiver Rashard Higgins lunged for a score. But in Kansas City, "Dirty Dan" is already a legend and will never buy his own drink (of chocolate milk) ever again.
There's no question star quarterback Patrick Mahomes is the face of the franchise. But whenever the Chiefs have needed a big play on defense during their magical two-year run, it seems like the 30-year-old safety from BYU is somewhere nearby.
"I'm just a guy that tries to do things right," Sorensen told reporters before Sunday's game. "I try to play with great energy and great effort, and those plays just come. You don't go out looking to make big plays; just be in the right spot, and those plays will come to you."
Sorensen and the Chiefs (15-2) host the Buffalo Bills on Sunday evening (4:40 p.m. MT, CBS) with the winner advancing to Super Bowl LV. The Bills (15-3) are trying to get back to the NFL's championship game for the first time since making a fourth-straight appearance in 1994.
It's been 26 fewer years since Kansas City has found itself in the same position. But for Sorensen, the ability to contribute on a championship-level defense has been years in the making.
Years of practice. Years of recovery. Years of extra study, often sacrificing time with his wife Whitney and their children, though maybe a little less in Kansas City, since Chiefs coach Andy Reid — another BYU graduate and former Cougars graduate assistant — has famously allowed his players and staff to keep the appropriate focus on the family in their day-to-day lives.
Everyone has the same hours in a day. Sorensen believes the trick is just using his hours as efficiently as possible, a practice that over time allows him to perform in the big moments the Chiefs need most.
"It's years of study, of practice, of pounding away and doing the right things," Sorensen said. "You form habits and routines, stick to them, and find out what works. You continue to try and get better.
"Each year, I feel like I've improved. You learn new things, and adapt and grow. Eventually it gives you some real results."
In the NFC Championship (1:05 p.m. MT, FOX), Packers quarterback Aaron Rodgers will lean on a strong running game that includes former BYU tailback Jamaal Williams as Green Bay hosts Tom Brady and the Buccaneers for a shot at the Super Bowl.
Here's a look at the former local high school and college football standouts playing on Championship Sunday.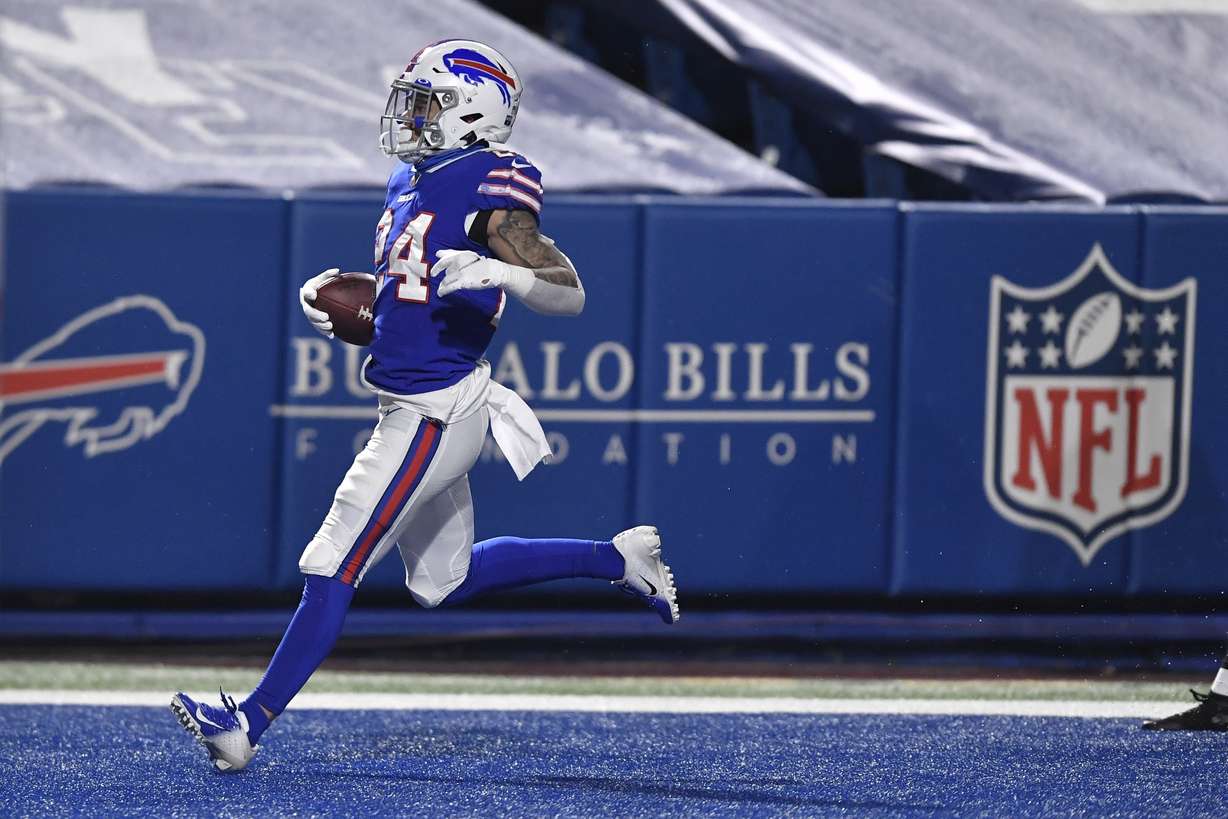 NFC Championship
Tampa Bay Buccaneers (13-5)
No locals on the active roster
Green Bay Packers (14-3)
Jamaal Williams, RB, BYU: 119 carries, 505 yards, 2 TD (4.2 ypc); 36 receptions, 236 yards, 1 TD (7.6 ypc) in 14 games.
Jordan Love, QB, Utah State: Rookie quarterback did not play in 17 games as Rodgers' backup.
Tipa Galeai, LB, Utah State (practice squad): Rookie edge rusher signed to Green Bay's practice squad Sept. 6, 2020.
AFC Championship
Kansas City Chiefs (15-2)
Daniel Sorensen, S, BYU: Seventh-year safety has 91 tackles, 2 TFL, 3 interceptions, 2 forced fumble sin 15 games (11 starts).
Darwin Thompson, RB, Utah State: Second-year running back ran for 97 yards on 12 carries (3.6 ypc) with one touchdown, while also playing on special teams.
Marcus Kemp, WR, Layton/Hawaii: After an injury during the 2020 season, re-signed to the Chiefs' practice squad in January and was elevated to the active roster Saturday.
Buffalo Bills (15-3)
Taron Johnson, CB, Weber State: Third-year corner and starting nickel back has 37 tackles, 1 sack and 1 interception in 11 games.
Jordan Devey, OL, American Fork/Snow College/Memphis: Seventh-year lineman was signed to practice squad Sept. 9 and was promoted to the 53-man roster Jan. 12.
Star Lotulelei, DT, Bingham/Snow College/Utah (COVID-19 reserve): Opted out of the 2020 season due to COVID-29 concerns.
Zack Moss, RB, Utah (injured reserve): Placed on injured reserve (ankle) in the postseason; ran for 481 yards and 4 touchdowns on 112 carries (4.3 ypc) as a rookie.
×
Related links
Related stories
Most recent NFL stories