Estimated read time: 4-5 minutes
This archived news story is available only for your personal, non-commercial use. Information in the story may be outdated or superseded by additional information. Reading or replaying the story in its archived form does not constitute a republication of the story.
AROUND THE SHIELD — Taron Johnson tries not to listen to the talk, but this time, he couldn't help but hear it.
He didn't recall it perfectly, but it was something about the Ravens' offense and the Bills' porous run defense, and how Baltimore was going to run all over his Buffalo teammates in an AFC divisional game Saturday night.
Johnson definitely saw a lot of running — 101 yards of his own as he sprinted into the end zone after picking off a third-and-goal play in the third quarter.
The former Weber State star made six tackles, one tackle for loss, and the second interception return for a touchdown of his career in a 17-3 win over Baltimore that advanced the Bills to their first AFC championship since 1994.
"Our defense played great," said Johnson, whose team held the Ravens to 150 yards on the ground. "We hear a lot of buzz that our run defense isn't that good, but I felt like we showed that today — and kept points off the board.
"I'm just proud of our guys. We stepped up to the challenge."
On a night featuring star quarterbacks Lamar Jackson and Josh Allen, the underrecruited and undersized safety who played collegiately in Ogden proved to be the difference.
So, too, was Buffalo's defense. The Bills held Jackson to just 162 yards through the air before the dynamic playmaker suffered an injury before the fourth quarter, and limited the Ravens to just 340 yards on 73 plays.
"We knew playing a team like this and how we did last year, that the outcome of the game would not be what a lot of people thought," said Bills safety Micah Hyde, who had seven tackles. "It is what it is, and it's on us to go out and play the games — not talk about football.
"We're here to play football games."
Former Utah quarterback Tyler Huntley completed 6 of 13 passes for 60 yards, and ran for 32 more, in relief of Jackson, who entered the NFL's concussion protocol after throwing for 162 yards and running for 34 more.
Johnson almost took a knee after he pulled up with the interception that tied an NFL record for longest pick-six in a postseason game. But when he saw an opening and realized he had several lead blockers, he took a shot at the end zone.
Good thing.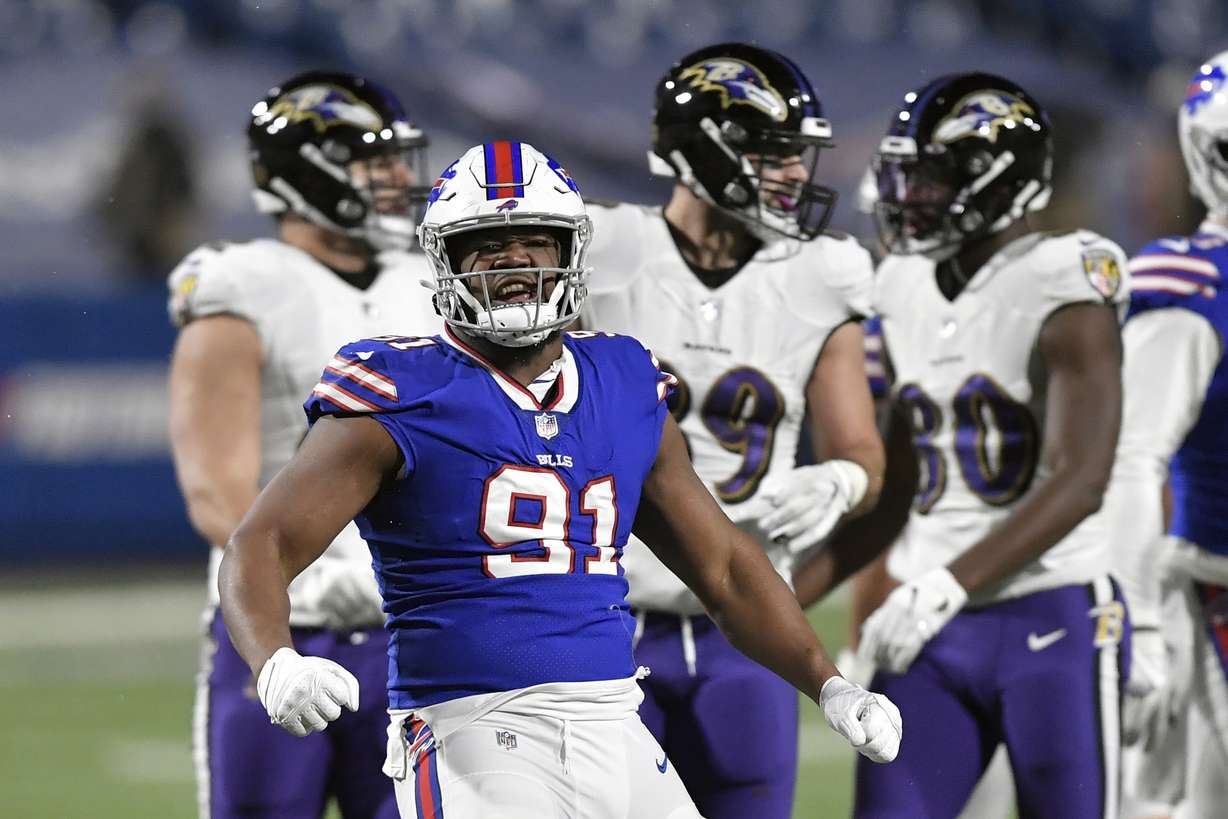 "Taron Johnson's play is a play that people are going to remember for a long time here in Buffalo," Allen told reporters after the game. "That's what our defense does. It was fun to watch."
The pivotal play was Johnson's second pick-six of the year for the Bills, who drafted the former Weber State standout with the No. 121 overall pick in the 2018 NFL Draft.
After struggling through a host of injuries in his first two seasons in the league, Johnson has made a habit of forcing clutch turnovers out of his hybrid safety/linebacker role.
"It's a blessing. I give all the glory to God; I don't take nothing for granted," Johnson said. "Having two years of things happen to me, I'm just taking advantage and not taking one thing for granted."
Buffalo will face the winner of Kansas City and Cleveland, which play Sunday at 1:05 p.m. MT.
Bills (15-3)
Taron Johnson, DB, Weber State: Starting nickel back had 6 tackles, 1 tackle for loss, 1 pass breakup, 1 interception returned for a touchdown
Zack Moss, RB, Utah: Placed on injured reserve
Star Lotulelei, DT, Utah/Snow/Bingham: Placed on COVID-19 reserve
Jordan Devey, OL, Snow/American Fork: Inactive for AFC divisional round
Ravens (12-6)
Tyler Huntley, QB, Utah: Elevated off the practice squad before game day and finished with 92 yards of total offense in relief of Lamar Jackson
Ty'Son Williams, RB, BYU: Practice squad
Aaron Rodgers threw for 296 yards and two touchdowns, and ran for another, with a defense that had four sacks as the top-seeded Packers rolled into the NFC championship game.
Packers (14-3)
Jamaal Williams, RB, BYU: Ran for 65 yards on 12 carries as part of a "three-headed monster" of running backs with Aaron Jones (99 yards, 1 TD) and AJ Dillon (27 yards).
Jordan Love, QB, Utah State: Did not play as Rodgers' backup
Tipa Galeai, LB, Utah State: Practice squad, was not activated for divisional round
Rams (11-7)
Matt Gay, K, Utah/UVU/Orem: Kicked 1 field goal of 37 yards, 1 PAT in Rams' loss
Jonah Williams, DE, Weber State: practice squad, was not activated for divisional round
Terrell Burgess, DB, Utah: Placed on injured reserve
×
Most recent NFL stories