Estimated read time: 6-7 minutes
This archived news story is available only for your personal, non-commercial use. Information in the story may be outdated or superseded by additional information. Reading or replaying the story in its archived form does not constitute a republication of the story.
SALT LAKE CITY — Alex Smith hardly practiced before the Washington Football Team's pivotal regular-season finale Sunday night.
Sidelined by a calf injury, the former Utah quarterback spent most of his time in Washington's training room, where he worked alongside wide receiver Terry McLaurin, equally hampered by a high-ankle sprain.
The two would arrive in the rehabilitation room around 6 a.m. each morning, and when McLaurin took off, Smith was usually still there.
But there was little doubt the two would play Sunday night: a win over the Philadelphia Eagles would clinch the NFC East division title and a spot in the playoffs for the first time since 2015.
Smith, after all, has already completed what most consider to be the greatest comeback season in NFL history, reviving his once left-for-dead career with necrotic tissue in a serious leg injury to taking the starting reins of the Football Team in 2020.
With 162 yards and two touchdowns, Smith left little doubt — in his own career, and the postseason fortunates of his once-deemed moribund NFL franchise. The Washington Football Team defeated Philadelphia 20-14 on NBC's Sunday Night Football, and Smith wrapped up what may be the best comeback season in NFL history.
Fitting, then, that it was McLaurin that Smith found on the end of a 5-yard strike with 4:19 left in the first quarter that gave the Football Team a 7-0 lead after their first offensive drive.
"For us to score seven on that opening drive, I felt like it was a tone-setter for our offense and defense," McLaurin said.
"Seeing a guy like that who has been through as much as he has, but he continues to fight and help this team — you can't give him enough credit. I like to see myself built the same way: do whatever you can to help this team.
"I was just happy to be out here with my team, to be here with Alex, and to get this win, for all that we've been through as a team, all that he's been through individually. This one's pretty sweet."
Smith is one of 33 players who played high school or collegiate football in the state of Utah that will suit up in this year's NFL Playoffs, up from 28 of the past two seasons. But one would be hard-pressed to find a better story.
Forget rewarding him with Comeback Player of the Year; the annual award should be renamed in honor of Alex Smith, whose team was once 2-7 before rallying with five wins in the last seven weeks to clinch the club's first division title in five years.
"Everything was stacked against us, going into the offseason, coaching change, new staff, all the COVID stuff," Smith said. "For us to get off to a slow start but to finish it off like this, I think, says a lot about the character we have in that locker room.
"Day in and day out, we go to work."
The Washington Football Team has climbed the mountain top, and emerged on the other side with an NFC Wild Card date with Tom Brady and the Tampa Bay Buccaneers on Saturday (6:15 p.m. MT, NBC). With a quarterback who beat a devastating leg injury and a coach who is beating cancer, they've already overturned near-impossible odds just to make it through 17 weeks of the 2020 NFL season.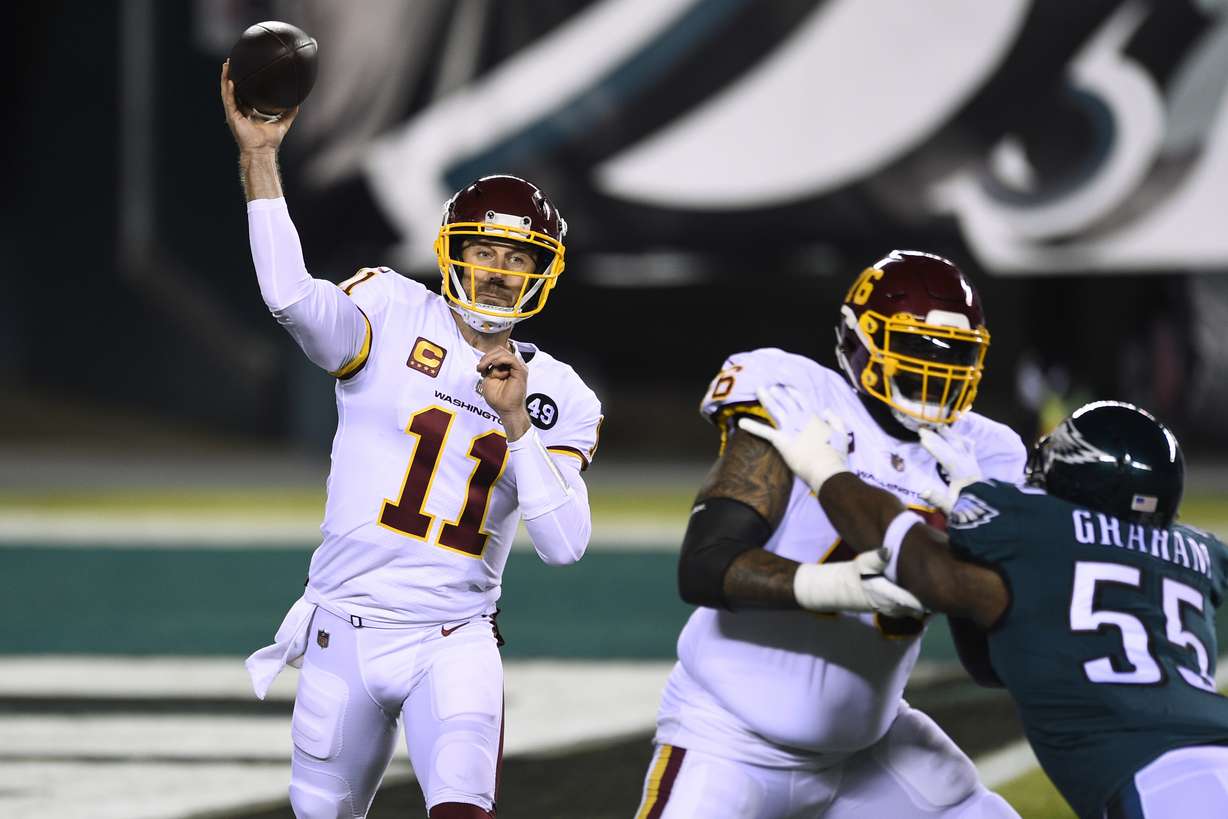 But that won't be all the Football Team will be remembered for.
"We got a feel for who they are, how tough and resilient they can be," Washington coach Ron Rivera said. "Now let's see how they handle it. That's the next thing.
"Don't judge us from where we've been; judge us for where we're going. This is a big opportunity for us."
As a reminder of all that he's been through — from the brutal hit that drew comparisons to Joe Theismann to multiple devastating medical diagnoses to a rehab process that lasted over two years and was chronicled in an ESPN documentary — Smith's wife Elizabeth took the fixator brace that was affixed to his leg while he struggled through that seemingly endless rehab, and turned it into a do-it-yourself Lombardi Trophy to give her husband for Christmas.
For as expensive as those braces are, the hospital wouldn't allow the Smith family to donate it to anyone else. Instead, the makeshift leg trophy provided the perfect holiday ornament for the Washington-area home — a true homage to the iconic Christmas classic in all its lamp-like glory.
"It was one of the coolest things I opened on Christmas," Smith said. "It was pretty neat."
"Comeback" is also what describes the Washington Football Team, which became the first team in NFL history to start a season 2-7 and qualify for the playoffs.
Sure, it helped that the NFC East was … well, what the NFC East was. No team in the division finished above .500, including two that tied at 6-10 overall in the Giants and Cowboys.
But somebody had to win the division. It's how the NFL is set up — and even when the team without a name seemed buried after nine games, they didn't give up on the season.
"It's the culture, honestly," defensive end Montez Sweat said. "It's a winning culture, it's a hungry culture, and everyone holds us accountable. That's what has us headed in the right direction."
A year ago, Washington was at the bottom of that same division.
The once-named Redskins were coming off a 3-13 season and going nowhere, which led to the organizational overhaul. They brought in Ron Rivera to revitalize the offense, surrounded him with a number of offensive skill talent and quarterbacks, and did everything they could to turn around a unit that ranked near the bottom of the NFL after the 2019 season.
When Washington got off to a horrid start — first 1-5, then 2-7, and staring way, way, way up at the slim hopes of a playoff berth — Smith never gave up on his team.
"The easiest way to win a ticket to the dance is win the division," he recalled. "It wasn't looking like for a while for us, but to be there now certainly says a lot about the character we've got in the locker room."
Of course, his team also never gave up on Smith. And when the celebrations were clearing and defensive star rookie Chase Young was walking off the field while talking to his mom over FaceTime to take in the moment, many of Smith's teammates turned to the many who led them to this unlikely postseason.
"He's standing tall and leading the team as a veteran quarterback," said offensive tackle Morgan Moses, who recently lost his father. "It's a blessing to see him walk through those doors as an NFC East champion."
×
Related links
Related stories
Most recent NFL stories