Estimated read time: 3-4 minutes
This archived news story is available only for your personal, non-commercial use. Information in the story may be outdated or superseded by additional information. Reading or replaying the story in its archived form does not constitute a republication of the story.
OGDEN — There wasn't a lot of rust on Seikou Sisoho Jaiwa's shot in Weber State's first basketball game since Dec. 23.
Quite the opposite, even: efficiency was the name of the game for the sophomore guard from Mataro, Spain, who shot 62.5% from the field in his first outing in 11 days.
Jaiwa had 14 points and three assists, Cody Carlson added 10 points and nine rebounds, and Weber State shot 52% from the field in the second half to pull away for a 70-62 win over in-state rival Utah Valley in a nonconference finale for both teams Saturday at the Dee Events Center.
Isiah Brown totaled 12 points, and Dontay Bassett and Zahir Porter each added 9 points for the Wildcats, who improved to 4-3 with their first win since Dec. 18.
"We hadn't played in two weeks. They hadn't played in two weeks," Weber State coach Randy Rahe said. "I told my staff before this one that we've just got to slug through this one, because everybody's out of rhythm because of the break.
"I just told them at halftime, take a deep breath, relax, do what we do, and it's going to get better. And it did get a little bit better. It was one of those after-Christmas, long-break, ugly basketball games — and our guys showed a lot of grit."
J.J. Overton had a game-high 19 points for Utah Valley, and teammate Fardaws Aimaq added 18 points, 20 rebounds and 3 blocks.
Jaden McClanahan added 10 points for the Wolverines (2-5), who open Western Athletic Conference play Friday against Cal Baptist in Orem. UVU outrebounded the Wildcats 36-31 and outscored the hosts 32-24 in the paint — but also committed 15 turnovers and shot just 12 of 27 (44.4%) from the free-throw line in a game that was the first of the season with a full roster.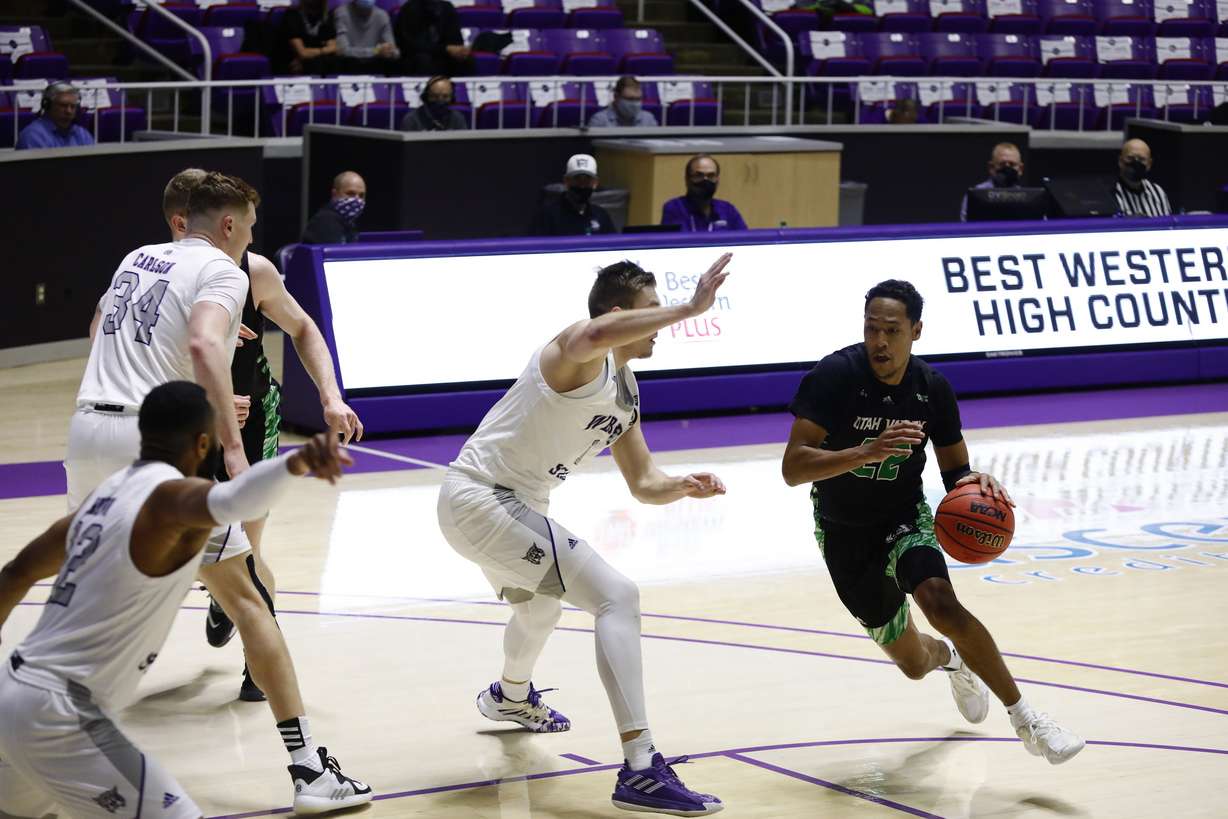 UVU coach Mark Madsen didn't offer any excuses, though.
"We haven't practiced much as a group, but we brought the guys back early," Madsen said. "If we had shot 70% from the free-throw line, we probably wouldn't be having that conversation. There's probably a small element, though, and it will continue to smooth itself out."
Aimaq had a double-double at halftime, pouring in 13 points on 6-of-9 shooting and 12 rebounds before the break. That included a thunderous dunk with 48 seconds left in the half that gave the Wolverines a 28-27 edge en route to a 30-all halftime stalemate.
No team led by more than four in the second half until Jawara's lay-in with 10:54 left gave the Wildcats a 44-39 advantage. Michael Kozak drained his first 3-pointer of the game to stretch Weber's lead to 49-43 with 8:26 remaining, and Aimaq drew his fourth foul less than a minute later.
Overton capped a 7-0 run to help the Wolverines briefly retake the lead, but David Nzekwesi and Isiah Brown hit back-to-back shots to help the Wildcats regain control with 5:53 remaining.
Weber State didn't trail again, largely by making smart shots and 18-of-23 free throws.
"Obviously, we're not going to win games shooting that way from the free throw line," Madsen said. "We have to get better, we will get better. We'll work it, we'll rep it, and we'll improve on it. That was an issue with the game, and turnovers were an issue — some of them unforced. We have to get better at making a game-winning play."
The game was scheduled Tuesday after a rise in COVID-19 infections have played a significant impact on both teams' nonconference schedules. And it turned out to be one of the more competitive games in the history of the in-state rivalry series, which Weber State leads 8-6 with a 7-1 advantage in the Dee Events Center.
Weber State, which is 1-1 in conference play, returns to its Big Sky play with a two-game home series Thursday and Saturday against Eastern Washington.
×
Photos
Related stories
Most recent Weber State Wildcats stories