BOCA RATON, Fla. — He hasn't made it official, but by most accounts, Zach Wilson's swan song with the BYU football team is expected to come Tuesday evening near the Florida Keys in a pre-Christmas bowl game named for the resort town and retirement community of Boca Raton.
The Cougars' junior quarterback is expected to declare for the NFL draft in the coming weeks, putting an end to a historic season where BYU went from having all but two games canceled due to the coronavirus pandemic to a 10-1 regular season and the program's best year since at least 2001 and 15th bowl appearance in the last 16 years.
But the Cougars haven't appeared in a bowl game in Florida since the 2014 Miami Beach Bowl and are 0-3 in the postseason in the Sunshine State.
So it's easy to see why Wilson's biggest focus remains on winning a bowl game, finishing 11-1 in the strange season of 2020 and beating a top-tier Group of Five team in UCF (5 p.m. MT, ESPN).
"For me, it's BYU-UCF — two explosive offenses," Wilson told reporters earlier this week. "It'll be a game of both of us executing. No disrespect to him, but I don't even typically watch film on the opposing team's offense. He's a great player, but I'm going to approach it like every single game we've had this year."
Wilson — who at different times during his career has maintained the swagger of Jim McMahon, the pass efficiency of Steve Young and the upside of Robbie Bosco and Ty Detmer in joining a prestigious group of alums at "Quarterback U." — is projected as high as the No. 2 overall pick in the draft, where he would currently be selected by the New York Jets, according to CBS Sports. He's regularly viewed as one of the best draft-eligible quarterbacks not named Clemson's Trevor Lawrence in college football, joining a group that includes Heisman Trophy contenders Justin Fields of Ohio State, Kyle Trask of Florida and Trey Lance of North Dakota State.
At the very least, Wilson belongs "in the first-round discussion," writes noted NFL draft analyst Dane Brugler of The Athletic. A self-described "football junkie," it's easy to see why Wilson might pass on his senior season and bolt for professional opportunities. Sure, he could come back for his senior season at BYU. But a chance is a chance, and the NFL waits for no one.
Wilson has all the right tools.
"He is smart, he understands exactly what he is doing, and he gets his eyes in the right position," said former Snow College quarterback, Heisman runner-up at Oklahoma and current UCF coach Josh Heupel of Wilson. "When he's off schedule, he can make plays with his feet and his arm. But he has elite arm talent, which is why he's viewed so highly at the next level."
The BYU signal-caller ranks second nationally with 234 points responsible and 30 passing touchdowns, third with 10.82 yards per attempt and fourth in passing efficiency (194.8) and completion percentage (.732). He's also fifth with 3,267 passing yards and eight rushing touchdowns and is a top-10 offensive leader for a team in averaging 319.0 yards per game.
What better place, then, to seal Wilson's final act than in the Sunshine State, where the Cougars have never won, and against a team like UCF — considered one of the best Group of Five breakthrough teams of the College Football Playoff era, with a mythical national championship in 2017 hoisted after a 13-0 season and Peach Bowl victory over Auburn to prove it.
The Knights (6-3) also feature their own star quarterback in Dillon Gabriel, a Hawaii native who replaced star signal-caller McKenzie Milton after the latter suffered a devastating leg injury near the end of Gabriel's freshman season.
A 6-foot sophomore with 3,353 yards and 30 touchdowns and just four interceptions, Gabriel lands among the five-best quarterbacks in the country statistically — alongside Alabama's Mac Jones, UNC's Sam Howell, Trask, and that baby-faced star from Corner Canyon High School who once boldly sported a headband that read, "any team, any time, any place" as his team rolled through an unbeaten season until a last-minute trip to Coastal Carolina ended on the 1-yard line with a 22-17 loss.
That lone loss leaves the Cougars with plenty to prove about their season, one that wrecked a schedule with six Power Five opponents — plus Boise State — and replaced it with three teams from Conference USA, two from the Sun Belt (before the late showdown with a top-20 Coastal side) and two from the American Athletic Conference.
Yes, the Cougars still have plenty left to do. And for Wilson, there's only one more game to do it.
"It's hard to say, but I think there's still more to prove about how good of a team we are," Wilson said. "You're not a good team if you don't finish the season off right. This is a big one for us.
"We don't want to end with two losses. That's not fun."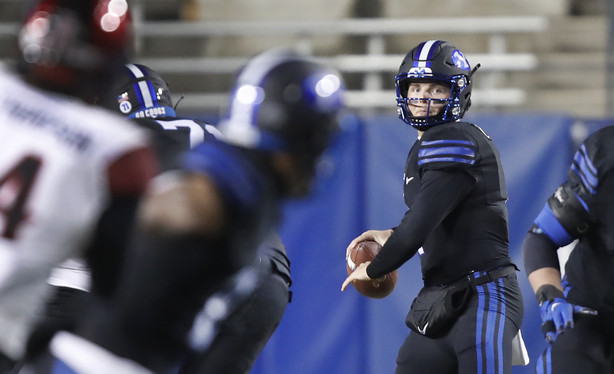 How to watch, stream and listen to the Boca Raton Bowl
No. 16 BYU (10-1) vs. UCF (6-3)
Kickoff: Tuesday, 5 p.m. MT
Location: FAU Stadium, Boca Raton, Fla.
Capacity: 30,000 (limited capacity: 6,000)
Surface: Celebration Bermuda turf grass
TV: ESPN (Dave Neal, DJ Shockley, Lericia Harris)
Streaming: WatchESPN
Radio: BYU Radio, KSL Radio 1160 AM/102.7 FM (Greg Wrubell, Riley Nelson, Mitchell Juergens)
Live stats: Game Center
Temperature: 70 degrees around kickoff, 75% humidity, 11 mph winds and a 2% chance of precipitation
Series: Tied, 1-1
×
Related Stories