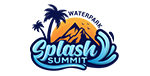 This story is sponsored by Splash Summit.
Give the gift of fun this year! When you're considering what to buy the family for Christmas this year, you want to give them something that will provide long-lasting joy. And according to researchers at Cornell University, gifts of experience are the way to go.
But you don't have to break the bank purchasing an extravagant trip to Europe or Disneyland tickets for everyone. Your family will have just as much fun (for a fraction of the price!) with a season pass to Splash Summit Waterpark.
Formerly known as Seven Peaks Waterpark, Splash Summit is the largest waterpark in Utah with more than 15 attractions. Plummet down the steep slope of the Sky Breaker, take a turbulent ride full of surprises down Mudslide Gorge, get an adrenaline high on the Boomerang halfpipe, and more! Children (and adults) of all ages will find something to enjoy.
But next summer, ticket holders are in for a real treat.
Coming in 2021: The all-new Rainforest River
Fans of the popular lazy river will be happy to know that it's going to be a big deal in 2021. Splash Summit recently announced a multimillion-dollar renovation project to redesign and refurbish the attraction—and it will be unlike anything you've ever seen in Utah.
The all-new Rainforest River will transform the current Lazy River into a rainforest setting for guests to enjoy as they float along the waterway. In addition to the new theming, the river will receive new waterfalls and other aquatic features, as well as new pumps and motors that will increase flow and filtration.
The project began after the park closed on Labor Day weekend and is expected to be complete by opening day in 2021.
"We are committed to improving the customer experience at Splash Summit and based on customer feedback, we decided to reinvest into the park -- starting with the renovation and retheming of the Lazy River," said Spencer Shumway, owner of Splash Summit Waterpark.
According to Shumway, the Lazy River hasn't seen any changes since the waterpark's opening day in 1989.
"Adults and children alike will absolutely love the new changes. The Rainforest River will make you feel as if you're floating down a river deep in the rainforest," he said.
Designed by a well-known artisan
The new Rainforest River is more than just a renovation project—it's a work of art.
Splash Summit Waterpark has hired a well-known master artisan, Stefan Lukowski, to oversee the project. Lukowski has studied in some of the world's most prestigious universities and has used his expertise to design custom interior and exterior finishes for both residential and commercial projects across the globe. (His past clients include celebrities, such as Angelina Jolie.)
"We're definitely excited to work with Stefan on this project," said Jodi Johnson, Director of Customer Experience.
"From the moment the management team met Stefan, his passion for the project has sparked a fire and an excitement within the company," she said.
Save money when you buy your season passes today
While you can certainly enjoy a one-time visit, the best way to experience Splash Summit Resort is with a Season Pass.
A Splash Summit Season Pass includes unlimited visits to the water park from Memorial Day through Labor Day. It's the perfect way to keep the youngsters entertained on their long summer break.
Right now, you can take advantage of special holiday pricing, with deals up to 50% off! Visit the Splash Summit website for more details and take advantage of this offer before it's gone.
With more than 15 water attractions including five drop slides, a 500,000-gallon wave pool and more, Splash Summit's goal is to provide a safe and fun environment for families and friends to make lifelong memories.
For more information on the water park, guests can visit www.splashsummit.com.
×